Maccheroni Pianigiani, 1922
Art Print
Mauzan, Achille...
Buy at AllPosters.com

La Belle Cuisine - Index Pasta Recipes
Fine Cuisine with Art Infusion
"To cook is to create. And to create well...
is an act of integrity, and faith."

Save on Clearance at Target.com
"The angels in Paradise eat nothing but vermicelli al pomodoro."
- Duke of Bovino and mayor of Naples, 1930,
as quoted in "Notes from a Country Kitchen" by Jocasta Innes
---
Recipe of the Day Categories:
Recipe Home
Recipe Index
Recipe Search
Appetizers
Beef
Beverage
Bread
Breakfast
Cake
Chocolate
Fruit
Main Dish
Pasta
Pies
Pork
Poultry
Salad
Seafood
Side Dish
Soup

La Cucina Italiana
Holly Wojahn
Buy This at Allposters.com



Essentials of
Classic Italian Cooking

Pasta
Art Print
Buy at AllPosters.com


Pates Baroni, c.1921
Art Print
Cappiello,...
Buy at AllPosters.com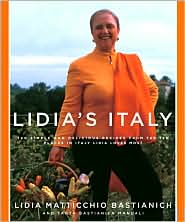 Lidia's Italy: 140
Simple and Delicious Recipes from the Ten Places in Italy Lidia Loves Most
Your patronage of our affiliate partners supports this web site.
We thank you! In other words, please shop at LBC Gift Galerie!

Tutto Bene
Jennifer Garant
Buy This at Allposters.com


Have a heart! Help your fellow man...
Agnolotti, Buckwheat, Salmon and Cabbage Filled
Amatriciana - Tomato Sauce with Pancetta
and Chili Pepper (Marcella Hazan)
Angel Hair Pasta with Crab and Pesto
Angel Hair Pasta, Portobello Mushrooms,
Fresh Tomato Sauce (Emeril)
Artichoke Hearts, Prosciutto, and
Fettuccine (Chez Panisse)
Artichoke and Olive Marinara Sauce
Bolognese Sauce, Mama Leone's
Bow Ties, Four Cheese Baked
Broccoli Lemon Cream Sauce
Bucatini with Chanterelles, Spring Peas,
and Prosciutto
Cannelloni Santopadre
Cannelloni, Spinach, Ricotta and Prosciutto
Capellini with Calamari and Shrimp
Capellini with Medallions of Red Snapper
Capellini with Shiitake Mushrooms, Sun-Dried
Tomatoes and Pine Nuts
Carbonara Sauce (Marcella Hazan)
Cavatelli with Broccoli
Cavatelli with Garlic, Crab, Chile and
Trebbiano (Mario Batali)
Chicken Liver Sauce, Tuscan
Chicken Tetrazzini (Mama Leone)
Chiu Chou Noodles in Sesame Sauce
Clam Sauce with Tomatoes (Marcella Hazan)
Clam Sauce, White, Marcella Hazan's
Crawfish and Andouille Pasta
Cremini Mushroom Pasta with Wilted Arugula,
Goat Cheese and Extra-Virgin Olive Oil
(Alfred Portale)
Eggplant and Red Bell Pepper Sauce
Eggplant and Ricotta Sauce, Sicilian
Style (Marcella Hazan)
Farfalle with Asparagus, Roasted Shallots
and Blue Cheese
Fettuccine Alfredo, Fresh
Fettuccine Alfredo, Pink
Fettuccine Bolognese
Fettuccine alla Buranella (Royal Danieli, Venice)
Fettuccine with Buttered Crumbs
Fettuccine Carbonara
Fettuccine Casserole, Florentine
Fettuccine with Creamy Chicken and Spinach
Fettuccine, Lemon-Thyme, with Grilled Chicken and Corn
Fettuccine with Morel Mushrooms and Country Ham
Fettuccine with Mozzarella, Mushrooms and Tomatoes
Fettuccine René (from the Kennedy White House)
Fettuccine alla Romana (Craig Claiborne)
Fettuccine, Salmon and Asparagus, with Orange
Fettuccine with Shrimp, Olives and Mushrooms
Fettuccine with Shrimp and Tasso (Mr. B's Bistro)
Fettuccine with Spinach-Ricotta Sauce
Fettuccine and Spinach in Saffron-Mussel
Broth (Charlie Trotter)
Fettuccine, Tomato Cream, with Spinach
Fettuccine with Tuna, Garlic, and Cream
Sauce (Marcella Hazan)
Fresh Egg Pasta, including rolling and cutting
instructions (Lidia Bastianich)
Fusilli with Chevre, Tomatoes and Basil
Fusilli with Shrimp and Panéed Chicken
Everybody Loves Lasagne
Gigi's Lasagne
Florentine Lasagne
Chicken, Zucchini and Mushroom Lasagne
Lasagne Fresca
Smoked Salmon Lasagne Luigi's
Three-Cheese Lasagne with Italian Sausage
Lasagna Bolognese (Emeril Lagasse)
Lasagna, Grilled Vegetable (Emeril Lagasse)
Lasagna, Roasted Eggplant, with
Broiled Tomato Sauce
Lasagna, Seafood, Andrea's
Lasagna, Ultimate (Chef Tyler Florence)
Lasagna, A Way to Make
Lasagne, Asparagus
Lasagne, Classic (Mario Pei)
Lasagne, Golden Onion and Zucchini
Lasagne, Greek-Style Lamb and Eggplant
Lasagne, Salmon, with Roasted Pepper Sauce
Lasagne, Sausage, My Favorite
Lasagne, Sausage and Wild Mushroom,
with Red Pepper Tomato Sauce
Lasagne, Shrimp, Scallop and Cod
Lasagnetta, Saffron, with Lobster Sauce
Lasagne, Vegetarian (Martha Stewart)
Lasagne Verdi e Bianco
Linguine with Broccoli, Cauliflower and Mushrooms
Linguine with Chicken, Cajun-Style
Linguine with Chicken, Garlic and Basil
Linguine with Crab Sauce (Christmas
Eve - 7 Fish 7 Ways)
Linguine with Fresh Tomato-Olive Sauce, Gina's
Linguine, Garlicky, with Crab, Red Bell
Pepper and Pine Nuts
Linguine with Herbed Avocado Cream
Linguine, Lemon
Linguine with Shrimp
Linguine with Shrimp, Scallops and Macadamia Pesto
Linguine, Shrimp, with Pesto Cream Sauce
Linguine with Spinach, Carrots and Leeks
Linguine, Spinach, with Crab Meat,
Tomatoes and Capers
Linguine with Spinach, Garlic, and Olive Oil
Linguine, Spinach, with Southwestern Scampi
Linguine with Zucchini, Carrots and Mixed Herb Pesto
Linguine, Zucchini, Gina's
Macaroni with Fresh Truffles (Joël Robuchon)
Manicotti, Baked, Isabella's
Meatballs, Italian, and Sausages with Rigatoni
Meatballs, Italian, in Tomato Sauce
Orecchiette with Broccoli Rabe and Sausage
Pappardelle with Hot Sausage Sauce (Rao's)
Pappardelle in Lemon Cream Sauce with
Asparagus and Smoked Salmon
Pappardelle, Quick, with Black Truffle Sauce
Pappardelle with Tangy Veal Ragu
Pasta, Baked, with Ricotta and Ham (Mario Batali)
Pasta with Bay Scallops, Pears and Coppa
Pasta Carbonara, My Favorite
(Julee Rosso's, from "Fresh Start")
Pasta Czarina
Pasta al Forno, Ultimate, with Teeny Meatballs
Pasta with Fresh Basil and Mozzarella -
Hot and Cold (Lidia Bastianich)
Pasta, Fresh Egg, including rolling and cutting instructions
Pasta ai Frutti di Mare
Pasta with Grilled Eggplant
Pasta Jambalaya (Mr. B's Bistro, New Orleans)
Pasta Jambalaya, More
Pasta, Jambalaya, with Penne, Chicken,
Shrimp and Andouille (Emeril)
Pasta: Matching Pasta to Sauce (Marcella Hazan)
Amatriciana - Tomato Sauce with Pancetta
and Chili Pepper
Eggplant and Ricotta Sauce, Sicilian Style
Roasted Red and Yellow Pepper Sauce with
Garlic and Basil
Pasta, Olive Mill (Alain Ducasse)
Pasta Primavera, Gigi's
Pasta Provençale
Pasta with Saffron and Crab Aubergine
Pasta, Seafood, Louisiana
Pasta Shells, Baked, with Spinach and
Ricotta (Nigella Lawson)
Pasta Shells, Eggplant, Salami and Cheese-Stuffed
with Red Pepper Sauce
Pasta with Shrimp, Tomatoes and Arugula
Pasta with Shrimp and Vegetables
Pasta with Smoked Salmon and Lemon Crème Fraîche
Pasta with Spring Vegetables and Prosciutto
Pasta, Summer, with Basil, Tomatoes, and Cheese
Pasta, Summer Vegetable
Pasta, Sunday Night, with Balsamic Vinegar
(Lynne Rossetto Kasper, In Julia's Kitchen
with Master Chefs)
Pasta Tordellatta (Pasta with Ricotta,
Spinach and Meat Sauce)
Pasta with Wild Mushroom Sauce
Pastitsio for a Crowd (James Beard)
Peanut Sesame Noodles
Penne with Asparagus, Smoked Salmon
and Poppy Seeds, Chilled
Penne Charmaine, Spicy
Penne with Chicken, Roasted-Red-Pepper
Pesto and Olives
Penne with Manila Clams and Chorizo
Sauce (Gotham Bar & Grill)
Penne with Sausage, Porcini and Portobello Mushrooms,
and Syrah (The Wine Lover's Cookbook)
Penne with Sun-dried Tomatoes
Penne, Toasted, with Herbs, Goat Cheese
and Golden Bread Crumbs
Penne con Tonno (Penne with Fresh Tuna,
Capers, and Black Olives)
Penne with Tuna, Bell Pepper and Artichoke Hearts
Penne Alla Vecchia Bettola, Nick and Toni's
Pot Roast Pasta (Stracotto)
Ravioli, Don Camillo's
Ravioli, Sweet Potato, with Portobello Mushrooms
and Apples
Ravioli, Spinach, with Basil Cream Sauce
Ravioli, Won Ton, with Eggplant and Sesame Seeds
Rigatoni with Shrimp in Tomato and Feta Sauce
Rigatoni with Smoked Chicken and Ricotta
Rigatoni in a Woodman Sauce
Roasted Red and Yellow Pepper Sauce with
Garlic and Basil (Marcella Hazan)
Rotelle with Grandma's Sunday Meat Sauce
Seafood Pasta, Cajun
Seafood Pasta, Louisiana
Shells with Ricotta, Peas and Prosciutto
Shrimp and Artichoke Pasta
Shrimp and Feta Cheese Sauce à la Grecque
Spaghetti with Asparagus, Almonds and Mushrooms
Spaghetti, Chicken (Craig Claiborne's Mother's)
Spaghetti with Italian Sausage and Eggplant (Mama Leone)
Spaghetti and Meatballs, Special (Wolfgang Puck)
Spaghetti with Mussels, Clams and Shrimp
Spaghetti con Pomodoro Crudo (Sophia Loren)
Spaghetti Primavera, Le Cirque's (Original)
Spaghetti alla Puttanesca (Rao's)
Spaghetti Sauce, Prize-Winning, with Italian Sausage
Spaghettini with Caramelized Onions,
Olives and Anchovies
Sunday Gravy, Rao's - including
Beef Braciola and Anna and
Frankie's Meatballs (Polpettini)
Tagliatelle Bolognese
Tortelli, Crabmeat-Artichoke (Union Square Cafe)
Tortellini, Chicken, [homemade] in a Sweet Onion
Lambrusco
Broth with Grana and Leeks (Mario Batali)
Tortellini with Gorgonzola Sauce
Tortellini with Mushrooms and Prosciutto
Tufoli, Stuffed - Pascal's Manale, New Orleans
Ziti, Baked, with Italian Sausage and Fennel (Emeril)
Ziti with Red Peppers, Olives, Artichokes,
and Gorgonzola Rigoletto's

La Belle Cuisine


Index - Main Dish Recipe Archives
Index - Side Dish Recipes
Daily Recipe Index
Recipe Archives Index
Recipe Search