Your patronage of our affiliate partners supports this web site.
We thank you! In other words, please shop at LBC Gift Galerie!

Old Books I
Art Print
Belkovskij, Igor
Buy at AllPosters.com


Summer Flowers
Wales, Sue
Buy This Allposters.com


How easy is that?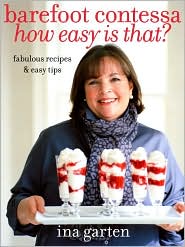 Barefoot Contessa
How Easy Is That?:
Fabulous Recipes and Easy Tips

Copyright © 2010 Ina Garten
Clarkson Potter/Publishers
The Barefoot Contessa says,
"This book is all about saving you time
and avoiding stress."
What's not to love?
La Belle Cuisine cannot urge you strongly
enough to buy this jewel of a cookbook!
Watermelon Mojitos
Makes 6 drinks
"Most cocktail recipes are written to make one drink at a time,
but who has time for that when you're having a party? In the
summer, when the watermelon is sweet, this recipe makes a
big pitcher of mojitos – it's a refreshing drink with crushed
mint and freshly squeezed lime juice."
30 large fresh mint leaves,
coarsely torn by hand
3 to 4 thick slices fresh watermelon
12 ounces light rum, such as Bacardi
1/2 cup simple syrup
6 tablespoons freshly squeezed
lime juice (3 limes)
Sprigs of mint and spears of
watermelon, for serving
Use a mortar and pestle to mash the mint leaves. Remove and discard
the rind and seeds of the watermelon. Put the fruit into a food processor
fitted with the steel blade and puree. Put the mashed mint into a large
pitcher with 2 cups of pureed watermelon, the rum, simple syrup, and
lime juice and stir to combine. Pour the mixture into a pitcher for serving.
Place ice cubes in 6 glasses and pour the mojito mixture into the glasses. Garnish with sprigs of fresh mint and spears of watermelon. Serve
ice cold.

Chipotle and Rosemary Toasted Nuts
Roasted Eggplant Caponata
Serves 8
"I love Mediterranean dishes because they have lots of flavor and this spicy
eggplant made with garlic, peppers, olives, pine nuts, and capers is a perfect
example. I make it a day or two early so the flavors have time to develop."
1 large eggplant (1 1/2 pounds)
Good olive oil
4 ounces jarred roasted red peppers, chopped
[Feel free to roast your own if you prefer.]
1/2 cup large green olives, pitted and chopped
1 cup chopped yellow onion
1/8 teaspoon crushed red pepper flakes
1 tablespoon minced garlic (3 cloves)
3 tablespoons minced parsley
2 tablespoons pine nuts, toasted
2 tablespoons freshly squeezed lemon juice
2 tablespoons drained capers
2 tablespoons tomato paste
1 tablespoon red wine vinegar
2 teaspoons kosher salt
1 1/2 teaspoons freshly ground black pepper
Toasted pita triangles, for serving *
Preheat the oven to 400 degrees F. Line a sheet pan with aluminum foil.
Place the whole eggplant on the pan, prick with a fork in several places,
and rub with olive oil. Roast for 45 to 50 minutes, until the eggplant is
very soft when pierced with a knife. Set aside to cool. Halve the egg-
plant, peel, and discard the skin. Place the eggplant, peppers, and olives
in the bowl of a food processor fitted with the steel blade and pulse until coarsely chopped. Pour into a mixing bowl.
Meanwhile, heat 1 tablespoon of olive oil in a medium sauté pan. Add
the onion and red pepper flakes and cook over medium heat for 5 min-
utes, until the onion is lightly browned. Add the garlic, cook for 1 minute,
and add to the eggplant mixture. Add the parsley, pine nuts, lemon juice,
capers, tomato paste, vinegar, salt, and pepper and mix. Cover with plastic wrap and refrigerate for a few hours to allow the flavors to develop. Taste
for seasonings and serve at room temperature with toasted pita triangles.
* Note: To toast pita bread, cut the bread in triangles, brush with olive oil,
sprinkle with salt, and bake at 375 degrees [F] for 10 minutes, until
lightly browned.
Stilton and Walnut Crackers
Makes 24 crackers
"I came across this very British cracker in London – a savory shortbread
made with Stilton and walnuts. I make extra rolls of dough and freeze
them unbaked so I can just defrost, slice, and bake the crackers before
guests arrive. Everyone loves these and there are never any leftovers!"
1/4 pound (1 stick) unsalted butter,
at room temperature
8 ounces Stilton, crumbled, at room
temperature (12 ounces with the rind)
1 1/2 cups all-purpose flour
2 teaspoons kosher salt
1 teaspoon freshly ground black pepper
1 extra-large egg beaten with 1 tablespoon
water, for egg wash
1/2 cup walnuts, finely chopped
In the bowl of an electric mixer fitted with the paddle attachment, cream
the butter and Stilton together for 1 minute, until smooth. With the mixer
on low, add the flour, salt, and pepper and continue beating for about 1
minute until the dough is in large crumbles. Add 2 tablespoon of cold
water and mix until the dough comes together.
Dump the dough onto a floured board and roll it into a 12-inch-long log. Brush the log completely with the egg wash. Spread the walnuts on a cut-
ting board and roll the log back and forth in t he walnuts, pressing lightly,
to distribute them evenly on the log. Wrap in plastc and refrigerate for at
least 30 minutes or for up to 4 days.
Meanwhile, preheat the oven to 350 degrees [F] and line a sheet pan with parchment paper.
Cut the log into 3/8-inch-thick slices with a small sharp knife and arrange
the crackers on the sheet pan. Bake for 22 minutes, until very lightly browned, rotating the pan once during baking. Cool on the pan and serve
at room temperature.
Note: When cutting the log into crackers, don't press on the knife; use
it like a saw and let the blade do the work. If you freeze the rolls, defrost
them overnight in the refrigerator.

One of the many things we love about this cookbook is
the emphasis on simplicity, saving time, avoiding stress,
and still maintaining a high standard of excellence. These
recipes have been developed by Ina Garten herself, then
tested and re-tested. They are extraordinarily pleasing
to both eye and palate!
The cookbook even goes so far as to present us the gift
of "68 easy tips"! Following is a random selection:
♦ Parchment for sheet pans
♦ Personal recipe file
♦ "Plan B"
♦ Votive candles for the table
♦ Large stockpot
♦ Crocks with utensils
♦ Lots of measures...

'How easy is that?' pg 2
'How easy is that?' pg 3
'How easy is that?' pg 4


Featured Archive Recipes:
(from the Barefoot Contessa, of course!)
Banana Crunch Muffins
Coffee and Granola
Croque Monsieur from
'Barefoot in Paris'
Grilled Lemon Chicken with Satay Dip
Indonesian Ginger Chicken
Parmesan Chicken Sticks
Roasted Vegetable Torte
More favorite cookbook recipes:
Antipasti from Mario Batali's
"Simple Italian Food"
Grilled Ginger Chicken Salad
(Chef Michael Lomonaco)
Lemon-Brined Fried Chicken
(Chef Thomas Keller)
Louisiana Shrimp and Andouille over Grits
(Chef John Besh)
Monsieur Henny's Eggplant Gratin
(Patricia Wells
Parmesan Sesame Biscuits
(Laurie Colwin)
Roasted Eggplant-Chèvre Mousse
(The White Dog Cafe)
Union Square Cafe Bar Nuts
(won the New York Press award for
the "best bar nuts" in New York)
Our all-time favorite cookbooks

Food and Art (Artist's Cookbooks)
Recipes from out-of-print
(or hard to find) cookbooks



Current Cookbook Feature
Index - Cookbook Features
Visit Cajun Country!
Do you know what it means
to miss New Orleans?
Thanksgiving Recipe Index!
Holiday Central!
Daily Recipe Index
Recipe Archives Index
Recipe Search