Recipe of the Day Categories:
Recipe Home
Recipe Search
Fruit

Have a heart for
the Gulf Coast

La Pince de la Mer
Art Print
Gotzes, Sabine
Buy at AllPosters.com


Shop for TABASCO
(R) music CD's,
from Cajun to Zydeco.

Sunrise at the Alligator Bayou Swamp, Louisiana
Photographic Print
Leigh, Kevin
Buy at AllPosters.com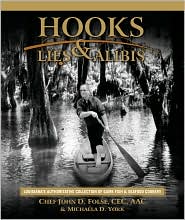 Hooks, Lies & Alibis

(Chef John Folse)

Your patronage of our affiliate partners supports this web site.
We thank you! In other words, please shop at LBC Gift Galerie!

Safe Harbor with Pelicans
Conte
Buy This at Allposters.com



Chef John Folse and Company
Taking the Taste of Louisiana Worldwide

Lump Crab and Artichoke Dip
PREP TIME: 30 Minutes
SERVES: 10 - 12

"For your next cocktail party, especially around the holiday season,
no combination is better for a unique and tasty dip than crabmeat and
artichokes. An interesting thing about this recipe is the many variations
that may come about by simply adding more cream to create a soup or
throwing in 2 cups of chopped spinach and replacing the crab meat with
oysters for a fabulous Oysters Rockefeller Dip or Soup."

Ingredients:
1 pound jumbo lump crabmeat
Two 8.5 ounce cans artichoke
hearts, drained
1/4 pound butter
1/2 cup diced onions
1/4 cup diced celery
1/4 cup diced red bell pepper
1/4 cup diced yellow bell pepper
2 tablespoons minced garlic
1/4 tsp granulated garlic
1/4 tsp nutmeg
1/2 cup flour
2 cups chicken stock
1 pint heavy whipping cream
1 ounce dry white wine
1/4 cup sliced green onions
1/4 cup chopped parsley
2 cups grated Parmesan cheese
1/2 teaspoon salt
1/4 teaspoon Cayenne pepper
1/2 teaspoon chopped basil



Begin by rinsing artichokes well under cold water to remove the brine and
chop coarsely in a food processor. Remove and set aside for later use. In a
two-quart heavy bottom sauté pan melt butter over medium high heat. Add
onions, celery, bell peppers and garlic. Sauté 3 to 5 minutes or until vege-
tables are wilted. Add artichokes and blend well into the vegetable mixture,
stir and cook 5 additional minutes. Sprinkle in flour and blend well to form
a white roux, do not brown. Add chicken stock and heavy whipping cream
one cup at a time whisking constantly until a thick cream sauce is achieved.
Reduce heat to simmer. Add white wine and season to taste using salt and
pepper. Simmer approximately 15 minutes stirring occasionally to keep
from scorching. The mixture should resemble a thick cream sauce and
should it become too thick, additional whipping cream or stock may be
added to reach desired consistency. Add green onions and parsley, then
fold in lump crabmeat. Cook 5 minutes longer, then remove from heat.
Fold in Parmesan cheese and adjust seasonings if necessary. Place the
mixture in a chafing dish and serve with garlic croutons or crackers.

Crawfish and Andouille Pasta
PREP TIME: 1 Hour
SERVES: 6

"Everybody seems to be so diet conscious today. Isn't it strange how the word "diet" instantly invokes visions of "no taste or flavor?" One interesting thing about the
new "Sugar Busters Diet," taking New Orleans by storm, is the fact that heavy whipping cream, butter and andouille sausage may be consumed in any recipe,
and yes, you can still lose weight. Why not diet on this Louisiana pasta?"

Ingredients:
1 pound crawfish tails
1/4 cup sliced andouille
3 cups whole wheat pasta, cooked
[or pasta of your choice]
1/4 pound butter
1 tablespoon garlic
1/4 cup sliced green onions
1/4 cup sliced mushrooms
1/2 cup diced Creole tomatoes
1 ounce dry white wine
1 tablespoon lemon juice
1 cup heavy whipping cream
1/4 cup diced red bell pepper
1 tablespoon chopped parsley
Salt and cracked pepper to taste

In a 2-quart heavy-bottomed sauce pan, melt butter over medium-high
heat. Add garlic, green onions, mushrooms, tomatoes and andouille. Sauté
3 to 5 minutes or until vegetables are wilted. Add crawfish and natural
juices and blend well into the vegetable mixture, cooking 3-5 minutes.
Add white wine, lemon juice and heavy whipping cream. Bring to a low
boil. Reduce to simmer and cook, stirring occasionally, until whipping
cream is reduced to a sauce-like consistency. Add red bell peppers,
parsley and season to taste using salt and pepper. Heat the pasta under
hot running tap water, drain well and fold into the hot pasta sauce.
Serve immediately.

White Chocolate Bread Pudding
PREP TIME: 2 Hours
SERVES: 6-8

"Bread pudding is considered the "apple pie" of South Louisiana. Because
of our heavy French influence, crusty French bread is in abundance here.
Our German population gave us a good supply of milk and eggs, and when
combined with leftover bread one of our premier desserts emerged. The
addition of white chocolate gussies up this country dish."

Ingredients:
9 ounces Baker's white chocolate
3 (10-inch) loaves French bread
4 whole eggs
6 egg yolks
4 cups heavy whipping cream
1 cup milk
1 cup sugar

Preheat oven to 300 degrees F. Slice French bread into 1/2 -inch-thick
round croutons and set aside.
In a large mixing bowl, combine eggs and egg yolks. Using a wire whisk,
whip until well-blended and set aside. In a large saucepan, combine whip-
ping cream, milk and sugar. Bring mixture to a low simmer then add white chocolate. Using a wire whisk, stir until chocolate is completely melted. Remove pot from heat and, stirring quickly, add whipped eggs to the
cream mixture. Blend thoroughly to keep eggs from scrambling.
In a 9- x 13-inch baking dish, place bread slices in 2 to 3 layers. Pour
1/2 of the cream mixture over the bread, allowing it to soak up most of
the mixture prior to adding the rest. Using your fingertips, press the bread gently allowing the cream mixture to be absorbed evenly into the bread.
Pour remaining cream mixture over the bread and repeat process. Cover
dish with aluminum foil and allow to soak a minimum of 5 hours prior to
baking. Bake, covered, for approximately 1 hour then remove foil and
bake 45 additional minutes or until top is golden brown. This bread pud-
ding is actually better if chilled in the refrigerator overnight, after baking,
then cut into squares and heated in individual portions in the microwave.
You may wish to create a white chocolate sauce for topping the bread
pudding by combining 8 ounces of melted white chocolate and 3 ounces
of heavy whipping cream. This may be done in a double boiler or
microwave.

Books by Chef John Folse:
** Encyclopedia of Cajun and Creole Cuisine **
Hot Beignets and Warm Boudoirs: A Collection
of Recipes from Louisiana's Bed and Breakfasts
Plantation Celebrations: Recipes from
Our Louisiana Mansions


More from Chef John Folse:
Cajun-Style Chicken and Eggplant Casserole
Chicken, Oyster, and Andouille Gumbo
Creole Turtle Soup
Layered Fruit and Shrimp Salad
Featured Archive Recipes:
Aubergines Jean Lafitte
Crawfish Crazy! (Marcelle Bienvenu)
Natalie's Cajun Crab Dip
Spicy Penne Charmaine
Emeril's Chocolate Bread Pudding
White Chocolate Banana Bread Pudding with
Caramel Semi Freddo and Boozy Caramel Sauce


More Lagniappe Recipes!
Cajun Country
Do you know what it means
to miss New Orleans?
Daily Recipe Index
Recipe Archives Index
Recipe Search