Recipe of the Day Categories:
Recipe Home
Recipe Index
Recipe Search
Fruit

New Orleans Rainy Day
Diane Millsap
Buy This Allposters.com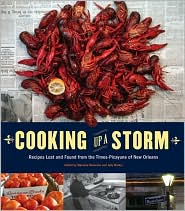 Cooking up a Storm: Recipes Lost and Found from the Times-Picayune of New Orleans

Zydeco With Warren Prejean
Diane Millsap
Buy This Allposters.com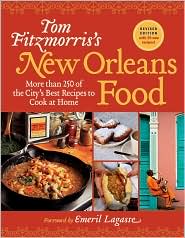 Tom Fitzmorris's New Orleans Food: More Than 250 of the
City's Best Recipes
to Cook at Home

The Legend Of Jean Lafitte
Diane Millsap
Buy This Allposters.com


Love New Orleans?
This book's for you!

Your patronage of our affiliate partners supports this web site.
We thank you! In other words, please shop at LBC Gift Galerie!

French Quarter Rain
Diane Millsap
Buy This Allposters.com


Have a heart! Help your fellow man...
Determined cook is hand-copying her
recipes recovered after Katrina
By Marcelle Bienvenu, The Times-Picayune
August 25, 2011
"They faced a grueling evacuation the next day, so on Aug. 27, 2005,
Michele Montalbano and her family prepared and enjoyed one of their
favorite meals: shrimp and grits, made from a recipe from Crook's
Corner in Chapel Hill, N.C.
Although they didn't know it, that was the last meal at their Chalmette
home, located three blocks from the 40 Arpent Canal -- and the last day
her recipe collection, painstakingly curated over generations, would be
intact.
'My mom, stepdad, our cat and I packed and left before dawn on Sunday,
August 28,' Montalbano said. 'My mom still laments the dinner leftovers
we stashed in the refrigerator.'
Michele and her family were in Dallas when a family friend informed them
that only the chimney of their home was visible above the flood waters.
In the fall, they set up a home in Broussard, near Lafayette, which is where Michele's recipe rescue mission started.
'When I made the first trip back to the house about a month after Katrina, I
was so overwhelmed I couldn't think of what to rescue,' said Montalbano,
who now lives in Mandeville. 'But when I returned in November, I dumped
all my recipe file folders into a large black garbage bag and hauled them
back to Broussard. I left the store-bought cookbooks behind as they were
still wet and had sprouted noxious-looking mushrooms. I figured I could
replace the books at a later time.'
Back in Broussard, Michele strung rope across the little kitchen, bought
some wooden clothes pins and started hanging up all the recipes to dry.
'The odor was awful. My step-dad lost his sense of smell years before as a
result of a surgical procedure so he didn't mind. As the recipes dried, I
separated them into big manila envelopes by categories: poultry, beef,
seafood and so on. Mom said that she would type the recipes, maybe five
to 10 per day.
'Well, that sounded pretty good, but the reality was that as the five-year
anniversary approached, I realized she had typed maybe a total of five
recipes. And the extra bedroom where the recipes were stored smelled of
molded paper.
'So I just decided to start handwriting the recipes. I'm a terrible typist.'
The recipe transcription is a work of patience and diligence. Through the
years, the cooks in the family made notes on the original recipes. For
example, if the recipe called for 1 clove garlic, minced, there is a note
'we always use 2 or 3 times this amount.' In another recipe, 2 ounces of
chili powder is called for and a note saying 'we use a chili powder that we
get from Penzey's Spice Co. and it's serious stuff.'
And so her project continues.
She now has six large notebooks filled by categories (soups, beef, poultry,
pork, shrimp/crabs and crawfish/oysters/fish) and is still working on desserts.
'I have to separate the desserts into sub-categories like pies, cakes, cookies
and so on. I also am working on vegetables, sides, sauces, marinades and
dressings. Appetizers are still pretty screwed up, but I'm working on them.
Then I'll have to do a master index,' she laughed.
And what happened to all the molded recipes?
'I sent them to a friend from Chalmette who now lives in Tennessee so that
she can go through them for anything she wanted,' Montalbano said. 'When
she visited me, she went through the notebooks and we photocopy whatever
she wants.
'I'm happy to share with anyone, but this project has been done mostly for me.
There wasn't much I could save from my home in Chalmette, but some of the
best memories in my life have come out of the kitchen and these recipes
symbolize those good times.'
Michele continues to look for recipes she can't locate. For example, she
would love to know if anyone has a recipe (or one close to it) for the custard
pie at the old McKenzie's.
'The crust was awful but that didn't stop me from eating all of the filling
in two sittings,' she said.
Asked to find some recipes to share with readers, Montalbano selected 'my
absolute 'last meal' favorites' from each notebook, and ended up with
33 dishes.
'Then I went through the list and asked myself which ones would have
been lost forever had I not tackled this project,' she said.
'And I'm down to eight or nine.'
Here are some 'saved' recipe highlights."
Octa Hale's Pineapple Upside Down Cake
"Octa Hale was a friend of my paternal grandmother's,' Michele Montalbano
said. 'I'm not sure how I ended up with the recipe but Chicago Metallic Manufacturing Co. was printed at the bottom of the recipe so I copied it.
It's probably the company that made the cast-iron skillet that was used.
Anyway, it's the most simple but delicious cake."
Melt 1/2 cup butter in a large iron frying pan. Add 1 cup brown sugar
and spread evenly. Lay a complete wheel of pineapple in the center
and wheels of pineapple all around. Place a maraschino cherry in the
center of each pineapple wheel. Place a walnut or pecan half between
each pineapple wheel.
Make a sponge cake batter. Beat the yolks of 3 (extra-large) eggs. Add
1 cup of granulated sugar and 5 tablespoons of pineapple juice. Stir in
1 cup of flour and 1 teaspoon baking powder. Fold into stiffly beaten
egg whites. Pour over the fruit. Bake 45 minutes for 1 hour in a
moderate (350-degree F) oven.
B.J.'s Pasta Seafood Toss
" 'This one is at least 25 years old and is the result of a bored aunt's
gastronomical adventures using what she had readily available in
her pantry to create something different for dinner,' Montalbano said.
Her original effort used canned shrimp and canned crab, but we
changed that to fresh right away.' "
"The canned mushrooms were changed to fresh, too. 'These quantities
make a lot of sauce,' she said. 'Half produces five healthy portions.
When we make it now, we still do a whole recipe of the sauce. Use
half now with the quantity of pasta, and freeze the other half for
another time.' "
1 pound vermicelli
2 chicken bouillon cubes
Garlic powder, onion powder and
liquid crab boil to taste
Sauce:
2 bunches shallots (green onions),
chopped
4 medium onions, chopped
1/2 pound chopped Baby Bella
[cremini] mushrooms
1 tablespoon chopped garlic
2 sticks butter
1/2 cup olive oil
2 cans cream of shrimp soup
1 can cream of mushroom soup
Splash of fresh lemon juice
Dash cayenne
Sprinkle of dried sweet basil
Salt to taste
1 pound fresh claw crabmeat
2 pounds shrimp (boiled and peeled)
Boil the vermicelli, bouillon, garlic powder, onion powder and liquid
crab boil with water until the pasta is done. Drain and set aside.
Make the sauce: Sauté the shallots, mushrooms, onion and garlic in
the butter and olive oil until tender. Add the soups, lemon juice,
cayenne, basil and salt, stirring constantly to blend. Add the crabmeat
and shrimp. Heat through and toss (half of the sauce) with the pasta.
Oysters Lafitte
" 'There used to be a little bar on a funny triangle of land on Canal Street
called Joe's Jungle,' Montalbano said. 'The land now is a little pedestrian
park leading to the DoubleTree and Windsor Court hotels. My biological
father spent a great deal of time there with his friends. That bunch sure
could cook. I've had this recipe and another for barbecued shrimp for
about 40 years now, and there would have been no way to recover it
without drying out the flood-damaged papers.' "
4 tablespoons butter
2 cups chopped mushrooms
1 cup chopped, cooked shrimp
1/4 chopped green onions
1/4 cup snipped parsley
1 clove garlic, minced
2 dozen fresh oysters on the half-shell
1/2 cup dry white wine
1/2 teaspoon salt
Dash cayenne
1 cup cream
1/4 cup all-purpose flour
Rock salt
1/3 cup fine dried bread crumbs
2 tablespoons melted butter
1/8 teaspoon paprika
In a skillet, melt the butter. Add the mushrooms, shrimp, onions, parsley
and garlic. Cook for 1 minute. Drain the oysters, reserving the liquid (add
enough water if needed to make 3/4 cup). Add the oyster liquid, wine, salt
and cayenne to the skillet. Bring to a boil and simmer for 1 minute.
Combine the cream and flour. Stir into the mixture in the skillet, stirring constantly until thickened and bubbly.
Arrange the oyster shells on a bed of rock salt in a shallow baking pan.
Place one or two oysters in each shell. Spoon about 2 tablespoons of
the sauce over each oyster. Combine the bread crumbs with the melted butter. Sprinkle over the oysters and bake at 450 degrees for 10 minutes.
Crook's Corner Shrimp and Grits
" 'The recipe appeared in Southern Living at some point prior to 'K' and
was recovered by a friend from her files,' she said. 'We double the recipe .' "

[Note: "prior to 'K'" means prior to Katrina, of course. Many folks in this
area just say "pre-K". We all know what that means, and we all know the
date: August 29, 2005. And we all know precisely where we were...MG]
Makes 4 servings
2 cups water 1 (14-ounce) can chicken broth
3/4 cup half-and-half
3/4 teaspoon salt
1 cup regular grits
3/4 cup shredded Cheddar cheese
1/4 cup grated Parmesan cheese
2 tablespoons butter
1/2 teaspoon hot sauce
1/4 teaspoon white pepper
3 bacon slices
1 pound medium-size shrimp,
peeled and deveined
1/4 teaspoon black pepper
1/8 teaspoon salt
1/4 cup all-purpose flour
1 cup sliced mushrooms
1/2 cup chopped green onions
2 garlic cloves, minced
1/2 cup low-sodium, fat-free chicken broth
2 tablespoons fresh lemon juice
1/4 teaspoon hot sauce
Lemon wedges
Bring the water, broth, half-and-half and salt to a boil in a medium
saucepan; gradually whisk in grits. Reduce heat and simmer, stirring occasionally, 10 minutes or until thickened. Add Cheddar cheese,
Parmesan, butter, hot sauce and white pepper. Keep warm.
Cook the bacon in a large skillet until crisp. Remove the bacon and
drain on paper towels, reserving 1 tablespoon drippings in the skillet.
Crumble the bacon.
Sprinkle shrimp with pepper and salt; dredge in flour.
Sauté the mushrooms in hot drippings in skillet 5 minutes or until
tender. Add green onions and sauté 2 minutes. Add shrimp and
garlic, and sauté 2 minutes or until shrimp are lightly brown. Stir
in chicken broth, lemon juice, and hot sauce, and cook 2 more
minutes, stirring to loosen particles from bottom of skillet.
Serve shrimp mixture over hot cheese grits. Top with crumbled
bacon; serve with lemon wedges.

Featured Archive Recipes:
Aubergines Jean Lifitte
Big Mama's Eggs Creole
Cajun Crab Dip
Cajun Potato Salad with Shrimp and
Green Garlic Mayonnaise
Cajun Pot au Feu
Chicken, Oyster, and Andouille Gumbo
Crawfish Crazy! (Marcelle)
Eggplant Bayou Teche (Chef
Paul Prudhomme)
Mamete's Grillades and Grits
Mirliton Seafood Casserole
Oyster Dressing "Grand-Mere"
(Chef John Besh)
The oyster is my world (Marcelle)
Seafood Dirty Rice (Prudhomme)
Mr. B's Shrimp Chippewa
~*~*~*~*~*~*~*~*~*~*~*
Sweet Stuff:
Burnt Cream (Marcelle Bienvenu)
Michele's Bananas Foster Pound Cake
New Orleans Chocolate Layer Cake
New Orleans Jolt Cake
Père Roux's Cake (Chef John Besh)



More Lagniappe Recipes!
Do you know what it means
to miss New Orleans?
Holiday Central!
Daily Recipe Index
Recipe Archives Index
Recipe Search