Recipe of the Day Categories:
Recipe Home
Recipe Search
Appetizers
Beef
Beverage
Bread
Breakfast
Cake
Chocolate
Fruit
Main Dish
Pasta
Pies
Pork
Poultry
Salad
Seafood
Side Dish
Soup

French Quarter Courtyard in
New Orleans
Giclee Print
Millsap, Diane
Buy at AllPosters.com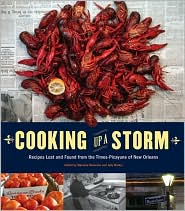 Cooking Up a Storm: New Orleans Recipes for Recovery

New Orleans, Do It
Art Print
Lourenco, Didier
Buy at AllPosters.com


Your patronage of our affiliate partners supports this web site.
We thank you! In other words, please shop at LBC Gift Galerie!

People Meet along the Fog Shrouded Mississippi River Walk,
New Orleans, Louisiana, USA
Photographic Print
Laskowitz, Ray
Buy at AllPosters.com


New Orleans Chocolate Layer Cake

Maida Heatter's Book of
Great Chocolate Desserts

by Maida Heatter, 1995, Random House
12 to 14 generous portions
"Recently my husband and I had dinner at a seafood restaurant in New Orleans.
We struck up a conversation with a delightful couple at an adjoining table and
were very flattered when they suggested cake and coffee at their house. The house
was fabulous – it had been in the family for many generations. Ditto the cake –
which it appeared they just happened to have on hand, although it looked like something for an important occasion (that is Southern hospitality). I was told
that the recipe had never been given out before; here it is.
It is a large, dramatic two-layer dark-chocolate sour-cream cake with a thick
layer of a creamy chocolate pudding-like filling and whipped cream icing.
It is best to fill and ice this cake the day it is served."
Cake
4 ounces (4 squares) unsweetened chocolate
1/4 pound (1 stick) sweet [unsalted] butter
1/2 cup sour cream
1 1/2 teaspoons baking soda
2 cups granulated sugar
1/2 teaspoon vanilla extract
1/4 teaspoon salt
2 eggs (graded large or extra-large)
2 cups sifted all-purpose flour
1 cup boiling water
Adjust rack to center of the oven and preheat oven to 350 degrees [F].
Butter two 9-inch round layer-cake pans and line them with baking-pan
liner paper or wax paper cut to fit. Butter the paper and dust the insideof
the pans with flour, invert and tap to shake out excess. Set the pans aside.
Place the chocolate and butter in a small, heavy saucepan over low heat
and stir frequently until melted and smooth.
When the chocolate is almost melted stir the sour cream and baking soda together in a small bowl and set aside.
When the chocolate and butter are melted transfer to the large bowl of an electric mixer. Add the sugar, vanilla, and salt and beat just to mix. Then
add the eggs one at a time, beating until mixed after each addition. Mix in
the sour cream and baking soda and then, on low speed, add the flour,
scraping the bowl with a rubber spatula and beating only until smooth.
Now, on the lowest speed, very gradually add the boiling water, scraping
the bowl and beating only until smooth.
The mixture will be thin. Pour half of it into each of the prepared pans.
Bake for 25 to 28 minutes until the tops spring back lightly, when gently pressed with a fingertip.
Cool the layers in the pans for 10 minutes. Then with a small, sharp knife
cut around each layer to release. Cover with a rack, invert, remove pan and paper lining, cover with another rack and invert again to cool right side up.
(These layers might stick to the racks as they cool. After they have cooled
for about 10 minutes on the racks, cover each layer with another rack, invert for a moment just to release, and then replace right side up to finish cooling.)
Chocolate Filling
2 cups milk
2 ounces (2 squares) unsweetened chocolate
1 tablespoon (1 envelope) unflavored gelatin
1/4 cup cold water
1/3 cup sifted all-purpose flour
1 cup less 2 tablespoons granulated sugar
2 egg yolks
1/2 teaspoon vanilla extract
Pinch of salt
Scald the milk in a small, uncovered, heavy saucepan over moderate heat.
Meanwhile, place the chocolate in the top of a small double boiler, cover,
and place over hot water on low heat to melt. When the chocolate is
melted, remove it from the hot water and set aside uncovered.
Sprinkle the gelatin over the cold water in a small custard cup and let stand.
In the top of a large double boiler, off the heat, stir together the flour and sugar.
When the milk is scalded (when it has a slightly wrinkled skin on top)
gradually add it o the flour and sugar mixture, stirring well to keep the
mixture smooth. Place over hot water in the bottom of the double boiler
on moderate heat. Stir constantly and scrape around the bottom and sides
of the pot with a rubber spatula until the mixture thickens to the consistency
of a thin cream sauce. Cook, stirring, for about 3 minutes more.
Stir the yolks lightly in a mixing bowl just to mix. Very gradually add about
half of the hot milk mixture, stirring constantly, and then add the yolks to
the remaining milk. Stir well and place over hot water again. Cook, stirring,
for 2 minutes.
Remove from the heat. Add the softened gelatin and stir to melt the gelatin,
the stir in the chocolate, vanilla and salt. (If you wish, the mixture may be
strained but it is not essential.)
Place some ice and water in a large bowl and place the pan of filling into
the ice water. Stir occasionally at first until cool; then stir more frequently
but gently until the filling is thick enough to spread – it should be like a very thick mayonnaise – it must be stiff enough not to run when it is spread on
the cake.
While the filling is chilling prepare a large, flat cake plate or serving board
by placing four strips of wax paper around the outer edges.
Place one layer upside down on the plate. Check to see that it is touching
the paper all around.
If you have a cake-decorating turntable or a lazy Susan, place the cake
plate on it.
Spread the thick filling smoothly over the cake – do not spread it beyond
the edges. It will be almost 1 inch thick. Then place the other layer right
side up over the filling. Refrigerate.
Whipped Cream Icing
2 cups heavy cream
1/3 cup strained confectioner's sugar
Scant 1 teaspoon vanilla extract
In the small bowl of the electric mixer (the bowl and beaters should be
chilled), whip the above ingredients until they are thick enough to spread.
(As a safety precaution against overwhipping it is a good idea to finish the
whipping with a wire whisk.)
Spread the cream over the sides and then over the top – it will be a thick
layer. It may be spread smoothly or into swirls and peaks…
Carefully remove the wax paper strips by pulling each one out toward a
narrow end.
The cake should be refrigerated for at least an hour or so before serving; whipped cream is not as light and delicious if it stands overnight.

Featured Archive Recipes:
Countess Toulouse-Lautrec's
French Chocolate Cake
The Ultimate Chocolate Cake Collection

Index - Chocolate Recipe Archives
Index - Cake Recipe Archives
Index - Cake Fillings and Frostings
Daily Recipe Index
Recipe Archives Index
Recipe Search