Recipe of the Day Categories:
Recipe Index
Recipe Search
Fruit

"Freedom From Want",
March 6,1943
Norman Rockwell
Buy This at Allposters.com


Close View of a Wild Turkey
Photographic Print
Sartore, Joel
Buy at AllPosters.com
Love New Orleans?
This book's for you!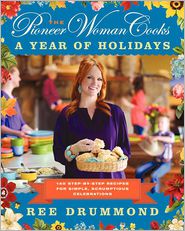 The Pioneer Woman Cooks: A Year of Holidays: 140 Step-by-Step Recipes for Simple, Scrumptious Celebrations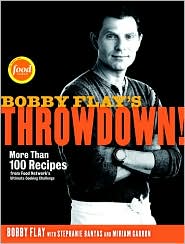 Bobby Flay's Throwdown!: More Than 100 Recipes from Food Network's Ultimate Cooking Challenge

Portabella Mushrooms (Agaricus Bisporus)
Photographic Print
Eberhart, Wally
Buy at AllPosters.com


Your patronage of our affiliate partners supports this web site.
We thank you! In other words, please shop at LBC Gift Galerie!

The First Thanksgiving

Buy This at Allposters.com


Just another Thursday? Not!
November 2010
It's tempting. Why bother with Thanksgiving, anyway? Isn't it just
another Thursday?
I mean, it isn't like I'm cooking for my family! Even MissSophieDog
isn't here to do her dance of delight, tail wagging joyfully in eager
anticipation. My sons are thousands of miles away, each occupied
with Thanksgiving concerns of his own -- exactly as it should be.
What to do? Didn't I write about this very subject recently? Seems like
I called it something like "Just because..." (Wow. Now that I go back
and look, I see that was written in 2007. Time flies when your life is
falling apart, huh?)
Here's the thing -- what I really WANT to do this year is the whole nine
yards and then some! There are, however, challenges, both physical and financial, which prohibit that luxury. And it is a luxury you know, no
matter how much work may be involved. It is GOOD work. Fulfilling
work. And you know I'm not talking only about the filling of stomachs.
I'm talking about giving -- giving thanks, and giving back. I find it most comforting to pay tribute to our ancestors by following, passing along,
and thereby preserving, time-honored family traditions.
Having said that, I can now tell you in good conscience that what I
would cook this coming Thanksgiving week (if only I could!) wouldn't
be tantamount to throwing Tradition out the window. By no means. I
am, however, open to flexibility and opposed to rigidity, I've decided
to allow myself to be open to the influence of two of my top-favorite professional chefs/authors and an esteemed food blogger/author from
Pawhuska OK (yay!). With the help of their inspiration (and recipes!),
I'm taking my traditional Thanksgiving family feast to the next level.
Now we are blessed to have a very American mixture of the Midwest,
the South in general and New Orleans in particular, plus New York, in
our Traditional Family Feast. And I am extremely grateful!
"We bless the Lord, the just, the good,
who fills our hearts with joy and food;
who pours His blessing from the skies,
and loads our days with rich supplies."
~ Isaac Watts

Family Traditional Thanksgiving
Taken to the Next Level (2010)

The Menu:

Thanksgiving Eve:
(Why are we planning an entire menu for Thanksgiving Eve?
Well, because that's the way it usually was, back in the day...
my uncle driving in, kids coming home from college with more
kids, maybe even my dad flying in. They have to be able to sit
down and eat and visit and let me do advance prep work for the
Thanksgiving Day Feast!) So, as I was saying...
Ham
Gigi's Potatoes, Onions and
Mushrooms au Gratin
Seven-Layer Salad
Deep South Cheese Straws
Mammy's Banana Nut Cake

Thanksgiving Day:
Baked Herbed Oysters
Good Eats Turkey
Sourdough, Wild Mushroom, and Bacon
Dressing (Bobby Flay, recipe follows)
Chef John Besh's Crawfish Cornbread
Dressing (recipe follows)
Burgundy Mushrooms (PW)
Delicious Creamy Mashed Potatoes (PW)
Green Bean Casserole a la Pioneer Woman
Savory Squash and Mushroom Bread
Pudding (recipe follows)
Thanksgiving Fruit Salad
Hoppin' John's Icebox Rolls
Fig Preserves Cake
Scrumptious Apple Pie
(Pioneer Woman)
Throwdown Pumpkin Pie
(Bobby Flay)
or
Throwdown Pumpkin Bread Pudding
with Spicy Caramel Apple Sauce and
Vanilla Bean Creme Anglaise
(One of those might have to wait for
the weekend!)

Counting down...
The Plan!
2 - 3 days ahead:
Turkey and brine prepartion
Wednesday morning/afternoon prepare:
Ham
Gigi's Potatoes, Onions and
Mushrooms au Gratin
Seven-Layer Salad
Deep South Cheese Straws
Bake cornbread for dressing
Wednesday afternoon/evening:
STOCK! Please don't try to weasel your way out of this. It is one
family tradition that is written in stone. It's my very favorite part
of the whole Thanksgiving shebang. Wednesday night is lovely!
Certainly it's good to have Swanson's broth around too; however

"If you do not use good stock, you should not be allowed to eat."
~ Pat Conroy, 'Pat Conroy Cookbook'
Remove the giblets from the turkey, rinse them well; drain. (I was taught
that the liver was not to be included in the making of turkey stock. Some
chefs disagree. Perhaps even all French chefs? Anyway, if you have pets,
let that be part of their Thanksgiving treat... braised turkey liver!)

Turkey giblets
1 pound chicken wings
4 quarts water
about half a palmful black peppercorns
2 large onions stuck with 4 - 6 cloves
8 stalks celery, with leaves
(rough chop if you want to)
4 carrots, scrubbed, halved,
2 sprigs fresh thyme,
a good handful fresh parsley,
with stems
1 bay leaf

Select a stockpot large enough to comfortably hold all the ingredients
listed above. Place the giblets, chicken wings, and water in pot and bring
to a boil. Skim foam, and add all other ingredients. Bring back to a boil
and reduce to the lowest possible heat; you want this to be barely sim-
mering. Continue cooking for about 2 1/2 hours, skimming occasionally
as necessary. Strain the cooked stock through a damp cheesecloth-lined colander. Discard all solids. Cool and refrigerate the stock. When fat has congealed on top, remove and discard it. The stock may be used as is or frozen. Makes 3 1/2 to 4 quarts.

Toast the bread (for dressing)
PREP! Chop onions, celery, etc., sauté, refrigerate
Prepare and refrigerate all side dishes and fruit salad.:
Bake cake and pies!

The Recipes!
Chef John Besh's Crawfish
Cornbread Dressing
Your game plan for Saintsgiving?
Make the meal ahead of time
by Judy Walker,
The Times-Picayune November 2010
""Lucy DeHarde has informed her family that things are going to be different
on turkey day this year. It's not going to be the same old Thanksgiving meal:
They're having Saintsgiving instead. Lucy, Tommy and son Christopher
DeHarde are Saints season ticket-holders who live in Luling. And this year,
the Saints are playing on Thanksgiving Day for the first time, at Dallas, on
national television. 'I've already told everybody I'm not cooking and spending
the day in the kitchen because I'm going to be watching football,' she said."

The biggest anxiety this Thanksgiving will be over oysters, a favorite in local
holiday dressings and other dishes. The state's oyster beds were severely im-
pacted by this summer's BP oil spill in the Gulf. But so far, it seems as if
there is availability, though limited. This might be the year to make a smaller
pan of oyster dressing as well as another one with Louisiana seafood. John
Besh, New Orleans' own contemporary celebrity chef, shared this recipe for
the holiday season, and it fits this bill nicely, combining andouille and hot
sausage with crawfish. It can be prepared a day ahead and kept in the
refrigerator until an hour before serving."
Makes 10 servings
4 tablespoons rendered bacon fat
1⁄4 pound andouille sausage, diced
1⁄4 pound hot pork sausage meat,
removed from casing
1 medium onion, chopped
1 stalk celery, diced
1⁄2 green bell pepper, diced
1 clove garlic, minced
2 cups peeled crawfish tails, chopped
2 green onions, chopped
1 small jalapeno pepper, chopped
Leaves from 1 sprig fresh thyme
2 tablespoons Creole seasoning
6 cups crumbled cornbread
2 cups chicken [or turkey]stock
1⁄2 cup heavy cream
2 eggs, lightly beaten
Salt and freshly ground black pepper
Put the bacon fat, andouille and pork sausage into a large skillet and cook over medium-high heat, breaking up the pork with the back of a wooden spoon. When the pork sausage meat has browned, add the onions, celery, bell pepper and garlic and cook, stirring occasionally, until the onions are translucent, about 5 minutes. Add the crawfish and cook for 2 minutes. Transfer the mixture to a large mixing bowl.
Add the remaining ingredients to the bowl with the sausage and crawfish
and stir together until well combined. Spoon the dressing into a large
greased heat-proof dish. At this point, the dressing may be covered and refrigerated (for up to 1 day) until you are ready to bake it.
Bake the dressing in a preheated 350-degree oven until it is piping hot
and golden brown, 15 to 30 minutes.
Sourdough, Wild Mushroom,
and Bacon Dressing
Recipe courtesy Bobby Flay
Food Network Show:
Throwdown with Bobby Flay
Prep Time: 30 minbr> Inactive Prep Time: 10 min
Cook Time: 1 hr 50 min
Level: Easy
Serves: 8 servings
1 1/4 pounds sourdough bread, crusts trimmed,
cut into 1/2-inch cubes (about 12 cups)
1/2 pound shiitake mushrooms, stems
removed, coarsely chopped
1/2 pound oyster mushrooms, coarsely chopped
11/2 pound cremini mushrooms, thinly sliced
4 tablespoons canola oil, divided
Salt and freshly ground black pepper
3/4 pound slab bacon, cut into 1/2-inch dice
1 large Spanish onion, finely diced
5 cloves garlic, finely chopped
3 to 5 cups homemade chicken [or turkey] stock
or low sodium canned chicken broth
2 large eggs, lightly beaten
3 tablespoons finely chopped fresh sage
2 tablespoons finely chopped fresh
thyme leaves
1/2 cup chopped fresh flat-leaf parsley
Preheat the oven to 350 degrees F.
Spread the bread onto a large baking sheet (or 2 smaller baking sheets)
in an even layer and bake, stirring a few times, until lightly golden brown,
about 12 minutes. Remove and let cool. Once cooled, put the cubes into
a very large bowl.
Increase the heat to 375 degrees F. Combine the mushrooms in a large
baking dish or baking sheet, toss with 3 tablespoons of the oil, and season with salt and pepper. Roast in the oven, stirring several times, until soft
and golden brown, about 25 minutes.
While the mushrooms are roasting, heat the remaining 1 tablespoon of the canola oil in a large high-sided sauté pan over medium heat. Add the bacon and cook, stirring occasionally, until golden brown and the fat has rendered, about 10 minutes. Remove the bacon with a slotted spoon to a plate lined with paper towels.
Remove all but 2 tablespoons of the rendered fat in the sauté pan and place back on the stove over high heat. Add the onion and cook until soft, about
4 minutes. Add the garlic and cook for 1 minute. Add 3 cups of the chicken stock and the herbs, season with salt and pepper, and bring to a simmer.br> Add the mushrooms to the bread, and then add the onion/stock mixture,
egg, salt and pepper, and gently stir until combined. The dressing should
be very wet; add more stock as needed. Scrape the mixture into a buttered
13 by 9 by 2-inch glass baking dish. Cover with foil and bake for 20
minutes. Remove the foil, and continue baking until the top is golden
brown, about 30 to 40 minutes longer. Remove from the oven and let
cool for 10 minutes before serving.
Savory Squash and Mushroom
Bread Pudding
Recipe courtesy Cooking with Purpose
Serves 8
2 1/2 tablespoons butter, (some is
for baking pan
3 cups baby bella mushrooms,
cleaned and sliced
1 cup yellow onion, diced small
3 cups small yellow squash grated
6 slices sourdough bread,
cut in large cubes
1/4 cup grated jack cheese
1/4 cup crumbled goat cheese or
farmers cheese
1/4 cup grated parmesan
3 large eggs
1 1/4 cups milk
1/2 teaspoon salt
Black pepper
Butter a 9- by 9-inch baking dish.
In a heavy skillet, melt butter and sauté mushrooms and onion until
tender. Turn off the heat and add the squash.
Layer bread, veggie mixture and cheeses in the baking dish.
Combine the eggs, milk, salt and pepper; whisk them until blended.
Pour the egg mixture over the layered ingredients. Covered and
refrigerate 3 hours to overnight.
Before baking top with grated cheese and a slice of tomato
Preheat the oven to 350 degrees. Bake for about 40 minutes or until
top is brown and eggs are firm.

Featured Archive Recipes:
Absolutely AWESOME Holiday Sides
The Big Bad Feast
Chef John Besh's Big Easy Christmas,
including Oyster Dressing Grand-mere!
Cornbread Dressings with Variations
Holiday Dressing/Stuffing Recipes (Emeril)
Just because...
New Orleans Thanksgiving Favorites
To stuff, or not to stuff?
Alton Brown's Green Bean Casserole
Georgene's Fluffy Rolls
Julia Child's Roast Turkey
Mama Lou's Mac & Cheese
Tyler's Ultimate Potato Gratin
Gigi's Deep-Dish Apple Pie
Gigi's French Apple Pie
Thanksgiving Pies with a Twist


"The oldest references to stuffing are in ancient Roman cookbooks that talk
about vegetables, herbs, spices, and cereal being combined and 'stuffed' into
chicken, rabbits, and pigs. Romans also added liver and brains to their
stuffing. Stuffing has appeared in cookbooks ever since and was quite
popular at Medieval banquets. The sensibilities of the Victorians resisted
the word "stuffing," substituting the more delicate word "dressing," a
term that caught on in the Southern United States.
The word "stuff" means to cram full. For example, after we've had our fill
of turkey, beans, potatoes, rolls, cranberry sauce (and stuffing), we'll lean
back in our chairs and say, "I'm stuffed."
Well, try not to overeat; but this Thanksgiving, remember how God has
"stuffed" our lives with blessings. The cheerful heart has a continual feast
(Proverbs 15:15)."
~ Dr. David Jeremiah

"It seems to me that our three basic needs, for food and security and love,
are so mixed and mingled and entwined that we cannot straightly think
of one without the others. So it happens that when I write of hunger, I
am really writing about love and the hunger for it, and warmth and the
love of it and the hunger for it… and then the warmth and richness and
fine reality of hunger satisfied… and it is all one."
~ M.F.K. Fisher, The Art of Eating
Index - The Spice Cabinet
Thanksgiving Recipe Index!
Holiday Central!
Daily Recipe Index
Recipe Archives Index
Recipe Search