Recipe of the Day Categories:
Recipe Index
Recipe Search
Fruit

Have a heart for
the Gulf Coast

Wild Turkey
John James...
Buy This at Allposters.com

Close View of a Wild Turkey
Photographic Print
Sartore, Joel
Buy at AllPosters.com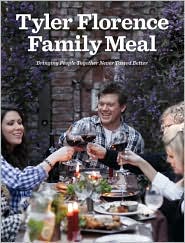 Tyler Florence
Family Meal:
Bringing People Together Never Tasted Better

Classic Rachael Ray 30-Minute Meals:
The All-Occasion Cookbook

"Freedom From Want",
March 6,1943
Norman Rockwell
Buy This at Allposters.com

Crimson Harvest
Art Print
Bachmann,...
Buy at AllPosters.com


Your patronage of our affiliate partners supports this web site.
We thank you! In other words, please shop at LBC Gift Galerie!

Wild Turkey Males Displaying, Texas, USA
Photographic Print
Nussbaumer, Rolf
Buy at AllPosters.com


To stuff or not to stuff...
15 November 2008
Yeah, that's a good question for sure, but it's only one important question on
a very long list this Thanksgiving Season. Like, who's gonna pay for all this
food?!?!? Yikes! No kidding. Have you tried to buy groceries lately? Seems
as though I asked y'all that question about a month or so ago, and I must say
that I have yet to notice any significant drop in food prices. Hmmm...
Okay, since I really don't know what to do about the recession, let's just tackle
the less difficult questions first. Like to stuff or not to stuff.
Not so many years ago that very question would have been considered nothing
short of sacrilege in this family. My grandmother would never even have con-
sidered roasting a turkey any way other than stuffed, with what we have now
come to call "Yankee" bread stuffing. Naturally, my mother followed in her
footsteps (well, at least in that regard), and so did I. The stuffing has always
appealed to me much more that the turkey itself, and it is much more flavorful
when cooked inside the turkey than in a casserole dish, so that was easy. No
contest. Appease the older generations and dig into that stuffing!
My, my, my, how things change over the years. For example, somewhere along
the line I discovered that I REALLY loved cornbread dressing, YUM! (And you
may have noticed that I refer to it as "dressing", not "stuffing" because I have
also found that Southerners, by and large, do not stuff their birds.) No problem, What I decided to do, for more years than I care to count, was make the tasty, traditional Yankee Bread Stuffing AND a good-sized pan of cornbread dressing
on the side. There were those who felt it necessary to complain at least once
about the cornbread dressing on the table, but believe you me, I never had to
throw any of it out...
Okay, here's the thing: not only do we have to decide whether to stuff or not to
stuff, we have to decide how we are going to cook this bird. These questions are inextricably intertwined, are they not? For example, should I decide to deep fry
my turkey (no way!) it ain't gonna get stuffed! My turkey will be roasted, for
sure. But only because I don't have a smoker!
Wow. This could get complicated, huh? To roast, to smoke, to deep fry, to brine
or not to brine. A whole turkey or just the breast? A 22-pound bird, or two 12-
pounders? Merciful Father! It's almost enough to make you seriously consider
going to Piccadilly's after all...
Well, I suppose it's time for me to 'fess up. In part my confusion is due to the
fact that I've had lots of time on my hands lately to do some turkey research.
I came back from my birthday trip to Denver (that's another story!) sick as a
dog with something suspiciously flu-like. Therefore, I found myself spending at
least a week in bed limp as a noodle. What saved the day was Food Network
So please trust me, y'all, when I tell you that there are more ways to cook a
turkey than you can shake a stick at! And yes, I'm about to share some of
them with you, which I hope will serve to inspire rather than confuse you!
If I had a smoker, this is just exactly what I'd be doing this year:

Smoked Turkey with BBQ Gravy
Recipe courtesy The Neelys
Down Home with the Neelys
2 tablespoons salt
1 1/2 tablespoons ground sage
1 1/2 tablespoons thyme
1/2 tablespoon black pepper
1/2 tablespoon Neelys Seasoning,
recipe follows
Turkey Brine:
1 gallon water
2 cups salt
3 cups apple juice
1 cup bourbon
1 tablespoon black peppercorns
1/2 cup light brown sugar
1 (22-pound) turkey
Olive oil
4 cups hickory wood chips,
soaked in water for 60 minutes
BBQ Gravy, recipe follows
For the rub: Mix all ingredients in a small bowl and reserve.
For the brine: Mix the water, salt, apple juice, bourbon, peppercorn,
and sugar into a 5-gallon bucket lined with a resealable bag. Stir until the salt and sugar is dissolved. Add the turkey into the bag with the brine. In
a garbage bag-lined ice chest filled with ice, place the bucket in and sur-round with ice. Keep in a cool place and let brine 6 hours or overnight. Turn the turkey after 3 hours. Remove turkey from the brine and pat dry with paper towels.
Rub the turkey with olive oil and massage the rub onto the turkey.
Soak wood chips for 1 hour prior to cooking the turkey and drain well.
Fill the chimney starter with charcoal and light. Burn until they ash over.
Place the burned coals to 1 side of the grill. Place wood chips on top of
coals. Line a standard size loaf pan with aluminum foil and fill 2/3 with
water. Place in the grill opposite the coals.
Take the turkey and place on the grill over the pan of water. Insert a
probe thermometer in the thigh to keep a check on the temperature as it cooks. Place the lid on the grill with the vent open.
The temperature should remain constant at 225 degrees F. You may need to add more coals and chips every few hours.
After 1 hour check the turkey, if the skin is golden brown cover with foil. Continue cooking for 4 to 6 more hours or until a probe thermometer reaches 160 degrees F.
Remove from the oven and let rest 20 minutes before you carve. Serve
with BBQ Gravy.
Neelys Seasoning:
3/4 cup white sugar
1 1/2 cups paprika
3 3/4 tablespoons onion powder
Mix ingredients together and store in an air tight container for up to
6 months.
BBQ Gravy:
1 tablespoon vegetable oil
Drumstick, from turkey
Neck, from turkey
1 large onion, sliced
8 cups turkey stock or chicken stock
1/4 cup BBQ Sauce (recommended: Neelys BBQ Sauce)
Salt and freshly ground black pepper
Heat the vegetable oil in a saucepan on medium-high heat. Add the drumstick and neck and sear until brown. Remove from pan and reserve.
Lower heat and sauté the onions. Add the stock, scrapping up the fond
on the bottom of the pan. Add the drumstick and neck into the saucepan. Cover and let simmer until it comes to a boil; about 1 hour. Sauce will reduce down greatly. Remove turkey parts. Add BBQ sauce to pan and whisk together. Gravy will thicken. Season with salt and pepper.

Just in case you've decided that BBQ Gravy is not your cup of tea, you might
want to consider this excellent recipe, which IMHO is perfect for those of us
who are really into traditional, very flavorful turkey gravy but are not into
roasting a whole big bird this year:
Roasted Turkey Gravy
Recipe courtesy Tyler Florence
Tyler's Ultimate
5 tablespoons extra-virgin olive oil
1 large, smoked turkey wing or 2 small ones
1 medium onion, quartered
2 carrots, chopped
1 ribs celery, chopped
1 head garlic, split through the equator
4 stems fresh sage
4 sprigs fresh thyme
6 parsley stems
1 1/2 tablespoons all-purpose flour
6 cups chicken stock
Kosher salt and freshly ground black pepper
Heat the oven to 400 degrees F.
Heat 3 tablespoons olive oil in a large stock pot over medium-high heat. Add the wing, onion, carrots, celery, garlic, and herbs, and cook for 5
minutes. Place in the oven and roast for 30 minutes. Remove from the
oven and place over medium heat. Remove the wing and set aside. Add
the flour and let cook for about 1 minute. Add the stock and simmer
until it has reduced by about 1/4, about 15 minutes. Strain the sauce
and adjust the seasoning with salt and pepper.

And that reminds me, since I don't have a smoker, and since I really don't
know what I'd do with a big bird even if I had one, just what AM I going
to do? How about this? YUM-O!

Herb Roasted Turkey Breast with Pan Gravy
Recipe courtesy Rachael Ray
Food Network Special
Rachael Ray's Thanksgiving in 60
"Although sage is the herb most used with turkey, I love the flavor
and aroma of fresh bay (laurel) leaves. Fresh bay leaves are now
widely available in supermarkets. Since the leaves are a bit woody,
and no fun to eat, I baste my turkey with bay-infused butter and
roast the breasts right on top of the leaves, which perfumes
the meat."
Serves: 8 servings
1 small (golf-ball sized) onion, peeled and
coarsely chopped
1 lemon, scrubbed clean
12 fresh sage leaves
Large handful fresh flat-leaf parsley
(about 1/2 cup, from 12 stems)
3 tablespoons extra-virgin olive oil,
plus more for oiling pan
1 teaspoon salt, plus more as needed
6 fresh bay leaves
4 tablespoons butter
2 boneless turkey breast halves, skin on
(about 2 to 2 1/2 pounds each)
Freshly ground black pepper
3 tablespoons all-purpose flour
1/4 cup apple or regular brandy
(recommended: Calvados)
2 to 3 cups apple cider
Salt and pepper
Preheat the oven to 450 degrees F. Oil a roasting pan and set it aside.
Put the onion into the bowl of a mini food processor. Using a vegetable peeler, peel the zest from the lemon in thin strips, being careful not to cut into the bitter white pith. Add the lemon zest to the food processor and reserve the whole lemon for another use. Chop the onion and lemon zest until fine. Add the sage, parsley, olive oil, and 1 teaspoon salt and pulse until it forms a coarse paste.
Put 2 of the bay leaves and the butter into a small pan and heat over medium-low heat until the butter is bubbling. Remove from the heat
and set aside.
Put the turkey breasts on a work surface. Carefully run your fingers between the skin and the flesh from 1 end, being careful not to pull it completely off, creating a pocket. Season the turkey breasts generously with salt and pepper. Stuff half of the herb paste under the skin of each breast, and spread it evenly under the skin. Transfer the breasts to the roasting pan, and slide 2 bay leaves underneath each one. (The heat of
the pan will release the bay leaf oils and flavor the breast.) Using a pastry brush, baste the breasts with half of the bay butter. Place the turkey in
the oven and immediately decrease the temperature to 400 degrees F.
After 20 minutes, baste the turkey breasts with the remaining butter, and roast for an additional 20 to 25 minutes, until cooked through, and a
thermometer placed in the thickest part of the breast registers 170
degrees F.
Remove from the oven, transfer to a platter, cover, and let rest for 10 minutes before carving while you make the gravy.
Put the roasting pan over the burner on medium heat. Sprinkle the flour over the pan juices, and cook, stirring, for a few minutes. Add the apple brandy, and scrape the pan to lift the bits that are stuck to the bottom. Cook for a minute to burn off the alcohol, then, while stirring, pour in
the apple cider. Bring to a simmer, and stir until thickened. Season with
salt and pepper.
Slice the turkey breast on the diagonal, and serve with warm gravy.

But wait! There's more...

Featured Archive Recipes:
Absolutely AWESEOME Holiday Sides!
Holiday Stuffing (Dressing) Recipes
Louisiana Firefighters Give Thanks (2001)
Louisiana Thanksgiving Feast
Thanksgiving Dinner from Food & Wine
Emeril's "Funky" Brined Turkey
Emeril's Oyster and Spinach Stuffed
Turkey Roll
Favorite Roast Turkey with Stuffing
(James Beard)
Tuscan-Style Stuffed Turkey Breast

"Gratitude unlocks the fullness of life. It turns what we have into
enough, and more. It turns denial into acceptance, chaos to order,
confusion to clarity. It can turn a meal into a feast, a house into a
home, a stranger into a friend. Gratitude makes sense of our past,
brings peace for today, and creates a vision for tomorrow."
~ Melody Beattie
"As you go through each day, are you mindful of the little blessings
God has given you? The air you breathe, the family you have, the
reliable car you drive. If you were to sit down and list all of the
blessings in your life, big and small, you would begin to cultivate
a thankful spirit. Today, look for blessings in unexpected places
and be sure to express your gratitude to our loving and gracious
Father in heaven."
Dr. David Jeremiah
"It seems to me that our three basic needs, for food and security and love,
are so mixed and mingled and entwined that we cannot straightly think
of one without the others. So it happens that when I write of hunger, I
am really writing about love and the hunger for it, and warmth and the
love of it and the hunger for it… and then the warmth and richness and
fine reality of hunger satisfied… and it is all one."
~ M.F.K. Fisher, The Art of Eating
Index - The Spice Cabinet
Index - Poultry Recipe Archives
Holiday Central!
Thanksgiving Recipe Index
Do you know what it means
to miss New Orleans?
Favorite Recipes
Daily Recipe Index
Recipe Archives Index
Recipe Search