Recipe of the Day Categories:
Recipe Home
Recipe Index
Recipe Search
Appetizers
Beef
Beverage
Bread
Breakfast
Cake
Chocolate
Fruit
Main Dish
Pasta
Pies
Pork
Poultry
Salad
Seafood
Side Dish
Soup

Peppers
Art Print
, Alma'ch
Buy at AllPosters.com


Produce at an Outdoor Market, Helsinki, Finland
Photographic Print
Ross, Nancy &...
Buy at AllPosters.com


Your patronage of our affiliate partners supports this web site.
We thank you! In other words, please shop at LBC Gift Galerie!

Bell Peppers, Washington, USA
Photographic Print
Wild, Jamie &...
Buy at AllPosters.com


Roasted Bell Peppers
Kitchen Sessions with Charlie Trotter

by Charlie Trotter, 1999, Ten Speed Press
"Purée these peppers with a little olive oil for a great sauce."
Yield: about 3/4 cup
4 bell peppers [any color you choose]
3 tablespoons olive oil
Method – Coat the whole peppers with olive oil. Place on an open grill or flame and roast until black on one side, about 3 minutes. Turn and repeat. Place the roasted peppers in a bowl, cover with plastic wrap, and let stand
for 5 minutes. Peel off the skin. Seed, remove the stems, and cut the
peppers to the desired size.
Here is a slightly different take on the procedure…

To Peel a Peck of Peppers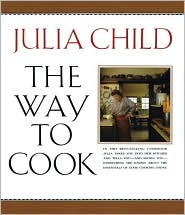 The Way to Cook

by Julia Child, 1994, Alfred A. Knopf
"The only way to peel peppers is to blister the skin so that it rises off the
flesh and can be stripped off. For just a pepper or two, you may spear
them one at a time with a 2-pronged fork, and turn them over a gas
flame – or around a portable blowtorch – until the skin blisters all over.
Or roast them 3 or 4 at a time over a grill, turning another side to the
coals as each part blisters, or set them under a broiler. While the rest
of the peck are on or under the fire, rapidly cut the hot peppers in
half, remove the stems and seeds, and peel off the skin – do not delay
since a blackened skin can eventually blacken the flesh. (Although some practitioners close the warm peppers in a paper bag for 5 to 10 minutes
before peeling, I have never found that to be necessary when the skins
are well blistered.)"
Buying and storing bell peppers – Look over each pepper carefully to be
sure it has no pock marks or bad spots, and that it is glossy and form all
over. Refrigerate them in a plastic bag, and plan to use them within 2 or
3 days, since they do not keep well at temperatures under 45 degrees F.
And as long as we're at it (and, BTW, this is my favorite)…
Roasted Bell Peppers
Commander's Kitchen:
Take Home the True Taste
of New Orleans with More
than 150 Recipes from
Commander's Palace Restaurant
by Ti Adelaide Martin and Jamie Shannon,
2000, Broadway Books/Random House
"Good roasted peppers are available commercially, but whether you buy them
or make your own, they are a staple in the Creole cook's repertoire. We use
them in sauces, as a condiment, on sandwiches, in salads, and on and on."
Makes approximately 1 quart
8 large ripe bell peppers, any color
1/2 cup olive oil
2 teaspoons kosher salt, or to taste
2 teaspoons freshly ground black pepper, or to taste
Preheat the oven to 450 degrees F.
Place the peppers in a large bowl, add the olive oil, and mix. Season
with salt and pepper, and mix again, coating all sides with oil and sea-
soning. Place the peppers in a large roasting pan, and pour any excess
oil and seasoning in the bowl on top of the peppers. Set the bowl aside.
Roast the peppers until their skins start to blister, then turn them over.
When the peppers are dark and blistered on all sides (about 25 to 30
minutes, depending on how thick the peppers are), remove them from
the oven.
Return the peppers to the bowl, along with any liquid in the roasting
pan. Cover the bowl tightly with plastic wrap and place in a cool area.
While they cool, the peppers will shrink and, if the seal is airtight, the
plastic will pull into the center of the bowl like a tight drum. This will
help pull skin away from the wall of the pepper. Let cool for about 45
to 60 minutes, and the peppers will be ready to peel.
Working over the bowl, gently remove and discard the stem of 1 pepper, taking as many seeds as possible with it. Pour any liquid inside the pepper back into the bowl. Peel and discard the skin, and return the pepper to the bowl. Repeat with remaining peppers. When the peppers are completely peeled, shake off any seeds or remaining skin. When peppers have cooled, place them in a glass or plastic storage container, and strain all liquid into
the container. Cover and refrigerate with the peppers whole. Use as spe-
cified in recipes…or as a condiment. They will keep for a couple of weeks.
Chef Jamie's Tips: Roasted peppers are very flavorful. Most of the flavor comes
from the oil, which is why I discourage frying the peppers or washing them after frying. There are other ways to skin peppers, but I like the method in this recipe
best. Frying produces a greasy, messy product. And burning off the skin gives the pepper too much of a charcoal flavor, besides making the peppers so hard to peel
that you never seem to get all the skin off. And I don't like rinsing the peppers
under water and peeling because you lose too much rich flavor.
The liquid from the peppers also contains a lot of flavor, so I use the liquid,
which includes oil, for a dressing or marinade, and, sometimes, in cold foods.

Featured Archive Recipes:
Roasted Peppers with Artichokes
and Feta Cheese
Laurie Colwin on Red Peppers
Maggie's Roasted Red Peppers
More Essentials:
Clarified Butter
Crème Fraîche
Egg Safety Information
Mirepoix
Roasted Garlic

Index - Essentials
The Basics
Index - Condiment Recipe Archives
Index - Vegetable Recipe Archives
Daily Recipe Index
Recipe Archives Index
Recipe Search