Your patronage of our affiliate partners supports this web site.
We thank you! In other words, please shop at LBC Gift Galerie!

Old Books I
Art Print
Belkovskij, Igor
Buy at AllPosters.com


Summer Flowers
Wales, Sue
Buy This Allposters.com


How easy is that?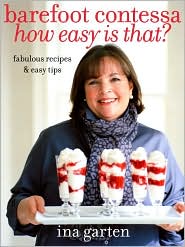 Barefoot Contessa
How Easy Is That?:
Fabulous Recipes and Easy Tips

Copyright © 2010 Ina Garten
Clarkson Potter/Publishers
'How easy is that?' pg 1
'How easy is that?' pg 2
'How easy is that? pg 3
The Barefoot Contessa says,
"This book is all about saving you time
and avoiding stress."
What's not to love?
La Belle Cuisine cannot urge you strongly
enough to buy this jewel of a cookbook!
Ultimate Peach Ice Cream
Makes 2 quarts
"I've struggled for years to make peach ice cream – one that tastes like ripe
peaches and cream. Almost every recipe is flavored with almond extract,
which competes with the delicate peach flavor. Instead I tried peaches,
Sauternes, and Grand Marnier and came up with the perfect balance.
I chill the mixture and pour it into the ice cream maker when we sit
down to dinner so the ice cream is the right consistency when we're
ready for dessert."
4 large ripe peaches (about 1 1/2 pounds)
1 1/2 cups sugar, divided
1/2 cup Sauternes
2 tablespoons Grand Marnier liqueur
[could substitute Cointreau]
2 tablespoons freshly squeezed lemon juice
2 teaspoons pure vanilla extract
10 extra-large egg yolks
3 cups half-and-half
1 cup heavy cream
1/4 teaspoon kosher salt
Bring a large saucepan of water to a boil, add the peaches, and simmer
for 30 seconds. Until the skins loosen. Use a slotted spoon to transfer the peaches to a bowl of cool water. Peel the peaches, discard the pits, and
place the fruit in a food processor fitted with the steel blade. Add 1/2
cup of the sugar, the Sauternes, Grand Marnier, lemon juice, and vanilla.
Purée and set aside.
In a medium saucepan, whisk together the remaining 1 cup sugar, the
yolks, half-and-half, cream, and salt. Cook over medium-low heat for
5 to 10 minutes, stirring constantly with a wooden spoon, until the mix-
ture begins to thicken (it will register 180 degrees on a thermometer)
and thickly coats the back of a spoon. Immediately pour through a
sieve into a bowl.
Stir the peach puree into the custard, transfer it to sealed containers,
and refrigerate until very cold. Freeze in batches in an ice cream
machine according to the manufacturer's directions. Serve immedi-
|ately or freeze in containers and soften before serving.
Fresh Peach Cake
Serves 8
"This rich cake with fresh peaches is delicious served warm with a
scoop of ice cream, but it's also good as a coffee cake for a special
breakfast. It makes the house smell like cinnamon and sugar."
1/4 pound (1 stick) unsalted butter,
at room temperature
1 1/2 cups sugar, divided
2 extra-large eggs, at room temperature
1 cup sour cream, at room temperature
1 teaspoon pure vanilla extract
2 cups all-purpose flour
1 teaspoon baking soda
1 teaspoon baking powder
1/2 teaspoon kosher salt
1 teaspoon ground cinnamon
3 large, ripe peaches, peeled, pitted,
and sliced
1/2 cup chopped pecans
Preheat the oven to 350 degrees F. Grease a 9-inch square baking pan.
In the bowl of an electric mixer fitted with the paddle attachment, beat the butter and 1 cup of the sugar for 3 to 5 minutes on medium-high speed,
until light and fluffy. With the mixer on low, add the eggs, one at a time,
then the sour cream and vanilla, and mix until the batter is smooth.
In a separate bowl, sift together the flour, baking soda, baking powder,
and salt. With the mixer on low, slowly add the dry ingredients to the
batter and mix just until combined.
In a small bowl, combine the remaining 1/2 cup sugar and the cinnamon.
Spread half of the batter evenly in the pan. Top with half of the peaches,
then sprinkle with two-thirds of the sugar mixture. Spread the remaining
batter on top, arrange the remaining peaches on top, and sprinkle with
the remaining sugar mixture and the pecans.
Bake the cake for 45 to 55 minutes, until a toothpick inserted in the
center comes out clean. Serve warm or at room temperature.

Note: "You can make this recipe even easier; substitute 16 ounces
frozen peaches, defrosted."
Mocha Chocolate Icebox Cake
Makes 24 crackers
"Almost everyone has fond memories of that old-fashioned dessert made with chocolate wafers and whipped cream. I decided to update that icebox cake
with really good chocolate chip cookies and mocha whipped cream. WOW –
and talk about easy! I use chocolate chip cookies from Tate's Bake Shop
in Southampton, New York, which are available nationally or at
TatesBakeShop.com. If you can't get them, use another thin, crisp
chocolate chip cookie."
2 cups cold heavy cream
12 ounces Italian mascarpone cheese
1/2 cup sugar
1/4 cup coffee liqueur, such as Kahlua
2 tablespoons unsweetened cocoa powder,
such as Pernigotti
1 teaspoon instant espresso powder
1 teaspoon pure vanilla extract
3 (8-ounce) packages chocolate chip cookies,
such as Tate's Bake Shop
Shaved semisweet chocolate, for garnish
In the bowl of an electric mixer fitted with the whisk attachment, com-
bine the heavy cream, mascarpone, sugar, coffee liqueur, cocoa powder,
espresso powder, and vanilla. Mix on low speed to combine and then
slowly raise the speed, until it forms firm peaks.
To assemble the cake, arrange chocolate chip cookies flat in an 8-inch springform pan, covering the bottom as much as possible. (I break some cookies to fill in the spaces.) Spread a fifth of the mocha whipped cream evenly over the cookies. Place another layer of cookies on top, lying flat
and touching, followed by another fifth of the cream. Continue layering
cookies and cream until there are 5 layers of each, ending with a layer of
cream. Smooth the top, cover with plastic wrap, and refrigerate overnight.
Run a small sharp knife around the outside of the cake and remove the
sides of the pan. Sprinkle the top with the chocolate, cut in wedges, and
serve cold.
Note: Tate's Bake Shop cookies are 2 inches in diameter, thin and crisp.
You will have cookies left over from 3 packages, which never seems to
be a problem here.
If you heat the block of chocolate in a microwave for 30 seconds, you
will get larger shavings.
'How easy is that?' pg 1
'How easy is that?' pg 2
'How easy is that? pg 3


Featured Archive Recipes:
(from the Barefoot Contessa, of course!)
Banana Crunch Muffins
Coffee and Granola
Croque Monsieur from
'Barefoot in Paris'
Grilled Lemon Chicken with Satay Dip
Indonesian Ginger Chicken
Parmesan Chicken Sticks
Roasted Vegetable Torte
More favorite cookbook recipes:
All-Time-Best Summer Fruit Torte
(Classic Home Desserts)
Chocolate Icebox Pie
(Southern Sideboards)
Julia's Fruit Sherberts
Mint Julep Peaches
(Nigella Lawson)
Orange-Almond Cake with Peaches
and Amaretto Whipped Cream
Peach Upside-Down Cake (Emeril)
We all scream for ice cream!

Our all-time favorite cookbooks

Food and Art (Artist's Cookbooks)
Recipes from out-of-print
(or hard to find) cookbooks



Current Cookbook Feature
Index - Cookbook Features
Visit Cajun Country!
Do you know what it means
to miss New Orleans?
Thanksgiving Recipe Index!
Holiday Central!
Daily Recipe Index
Recipe Archives Index
Recipe Search