Your patronage of our affiliate partners supports this web site.
We thank you! In other words, please shop at LBC Gift Galerie!

Old Books I
Art Print
Belkovskij, Igor
Buy at AllPosters.com


Summer Flowers
Wales, Sue
Buy This Allposters.com


How easy is that?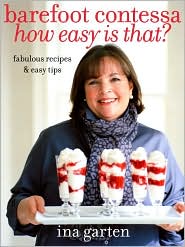 Barefoot Contessa
How Easy Is That?:
Fabulous Recipes and Easy Tips

Copyright © 2010 Ina Garten
Clarkson Potter/Publishers

The Barefoot Contessa says,
"This book is all about saving you time
and avoiding stress."
What's not to love?
La Belle Cuisine cannot urge you strongly
enough to buy this jewel of a cookbook!
How easy is that? page 1
How easy is that? page 3
How easy is that? page 4

Continued (page 2)

Lemon Chicken Breasts
"When I need to get dinner together in a hurry, this is about as easy
as it gets. White wine, garlic and oregano give this chicken great
flavor. I make some basmati rice or Couscous with Toasted Pine
Nuts [included in cookbook] to soak up all those delicious lemony
juices plus a vegetable like steamed haricots verts and I'm done."
Serves 4
1/4 cup good olive oil
3 tablespoons minced garlic (9 cloves)
1/3 cup dry white wine
1 tablespoon grated lemon zest (2 lemons)
2 tablespoons freshly squeezed lemon juice
1 1/2 teaspoons dried oregano
1 teaspoon minced fresh thyme leaves
Kosher salt and freshly ground black pepper
4 boneless chicken breasts, skin on
(6 to 8 ounces each)
1 lemon
Preheat the oven to 400 degrees F.
Warm the olive oil in a small saucepan over medium-low heat, add the
garlic, and cook for just 1 minute but don't allow the garlic to turn brown.
Off the heat, add the white wine, lemon zest, lemon juice, oregano, thyme, and 1 teaspoon salt and pour into a 9 by 12-inch baking dish.
Pat the chicken breasts dry and place them skin side up over the sauce.
Brush the chicken breasts with olive oil and sprinkle them liberally with
salt and pepper. Cut the lemon in 8 wedges and tuck it among the pieces
of chicken.
Bake for 30 to 40 minutes, depending on the size of the chicken breasts,
until the chicken is done and the skin is lightly browned. If the chicken
isn't browned enough, put it under the broiler for 2 minutes. Cover the
pan tightly with aluminum foil and allow to rest for 10 minutes. Sprinkle
with salt and serve hot with the pan juices.
Steakhouse Steaks
Serves 4
"What is it that makes the steak you get at a goof steakhouse so delicious?
Of course, it's usually very good-quality meat that's been aged well, but it's
also that extra-crusty exterior that's perfectly seasoned and not burnt, with
a tender, juice interior that tastes of nothing but great steak. The secret?
They're pan-roasted, not grilled. My friends say these are the best steaks
they ever ate."
4 (2-inch thick) filets mignons, tied
(10 ounces each)
2 tablespoons vegetable oil
2 tablespoons fine fleur de sel
2 tablespoons coarsely cracked
black peppercorns
4 tablespoons (1/2 stick unsalted butter,
at room temperature
Roquefort Chive Sauce (recipe follows)
Preheat the oven to 400 degrees [F].
Heat a large cast-iron skillet over high heat for 5 to 7 minutes.
Meanwhile, pat dry the filets mignons with paper towels. Brush the filets lightly all over with the oil. Combine the fleur de sel and cracked pepper
on a plate and roll the filets on all sides in the mixture, pressing lightly to
help the salt and pepper adhere. The steaks should be evenly coated with
the salt and pepper.
When the pan is extremely hot, add the steaks and sear evenly on all sides (top, bottom, and sides) for about 2 minutes per side. (Be sure the cooking area is well ventilated.) You'll probably need about 3 turns to sear the sides and about 10 minutes total.
Remove the pan from the heat and arrange all the filets flat in the pan.
Top each with a tablespoon of butter, then place the pan in the oven.
Cook the filets for 8 to 12 minutes to 120 degrees [F] for rare and 125
degrees for medium-rare. Remove the steaks to a platter, cover tightly
with aluminum foil, and allow to rest for 5 to 10 minutes. Remove the
string and serve plain or top with Roquefort Chive Sauce.
Roquefort Chive Sauce
Makes 3/4 cup
1 1/2 cups heavy cream
2 ounces Roquefort cheese, crumbled
(4 ounces with rind)
1/2 teaspoon kosher salt
1/2 teaspoon freshly ground black pepper
1 tablespoon chopped fresh chives
Pour the cream into a small heavy-bottomed saucepan and bring to a
boil over medium-high heat. Simmer for about 20 minutes, stirring
occasionally, until the cream is reduced by half and is thickened.
Off the heat, add the Roquefort and stir until melted. Add the salt and
pepper and taste for seasonings. Stir in the chives. Spoon the warm
sauce over the steaks.
Note: It's important that your meat thermometer is accurate. Test it by putting
it in a pot of rapidly boiling water; it should register 212 degrees [F] exactly.
Roasted Shrimp with Feta
Serves 4
"Assemble this early in the day and throw it in the oven before dinner.
I serve big chunks of crusty bread so everyone can mop up all that delicious
sauce. I love the Greek combination of tomatoes, garlic, oregano, wine and
feta; they enhance – but don't overpower – the briny flavor of the shrimp.
Using peeled shrimp makes this dish so easy."
4 tablespoons good olive oil, divided
1 1/2 cups medium-diced fennel
1 tablespoon minced garlic (3 cloves)
1/4 cup dry white wine
1 (14 1/2-ounce) can diced tomatoes
2 teaspoons tomato paste
1 teaspoon dried oregano
1 tablespoon Pernod
1 teaspoon kosher salt
1/2 teaspoon freshly ground black pepper
1 1/4 pounds (16 to 20 per pound)
peeled shrimp with tails on
5 ounces good feta cheese, coarsely crumbled
1 cup fresh bread crumbs (see note)
3 tablespoons minced fresh parsley
1 teaspoon grated lemon zest
2 lemons
Preheat the oven to 400 degrees.
Heat 2 tablespoons of the olive oil in a 10-or 12-inch heavy ovenproof
skillet over medium-low heat. Add the fennel and sauté for 8 to 10
minutes, until the fennel is tender. Add the garlic and cook for 1 minute.
Add the wine and bring to a boil, scraping up any browned bits. Cook
for 2 to 3 minutes, until the liquid is reduced by half. Add the tomatoes
with the liquid, tomato paste, oregano, Pernod, salt, and pepper to
the skillet. Simmer over medium-low heat, stirring occasionally, for
10 to 15 minutes.
Arrange the shrimp, tails up, in one layer over the tomato mixture in the skillet. Scatter the feta evenly over the shrimp. In a small bowl, combine
the bread crumbs, parsley, and lemon zest with the remaining 2 table-
spoons of olive oil and sprinkle over the shrimp.
Bake for 15 minutes, until the shrimp are cooked and the bread crumbs
are golden brown. Squeeze the juice of 1 lemon over the shrimp. Serve
hot with the remaining lemon cut into wedges.
Note: For 1 cup of fresh breadcrumbs, remove the crusts from 4 slices
of white bread and process them in a food processor fitted with the steel
blade until the bread is in crumbs.

How easy is that? page 1
How easy is that? page 3
How easy is that? page 4

Featured Archive Recipes:
(from the Barefoot Contessa, of course!)
Banana Crunch Muffins
Coffee and Granola
Croque Monsieur from
'Barefoot in Paris'
Grilled Lemon Chicken with Satay Dip
Indonesian Ginger Chicken
Parmesan Chicken Sticks
Roasted Vegetable Torte
More favorite cookbook recipes:
Chicken with Roasted Lemon and
Rosemary Sauce (Tra Vigne)
Herb-Roasted Chicken
(Chef Alain Ducasse)
Roasted Fillet of Beef with Black
Pepper (Zuni Cafe)
Shrimp Baked with Feta Cheese
(Garides mi Feta) Craig Claiborne
Our all-time favorite cookbooks
Food and Art (Artist's Cookbooks)
Recipes from out-of-print
(or hard to find) cookbooks


Index - Cookbook Features
Daily Recipe Index
Recipe Archives Index
Recipe Search