Your patronage of our affiliate partners supports this web site.
We thank you! In other words, please shop at LBC Gift Galerie!

Peaches
Giclee Print
Renoir,...
Buy at AllPosters.com

Peach Upside-Down Cake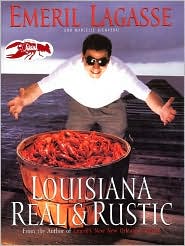 Louisiana Real and Rustic

Emeril Lagasse with Marcelle Bienvenu,
1996, William Morrow & Co.
One 8- to 9-inch cake, 12 servings
1 1/2 pounds peaches, peeled, pitted,
and sliced (about 2 1/2 cups)
1/2 teaspoon ground cinnamon
1/4 teaspoon ground nutmeg
1 tablespoon sugar
Toss the peaches, cinnamon, nutmeg, and sugar in a mixing bowl to
coat evenly. Set aside.
Preheat the oven to 350 degrees F.
Cake Batter:
1 stick (1/4 pound) butter, softened
1 1/2 cups sugar
1 teaspoon baking powder
1 teaspoon baking soda
1 teaspoon salt
2 eggs
1 teaspoon vanilla extract
1 teaspoon ground cinnamon
1/2 teaspoon grated nutmeg
1 cup milk
2 1/4 cups flour
Combine the butter, sugar, baking powder, baking soda, salt, and eggs in
a mixing bowl. Blend the mixture, working it with the back of a wooden
spoon to break up any lumps, until it is smooth. Add the vanilla, cinnamon, nutmeg and milk. Mix well. Add the flour and beat until smooth.
Syrup:
1/2 stick (4 tablespoons) butter
1/2 cup sugar
In a 10 1/2-inch ovenproof skillet (or an 8-x-11 1/2-x-2-inch baking pan), combine the butter and the sugar over medium-high heat. Stir with a
wooden spoon until the mixture caramelizes and becomes syrupy.
Spread the peaches evenly in the bottom of the skillet or pan. Remove from the heat. Pour the cake batter into the skillet or pan and spread evenly over the peaches.
Bake for about 40 minutes, or until the cake is golden and pulls away from
the sides of the skillet or pan. Remove from the oven and cool for about 30 minutes, then invert over a large platter. Slice to serve.

Featured Archive Recipes:
Perfectly Peachy!
Amaretto Peach Ice Cream
Amaretto-Peach Pound Cake
Bourbon Peach Cobbler
Old Dominion Peach Cobbler
Orange-Almond Cake with Peaches and
Amaretto Whipped Cream
Pineapple Ginger Upside-Down Cake
with Pineapple Bourbon Ice Cream


Index - Cake Recipe Archives
Father's Day Recipes!
Summer Holiday Recipes!
Daily Recipe Index
Recipe Archives Index
Recipe Search