Your patronage of our affiliate partners supports this web site.
We thank you! In other words, please shop at LBC Gift Galerie!

Jaunty Plumerie...
Kimberly Poloson
Buy This at Allposters.com


Julia Child on Sautéed Chicken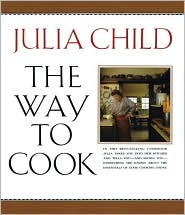 The Way to Cook

Julia Child, 1994, Alfred A. Knopf

Master Recipe for Sautéed Chicken

Variations
Sautéed Chicken Pipérade
With sliced green and red bell peppers
The colorful way to dress up the simple sauté is to finish it off with the fragrant shower of sautéed sliced green and red bell peppers with onions, known as the pipérade [recipe follows]. It's quick to make on the spot,
or have it on hand in your freezer.
Sauté the chicken as described, and when it has 7 or 8 minutes left to
cook in its covered pan, spoon out the fat (but not the juices) and strew
on the pipérade. Cover and finish cooking, basting 2 or 3 times with the
accumulated juices.
Pipérade
Sliced red and green peppers in garlic and olive oil
"This colorful vegetable sauté, of Basque origin, is a wonderfully
useful condiment, either hot or cold. Use it on open-faced omelettes,
for instance, or pizzas, and for various simmerings such as fillets
of fish or breast of chicken."
For about 1 1/2 cups
1 medium onion, sliced
2 tablespoons olive oil
1 medium green bell pepper, sliced
1 medium red bell pepper, sliced
1 large clove of garlic, puréed
Salt and freshly ground pepper
Pinch of mixed dried herbs
The pipérade. Sauté the onion slowly 5 minutes in a frying pan with the oil. When tender and translucent, add the peppers along with the garlic, tossing with a sprinkling of salt, pepper, and herbs. Sauté uncovered, tossing several times, for 2 to 3 minutes, until the peppers are nearly tender.
Ahead-of-time note: May be refrigerated 2 to 3 days; may be frozen.

Cold Pipérade of Chicken
Peel the skin off the cooked chicken pieces, and let cool surrounded by the pipérade. To serve, you might toss cooked pasta with seasonings and a little olive oil and top with the chicken pipérade. This makes a delightful summer meal, accompanied by a tossed green salad and French bread.
Sautéed Chicken with Braised Onions
and Diced Potatoes
"Add potatoes and onions to finish cooking with sautéed chicken and,
besides giving all three a boost of flavor, you main course is complete
except for an accompanying fresh green vegetable or a salad."
When the chicken in the master recipe has 7 to 8 minutes to finish cooking in its covered pan, spoon out cooking fat (but not juice), and add a dozen small white-braised onions and their cooking liquid [recipe follows] to the pan along with 2 to 3 cups of sautéed diced potatoes [recipe follows]. Baste with the
pan juices, cover, and finish cooking the chicken, basting several times with accumulated juices. After removing chicken and accompaniments, rapidly
boil down the juices and, if you wish, swish in the enrichment butter as described in the master recipe. Decorate the platter or each serving with a sprinkling of minced fresh parsley and/or chives.

White-Braised Onions
"…where the cooking liquid is almost entirely absorbed
by the vegetable, and none of the essential flavor is lost."
12 to 16 onions 1 inch in diameter,
peeled (see Special Note)
1/2 cup or so water or chicken broth
Salt
1 imported bay leaf, optional
1 tablespoon butter, optional
Special Equipment Suggested:
A covered saucepan or frying pan that will hold the onions in one layer
Special Note - To Peel Onions
When you have a lot of onions that need neat peeling, especially the small white ones… here's the easy way.
Drop them into a pan of boiling water for exactly 1 minute; remove with a slotted spoon. Shave off the root and stem ends, keeping the onion layers attached at the root.
Slip off the skins, and pierce a cross 1/8 inch deep in the root ends to help prevent bursting.
Boil-steaming. Place the onions in the pan, add water or chicken broth to come halfway up the onions, and salt lightly; add the optional bay leaf and butter. Cover the pan and simmer slowly 25 to 30 minutes, until the onions are tender when pierced but still hold their shape – be careful to cook them slowly so they will not burst.

A Fast Sauté of Diced Potatoes
For 6 servings
4 or 5 medium "boiling" potatoes
2 to 3 tablespoons clarified butter or
half butter and half olive oil
Salt and freshly ground pepper
A pinch of thyme or mixed herbs, optional
1 tablespoon or so butter to finish, optional
A sprinkle of chopped fresh parsley or
chives, optional
Special Equipment Suggested:
A 10-inch no-stick frying pan
Preparing the potatoes. Peel the potatoes and cut into 3/4-inch slices;
cut the slices into 3/4-inch strips, and the strips into 3/4-inch dice.
Sautéing. Drain and dry the potatoes. Heat the butter or butter and oil in
the frying pan until very hot but not browning. Toss in the potatoes, lower heat to moderate, and sauté, tossing frequently. When they begin to brown lightly, toss with a sprinkling of salt and pepper and optional dried herbs. Continue until nicely browned and tender – 10 to 15 minutes in all. If you wish, toss with a little additional butter, and fresh parsley or chives.
Ahead-of-time note: Set uncovered over very low heat or in a pan of
barely simmering water. The potatoes will keep their fresh taste for 1/2
hour or so if they remain just warm and are left uncovered.

Master Recipe for Sautéed Chicken
Featured Archive Recipes:
Daniel Boulud's Chicken Grand-mère Francine
Jacques Pépin's Chicken Chasseur
Jacques Pépin's Sauteed Chicken Maison
James Beard's Raspberry Chicken
Jean-Georges's Sauteed Chicken with Figs
Joël Robuchon's Sauteed Chicken with
Onion and Tomato Sauce
Julia's Simple Saute of Chicken with Herbs
Lutece's Chicken Fricassee with Shallots
Alva Double-Garlic Chicken with
Overnight Tomatoes
Chicken Legs Puttanesca
Chicken Sauté with Artichokes and Pancetta
Tarragon Chicken

A Tribute to Julia Child
Index - Poultry Recipe Archives
Classic French Recipe Index
Daily Recipe Index
Recipe Archives Index
Recipe Search