Recipe of the Day Categories:
Recipe Search
Fruit

Poule Rousse
Pascal Cessou
Buy This at Allposters.com


Mixed Herbs
Art Print
Buy at AllPosters.com


Bon Appetit
Art Print
Robinson, Carol
Buy at AllPosters.com

Mastering the Art of French Cooking Boxed Set: Volumes 1 and 2

Your patronage of our affiliate partners supports this web site.
We thank you! In other words, please shop at LBC Gift Galerie!

Jaunty Plumerie...
Kimberly Poloson
Buy This at Allposters.com


Sautéed Chicken – Julia and Jacques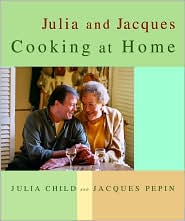 Julia and Jacques
Cooking at Home

Julia Child and Jacques Pepin,
1999, Alfred A. Knopf
"Sautéing is one of the great basic ways to cook chicken, but – you'll not be surprised to discover – our methods vary in many respects. With both of the
recipes here you'll wind up with nicely browned, tender chicken pieces, a
good-tasting vegetable garnish, and an intense little sauce to coat them –
all from the same pan – but you will follow different procedures to produce
them. If you're a chicken lover, you could certainly do them both, perhaps
the same week, and compare your notes with ours. You will learn a great
deal and have 2 fine dinners along the way.
Dividing a whole chicken into pieces for sautéing is illustrated [in the cook-
book]. Jacques's technique requires only a few cuts with the knife to yield 8
neat pieces ready for the frying pan – 2 large boneless breasts, 2 thighs, 2 drumsticks, and 2 wing pieces. It's a simple sequence that you can follow
for all kinds of poultry… If you choose, you can buy already cut-up pieces
of chicken for these recipes, but you'll pay more, and won't have the bonus
of a whole chicken carcass to make stock."
Julia
"I sauté my chicken until nicely browned all over, then drain out the fat, season
the meat, and cover the pan, and in 20 minutes or so of slow steaming in its own
juices, the chicken is ready to eat. When you have particularly fine fresh chicken
and want nothing to interfere with its pure chicken flavor, you can do it plain,
as in the master recipe. Or you can include onions, potatoes, mushrooms, and
so forth.
While it is good to know how to cut up your own chicken, I often buy it cut up, because that way I can get all the dark meat I want. Looking at prices in the supermarket, you will see that chicken breasts are by far the most expensive
per pound, and according to me, they have the least flavor and the least satis-
factory flesh quality. I choose chicken thighs for my sautés. They are easy to
eat with their single bone, and to my mind the thigh has the best flavor
and texture of all the chicken parts.
People who are afraid of fat shy away from thighs and dark chicken meat in
general, because 'they' (those nutritional naysayers) declare that dark meat
has much more fat in it than light. However, trim off the several easily visible
yellow fat globules nestling between the skin and flesh of the thigh [but only
if you want to!], and note that much of the fat is rendered out and spooned
off after the thigh is browned, and that more disappears when the juices of
the sauté are degreased. Now how much more fat does the thigh have than
the breast? Probably a minimal amount, but 'they' never go into these
culinary details.
Removing the chicken skin – that's fear of fat again. A large portion of fat
is rendered out of the skin during cooking, and I'm against removal, because
I don't like the look of a naked leg on my plate and, more important, the skin
has good flavor. If you are a normal healthy person, you want all the flavor
you can get.
In spite of the above, use any parts of the chicken you like for your sauté,
because they all cook the same way.
From 3 1/2 to 4 pounds of bone-in chicken should serve 6 nicely. But buy
by eye. The chickens are usually fryers, weighing, whole, up to 3 1/2 pounds.
You'll want at least 2 thighs or drumsticks per person, for instance, or one
whole breast. Have a number of extra pieces for big appetites, seconds,
and tomorrow's lunch. It's always wise to have a little too much rather
than too little."
Julia's Simple Sauté of Chicken
with Herbs
Yield: 6 servings
4 pounds fresh top-quality chicken
parts, all of one kind or a mixture of
legs, thighs, wings, breasts
3 tablespoons or more unsalted butter
and 1 of vegetable oil, or oil only
1/4 cup full-bodied dry white wine or
dry white French vermouth
1 cup chicken stock
Salt and freshly ground black pepper
Several cloves of unpeeled fresh
garlic, mashed (optional)
Herbs: Either several sprigs of fresh herbs
such as tarragon, thyme, or sage (plus more
sprigs for garnishing the finished dish), or
1/4 teaspoon fragrant dried tarragon, thyme, or
sage and sprigs of fresh parsley for garnish
2 tablespoons minced shallots or scallions
1 tablespoon or so unsalted butter
to enrich the sauce
Special equipment:
A heavy 12-inch flameproof casserole or sauté pan and cover,
or an electric frying pan; tongs for turning the chicken
Preparing the chicken
Set the pieces of chicken on a tray and look them over carefully, re-
moving any visible gobs of fat, especially between skin and flesh of
thighs. Wash rapidly in hot water, and dry thoroughly with paper
towels, setting the chicken on a clean tray as you do so. (To pre-
vent bacterial contamination, remember to wash everything that
has touched the raw chicken, including the clean tray you have
just used!
Browning
This important step will take a good 20 minutes of careful cooking.
Have a clean tray or platter ready. Set the pan or casserole over moder-
ately high heat, swirl 2 tablespoons of the butter and the oil all around
the inside of it, and when the butter foam starts to subside lay in as
many pieces of chicken as will fit comfortably in 1 layer. Do not crowd
them. Turn the chicken with your tongs every minute or so, letting all
surfaces color a nice walnut brown. When 1 piece is ready, remove it
to the clean tray and add another piece, until you have done them all.
Interlude
Pour out and discard all the browning fat, leaving the crusty brown bits in
the pan. Pour the wine or vermouth into the pan and scrape into it these
brown bits, adding a bit of the chicken stock if needed. Pour this liquid
into the remaining stock and reserve for your sauce, later.
Do-ahead note
The chicken may be cooked in advance to this point. Let cool uncovered, then cover and refrigerate if the wait is more than an hour.
Finishing the sauté (20 to 30 minutes)
Lightly season all of the chicken with salt and pepper (and a sprinkle of
dried herbs, if you are using them). Set the pan over moderate heat, adding
the remaining tablespoon or so of butter, and when melted return the dark
meat (drumsticks and thighs) to the pan. Cover and cook slowly for 7 to 8
minutes. Then turn the dark meat over and add the white meat, which
needs less cooking. Baste the chicken with accumulated pan juices, add-
ing the optional garlic, and if you are using fresh herbs, lay them on top.
Cover and continue cooking at a low sizzle, turning the chicken and basting with pan juices several times, for 12 to 15 minutes more. Start testing when
chicken juices begin appearing in the pan. The chicken is done when the
meat is tender if pressed, and its juices run clear yellow when the meat is
pierced deeply with the sharp prongs of a kitchen fork.
Holding the finished chicken for 20 to 30 minutes
If you are not quite ready to serve, place the pan over another of slowly simmering water, and set the cover slightly askew for air circulation. Too
long a wait and the chicken will start to lose its juices.
Deglazing sauce
Remove the chicken to a hot platter, cover, and keep warm for the few minutes it will take to make the sauce. Spoon out and discard excess fat
from the pan juices, as well as the fresh herbs, if you used them, and the
pieces of crushed garlic. Set the pan over heat, stir in the shallots or scal-
lions, and boil rapidly for a minute. Then pour in the reserved wine and
stock and boil over high heat, stirring any coagulated meat juice into the
liquid with a wooden spoon. When reduced to a light syrup, remove
from heat, swish in the optional butter, and spoon over the chicken.
Serve.

Variation: Chicken Sautéed with Potatoes,
Lardons, and Mushrooms
Add a green vegetable or salad to this dish and you have your
whole main course. Follow the directions for the master recipe
with these additions:
A little more oil and/or butter as needed
Lardons from a 5-ounce slab of bacon or salt pork *
1 pound mushrooms, cleaned and quartered
3 or 4 medium-size boiling potatoes such as
Yukon Golds, peeled and quartered
Start browning the chicken as described in the master recipe. Mean-
while, heat a teaspoon of oil in a frying pan, 10 inches top diameter,
and in it brown the lardons lightly. Remove with a slotted spoon and
set aside, leaving their rendered fat in the pan. In it sauté the mush-
rooms, and set aside with the lardons. Drop the potatoes into a pan
of lightly salted boiling water, bring again to the boil, and boil for 5
or 6 minutes, or until almost tender, drain, and reserve. Distribute
lardoons, mushrooms, and potatoes around and over the chicken
as you start the final 20 minutes of cooking.
* To make lardons, cut the bacon or salt pork into rectangular slices about
1/2 inch wide, then cut the slices into strips 1 inch long. Simmer them in
a saucepan with a quart or so of water for about 10 minutes to remove
the salt. Drain, rinse in cold water, and pat dry.

Jacques's Sautéed Chicken "Maison"

Featured Archive Recipes:
Chicken Fricassée with Shallots (Lutece)
Daniel Boulud's Chicken Grand-mère Francine
Jacques Pépin's Chicken Chasseur
Julia on Sautéed Chicken (Master
Recipe with Variations)

Index - Poultry Recipe Archives
Classic French Recipes
Daily Recipe Index
Recipe Archives Index
Recipe Search