Your patronage of our affiliate partners supports this web site.
We thank you! In other words, please shop at LBC Gift Galerie!

Duffas, Marcel
Buy at AllPosters.com

Clarified Butter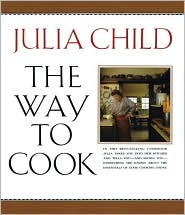 The Way to Cook

by Julia Child, 1994, Alfred A. Knopf
"There is no substitute for the taste of butter in good cooking, especially
when you are sautéing delicate foods like chicken breasts, or fillets of
sole, or when you are making croutons. Plain butter will burn and
speckle rapidly because of the milky residue it contains, but when
you clarify the butter you rid it of that residue.
The simple system is to melt the butter and pour the clear yellow liquid
off the residue.
The more thorough professional system is to cut the butter into small-
ish pieces for quick melting. Bring it to the slow boil in a fairly roomy
saucepan, listening and watching for several minutes until its crackling
and bubbling almost cease, indicating the milky liquid has evaporated
and the clarification is complete. (At this point watch that the butter
does not burn and darken.) Pour the clear yellow butter through a
tea strainer into a preserving jar. It will turn a yellowish white when
cold and congealed, and will keep for months in the refrigerator
or freezer."

More Essentials:
Crème Fraîche
Egg Safety Information
Essential Herb and Spice Blends
Mirepoix
Roasted Peppers
Roasted Garlic



The Basics
Index - Condiments
Index - Sauces
Daily Recipe Index
Recipe Archives Index
Recipe Search