Recipe of the Day Categories:
Recipe Index
Recipe Search
Fruit

Poule Rousse
Pascal Cessou
Buy This at Allposters.com


Bon Appetit
Art Print
Robinson, Carol
Buy at AllPosters.com


Grandma's Backyard
Nenad Mirkovich
Buy This at Allposters.com


Mastering the Art of French Cooking Boxed Set: Volumes 1 and 2

Your patronage of our affiliate partners supports this web site.
We thank you! In other words, please shop at LBC Gift Galerie!

Jaunty Plumerie...
Kimberly Poloson
Buy This at Allposters.com


Julia Child on Sautéed Chicken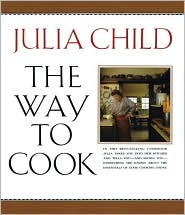 The Way to Cook

Julia Child, 1994, Alfred A. Knopf

Preparation for Cooking – and a Solemn Warning
"Why be careful? Preparation details are taken up in each section, but we must
all be very careful indeed with raw poultry, especially chicken, because of harm-
ful bacteria. Bacteria, including salmonella, are killed at a temperature of 140
degrees F – when the chicken is still almost raw. Thus there is no worry about cooked chicken as long as careful precautions are taken during its preparation."
"How to proceed. Before you begin, set a cutting board – dishwasher-safe plastic recommended – on an ample spread of newspapers. Get out all the knives, string, seasonings, and other utensils you will be needing, including a dozen or more
sheets of paper towels. Then unwrap the chicken at the sink, let hot water run
over it inside and out, washing the giblets as well. Dry it in paper towels, set it
on the cutting board, and go to work. If you want to touch anything else but
your chicken and its utensils, wash your hands first. When you are through,
place cutting board and all utensils in the sink, wrap the newspaper in a
plastic bag, and dump it. Wash everything to do with the chicken thoroughly,
including yourself, in hot soapy water. Don't forget the kitchen towels – put
them in the wash while you are cleaning up the chickenry, or you'll forget them.
Sautés
"Among the easiest, quickest, and most attractive ways to do chicken is to sauté
it – meaning to brown it in a frying pan, then to season it, cover the pan, let it
cook slowly 20 to 25 minutes, and it's done/ It will have produced some nice
brown juices in the pan, which, literally in a flash and with a dollop of wine,
you turn into a perfect little sauce. That's primal cooking of the very best
sort… Before getting into the actual cooking, here are some hints on pre-
preparing the chicken.
Buying and preparing the chicken for sautéing
"How wonderfully convenient that we can buy what we want in the way of
chicken parts – all breasts, all wings, all thighs, or the whole chicken cut
into little pieces for a little of each. Buying by eye and guessing at appetite
capacity seems the best rule for amounts, and I shall arbitrarily count on
2 1/2 to 3 pounds of assorted chicken parts for 4 people. A minute of simple
surgery on some of the parts [described and illustrated in the cookbook]
will make for easier cooking and eating."

Master Recipe
Sautéed Chicken
"All sautés start out this way, and following the master recipe are
a number of variations and additions to start you on your own course."
For 4 servings
2 1/2 to 3 pound frying chicken parts
2 to 3 tablespoons clarified butter or olive oil,
or 2 tablespoons butter and 1 tablespoon olive oil
Salt and freshly ground pepper
A big pinch of tarragon or thyme, optional
Optional deglazing sauce
1 tablespoon minced shallots or scallions
1/2 cup chicken stock (see Special Note)
1/2 cup dry white wine or dry
white French vermouth
1 or 2 tablespoons butter for
final sauce, optional
2 tablespoons minced fresh parsley,
chives, or tarragon, optional
Special Equipment Suggested:
A heavy-bottomed 12-inch frying pan or casserole about
2 inches deep with a tight-fitting cover; a wooden or
plastic spoon and fork for turning the chicken
Browning the chicken – about 5 minutes. Be sure the chicken is well dried or it will not brown properly. Set the frying pan over moderately high heat; add the oil and/or butter. When it is very hot but not smoking, lay in the chicken pieces skin side down. (Do not crowd the pan; there should be a little air space between each piece for proper browning; do the chicken in two batches if necessary.) Turn the chicken every 20 seconds or so, allowing it
to color a fairly even walnut brown on all sides [illustrated in cookbook].
If you've a mixture of white meat (breasts and wings) and dark (legs and thighs) remove the white meat to a side dish after browning; it takes a little less time to cook than dark meat.
Finishing the cooking. Cover the pan, lower the meat to moderate, and if you've removed the white meat, cook the dark meat slowly (it should sizzle gently) about 6 minutes, turning once. Then return the white meat to the pan. Baste the chicken pieces with the accumulated fat and juices in the pan; season the chicken lightly with salt, pepper, and optional herbs. Cover the
pan again and cook another 6 minutes. Turn the chicken, baste again, and continue cooking 7 to 8 minutes more, basting once again.
When is it done? The chicken is done when the thickest parts of the drumsticks and thighs are tender when pressed, and when the juices of any piece of chicken pricked with a fork run clear yellow with no trace of pink –
it should still be juicy.
Deglazing sauce – 3 to 4 minutes. Remove the chicken pieces to hot plates or a platter. Rapidly spoon all but a tablespoon of fat out of the sauté pan.
Stir in the tablespoon of minced shallots or scallions and cook for a few seconds over high heat, stirring. Pour in the 1/2 cups of chicken stock and
of wine, and boil, scraping up coagulated juices from the bottom of the pan; continue boiling and swirling the pan for a moment until the liquid has boiled down to the almost syrupy stage. Remove the pan from the heat and, if you wish, swirl in a tablespoon or two of butter by spoonfuls – to smooth out and enrich the sauce. Pour the sauce over the chicken, strew on the optional herbs, and serve as soon as possible.
Ahead-of-time note: Sautéed chicken is at its best when served almost at once. It may be browned in advance, but if you allow it to cool and then reheat, it will always taste like reheated precooked chicken. Sautéed chicken
is delicious cold, however.
Dieting note. Sautéed chicken is not designed for dieters, although thoroughly degreasing the final juices and removing the chicken skin after sautéing will dispense with a number of calories…

Julia's Variations on Sautéed Chicken...

Featured Archive Recipes:
Daniel Boulud's Chicken Grand-mère Francine
Jacques Pépin's Chicken Chasseur
Jacques Pépin's Sauteed Chicken Maison
James Beard's Raspberry Chicken
Jean-Georges's Sauteed Chicken with Figs
Joël Robuchon's Sauteed Chicken with
Onion and Tomato Sauce
Julia's Simple Saute of Chicken with Herbs
Lutece's Chicken Fricassee with Shallots
Alva Double-Garlic Chicken with
Overnight Tomatoes
Chicken Legs Puttanesca
Chicken Sauté with Artichokes and Pancetta
Tarragon Chicken

A Tribute to Julia Child
Index - Poultry Recipe Archives
Classic French Recipe Index
Daily Recipe Index
Recipe Archives Index
Recipe Search