Your patronage of our affiliate partners supports this web site.
We thank you! In other words, please shop at LBC Gift Galerie!

Jazz in the Quarter
Art Print
Mitchell, Dean
Buy at AllPosters.com


Cajun Popcorn with
Sherry Wine Sauce
(Batter-Fried Crawfish)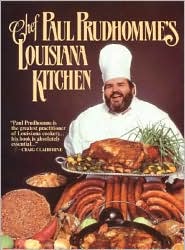 Chef Paul Prudhomme's
Louisiana Kitchen

by Paul Prudhomme, 1984,
William Morrow and Co., Inc.
Makes 12 appetizer servings
[This recipe is included in 'The Best of Craig Claiborne' – 1999,
Times Books/Random House. Here is what Craig Claiborne has to say:]
"This is a recipe, one of several, given to me by my friend of many years,
Paul Prudhomme, the finest Creole and Cajun chef. One taste of these and
you can't stop popping the tiny deep-fried crawfish into your mouth. That
shrimp-shaped critter, incidentally, is always referred to as crawfish in the
South. Crayfish to a Southern ear sound pretentious, as though you are
putting on airs."
"It's very important to cook this as quickly as possible and not
below 350 degrees F, so the seafood will be crisp but not overcooked."
2 eggs, well beaten
1 1/4 cups milk
1/2 cup corn flour (see Note)
1/2 cup all-purpose flour
1 teaspoon sugar
1 teaspoon salt
1/2 teaspoon onion powder
1/2 teaspoon garlic powder
1/2 teaspoon white pepper
1/2 teaspoon ground red pepper
(preferably cayenne)
1/4 teaspoon dried thyme leaves
1/8 teaspoon dried sweet basil leaves
1/8 teaspoon black pepper
2 pounds peeled crawfish tails, small shrimp
or lump crabmeat (picked over)
Vegetable oil for deep frying
Sherry Wine Sauce (recipe follows)
Note: Corn flour is available at may health food stores and is recommended.
[It is our experience that corn flour is more readily available now than at the
time this book was published.] If not available, substitute all-purpose flour.
Combine the eggs and milk in a small bowl, blending well.
In a large bowl combine the flours, sugar and seasonings, mixing well.
Add half the egg mixture and whisk until well blended, then thoroughly
blend in the remaining egg mixture. Let sit 1 hour at room temperature
(to let the flour expand).
Heat 1 inch oil in a large skillet or deep fryer to 375 degrees F. Coat the seafood with the batter and fry in batches in the hot oil until golden brown
on both sides, about 2 minutes total, turning once or twice while cooking.
Do not crowd. (Adjust heat to maintain oil's temperature as close to 370 degrees as possible.) Drain on paper towels. Serve immediately with
Sherry Wine Sauce on the side.
[Craig Claiborne's version of this recipe recommends serving with Garlic Mayonnaise: Combine 1 tablespoon finely chopped garlic with 1 cup freshly
made mayonnaise and Tabasco sauce to taste. We like to serve Cajun
Popcorn with Creole Tartar Sauce and Cocktail Sauce, recipe below.]

Sherry Wine Sauce
1 egg yolk *
1/4 cup catsup
3 tablespoons finely chopped
green onions
2 tablespoons dry Sherry
1 teaspoon Creole mustard (preferred)
or brown mustard
1/4 teaspoon salt
1/4 teaspoon white pepper
1/4 teaspoon Tabasco sauce
1/2 cup vegetable oil
Place all ingredients except the oil in a food processor or blender;
process about 30 seconds. With the machine still running, add the oil
in a thin, steady stream; continue processing until smooth, about 1
minute, pushing the sides down once with a rubber spatula.
Makes about 1 cup.
Our Favorite Cocktail Sauce
Actually, I think cocktail sauce is one of those things that needs to be prepared
on an individual basis, even though I realize that this is not always practical.
The Oyster Bar of the Hotel Monteleone in New Orleans, which has been one
of my favorite haunts since early childhood, places all of the ingredients on the
table and allows each guest to prepare his own sauce. My dad (God rest his soul!) could sit there all afternoon eating raw oysters and boiled shrimp until he could
not possibly hold another morsel. There would be tears in his eyes the whole
time, since he could add horseradish and Tabasco to his heart's content. Chances
are his ulcers did not benefit much, but he maintained it was good for his soul!
Who am I to disagree? This has become our house cocktail sauce:
In a medium bowl mix together thoroughly:
1 cup chili sauce
1/2 cup ketchup
2 garlic cloves, minced
1 tablespoon tarragon vinegar
1 teaspoon Worcestershire sauce
(more to taste)
1 teaspoon prepared horseradish
(more to taste)
The juice of 1 lime
1/4 teaspoon celery salt
6 drops or so Tabasco or the
hot sauce of your choice.
Adjust the heat any way you like. Some of like to cry in our shrimp
and some of us don't…

Featured Archive Recipes:
Crawfish Beignets with Spicy
Tartar Sauce
Cajun Chicken Morsels
Emeril's Eggplant and Shrimp Beignets
Mr. B's Louisiana Crab Cakes
with Creole Sauce

Index - Appetizer Recipe Archives
Index - Seafood Recipe Archives
Do you know what it means
to miss New Orleans?
Daily Recipe Index
Recipe Archives Index
Recipe Search