Your patronage of our affiliate partners supports this web site.
We thank you! In other words, please shop at LBC Gift Galerie!

Still Life with Lemons I
Art Print
Wilson, C. C.
Buy at AllPosters.com


Sauces
"The French are credited with refining the sophisticated art of sauce-making.
It was the 19th-century French chef Antonin Carême who evolved an intricate methodology by which hundreds of sauces were classified under one of five
"mother sauces." Those are:
Espagnole (Brown) (brown stock-based)
Velouté (light stock-based)
Béchamel (basic white sauce)
Hollandaise and Mayonnaise (emulsified sauces)
Vinaigrette (oil-and-vinegar combinations)"
(from The New Food Lover's Companion
by Sharon Tyler Herbst)
Mayonnaise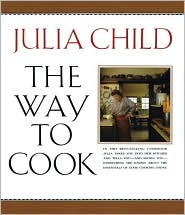 The Way to Cook

Julia Child, 1994, Alfred A. Knopf
"Handmade mayonnaise was one gastronomic delight that many home cooks
were afraid to tackle until the appearance of the electric blender before World
War II, and until Anne Seranne came up with the first foolproof machine-made mayonnaise. Now we have the food processor, and mayonnaise is even easier to make by machine – though maybe no easier to scrape out! If you've not tried it
in the processor you'll find, after a batch or two, that you will confidently whirl
up half a quart or more of that thoroughly addictive sauce in under 5 minutes. Perhaps the following notes will tell you more than you wish to know, but it
may build up your confidence to have some idea of how things work."
Adding the oil slowly at first.
Mayonnaise is an emulsion, meaning that egg yolks are forced to absorb oil and
to hold it in a thick creamy suspension. For the emulsion process to take place,
you first process the yolks to thicken them, which prepares them for the oil to
come. Then you process in the oil a little bit at a time at first, to get the emul-
sion going. When the mixture has begun to cream and thicken you have won;
you can add the oil a little more rapidly and all is well as long as you do not
exceed the limit that the egg yolks can absorb – 2/3 cup per yolk. Another
caution – do not stop the machine until the emulsion is well under way or
the sauce may refuse to thicken.
The plastic vs. the metal blade
The metal blade is so efficient that it often makes too stiff a sauce, and you'll
want to thin it out. The shorter dull-edged plastic blade, however, which is a
little slower in action and takes a little longer to thicken the sauce, gives a
more tender result – if you can call a sauce tender!
The oil to use
What is the mayonnaise to accompany? Cold lobster or crab, for instance,
would want a light oil, neutral in taste, with perhaps just a dribble of olive
oil for flavor. A salad strong with garlic and onions, on the other hand, will
take, and even need, more pronounced tastes. For an all-purpose sauce, as an
example, I use half to two-thirds peanut oil and the rest is virgin olive oil.
Master Recipe
Machine-Made Mayonnaise
Using the food processor
The beauty of your own mayonnaise is that you know exactly what is
in it, and you can use the best and freshest oil, lemon, and/or vinegar.
For 2 to 2 1/4 cups
1 "large" egg
2 egg yolks
1 teaspoon Dijon-type prepared mustard
1/2 teaspoon salt
2 teaspoons freshly squeezed lemon juice
and/or wine vinegar
1 1/2 to 2 cups best-quality oil – peanut,
olive or other oil – all one or a mixture
Freshly ground white pepper
More mustard, salt, lemon juice and/or vinegar, as needed
Droplets of sour cream, sweet cream, or water –
to lighten the finished sauce if it is too thick
Special Equipment Suggested: A food processor (the plastic
blade is recommended but not essential); a pouring funnel is useful.
The egg base: Place the whole egg. the yolks, and the teaspoon of mustard
in the container of the processor; process 30 seconds with a plastic blade;
15 with the steel blade. Add the salt and lemon juice and/or vinegar and
process 15 seconds with the plastic blade; 7 or 8 with the steel blade.
Add the oil: With the machine running, start adding the oil, pouring it in a thin stream of droplets – keep your eye on the stream to be sure it is going
in very slowly. Keep the machine always running, and when you see that
the sauce has thickened, you may add the oil a little faster. Stop the machine after 1 1/2 cups or so of oil, and check on the sauce: if it seems very thick, add droplets of lemon juice or vinegar, and taste it for seasoning. (You do not need to use all the oil; if you like a yellower sauce, for instance, 1 1/2 cups may be sufficient. Continue with the oil if you plan to use it all.
Final flavoring: Taste the sauce carefully for seasoning, briefly processing
in more as necessary. If the sauce is too stiff or thick, process in droplets
of cream or water.
Aïoli (Garlic Mayonnaise)

Bistro Cooking
by Patricia Wells, 1989,
Workman Publishing Co., Inc.
"Aioli intoxicates gently, fills the body with warmth, and the soul
with enthusiasm. In its essence it concentrates the strength, the
gaiety of Provence: sunshine."
~ Frederic Mistral
"This is an authentic Provençal aïoli, which needs to be made from
fresh, juice garlic cloves. If you do not have a large mortar and pestle,
you can crush the garlic and salt together to a paste with the flat side
of a knife and make the aïoli with a whisk or electric hand mixer.
Don't use a food processor: The aïoli will be too much like glue."
6 large fresh garlic cloves
1/2 teaspoon salt
2 large egg yolks, at room temperature *
1 cup (25 cl) extra-virgin olive oil
1. Peel and cut the garlic in half, then remove the green, sprout-like
"germ" that runs lengthwise through the center of the garlic.
2. Pour boiling water into a large mortar to warm it; discard the water
and dry the mortar. Place the garlic and salt in the mortar and mash
together evenly with a pestle to form a paste.
3. Add 1 egg yolk. Stir, pressing slowly and evenly with the pestle,
always in the same direction, to thoroughly blend the garlic and
yolk. Add the second yolk and repeat until well blended.
4. Very slowly work in the oil, drop by drop, until the mixture thickens. Gradually, whisk in the remaining oil in a slow, thin stream until the
sauce is thickened to a mayonnaise consistency.
Yield: About 1 cup (25 cl)
More on mayonnaise and its variations
from "The Cook and the Gardener"
MORE TO COME!
Additions and variations, storing, trouble-shooting,
cooked egg mayonnaise. Stay tuned!

Index - Basic Sauces
The Basics
Classic French Recipe Index
Daily Recipe Index
Recipe Archives Index
Recipe Search