Three Chefs Soup...
Dan Dipaolo
Buy This at Allposters.com

La Belle Cuisine - More Soup Recipes
Fine Cuisine with Art Infusion
"To cook is to create. And to create well...
is an act of integrity, and faith."
New Orleans Brisket and Vegetable Soup
"A home is a place where a pot of fresh soup simmers gently on the hob,
filling the kitchen with soft aromas… and filling your heart, and later
your tummy, with joy."
~ Keith Floyd
---
Recipe of the Day Categories:
Recipe Home
Recipe Index
Recipe Search
Fruit

Your patronage of our affiliate partners supports this web site.
We thank you! In other words, please shop at LBC Gift Galerie!

New Orleans, Plain & Fancy
Giclee Print
Millsap, Diane
Buy at AllPosters.com


New Orleans Brisket and Vegetable Soup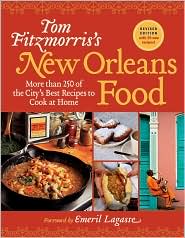 Tom Fitzmorris's
New Orleans Food:
More Than 250 of the City's
Best Recipes to Cook at Home
"I love homemade vegetable soup. My mother used to make this from
time to time, and it was never often enough. I rediscovered this style
of vegetable soup when I started going to old places like Tujague's,
Galatoire's, and Maylie's, where they used the stock from boiling
briskets to make the soup. What gives this soup a great edge is boiling
all the vegetables except the carrots (which lend a nice color to the
soup) separately, not in the soup itself. That way, when you add them
right before serving, they're all vivid and firm and full of flavor."
1 1/2 gallons brisket stock
One 28-ounce can whole tomatoes, crushed
by hand, with juice
1 – 2 pounds boiled brisket (optional)
1 small cabbage, cored and coarsely chopped
1 large yellow onion, coarsely chopped
1 turnip, peeled and cut into 1/2-inch cubes
2 pounds carrots, cut into 1/2-inch-thick slices
2 pounds red potatoes, peeled and cut
into 1/2-inch cubes
1 pound fresh green beans, trimmed and
cut into 1-inch pieces
4 ribs celery, cut into 3-inch-long narrow sticks
2 ears corn, kernels shaved off the cobs
1/2 teaspoon dried basil
1/4 teaspoon dried thyme
2 tablespoons salt, plus more to taste
Freshly ground black pepper to taste
1/2 teaspoon Tabasco, plus more to taste
1. Put the brisket stock, crushed tomatoes, and juice into a kettle or
stockpot. Bring to a boil. Meanwhile, cut the brisket (if using) into
large cubes, removing any interior fat. Add the meat to the stock.
Reduce the heat and simmer.
2. Bring a separate stockpot three-quarters full of water to a light boil.
As you cut the vegetables in the order given in the ingredients list,
add them to the pot. (Some vegetables take longer to cook than
others.)
3. When the carrots and potatoes have lost all crispness, drain the
vegetables and add them to the brisket stock, along with the basil
and thyme. Lower the heat to a simmer and cook for at least
30 minutes. Adjust seasonings with salt, pepper, and Tabasco.
Serves about 8, with lots of leftover soup for the next day.

Featured archive recipes:
New Orleans Boiled Brisket of Beef
Favorite Soups!
Beef, Leek and Barley Soup
Chili Beef Noodle Soup, Aromatic
German Goulash Soup
Meatball and Vegetable Soup
Minestrone with Sweet Sausage
and Tortellini
New Orleans Navy Bean Soup
Winter Pistou (Patricia Wells)

Index - Soup Recipe Archives
Basic Stock Recipes
Do you know what it means
to miss New Orleans?
Daily Recipe Index
Recipe Archives Index
Recipe Search