Recipe of the Day Categories:
Recipe Search
Fruit

Parapluie-Revel, c.1922
Art Print
Cappiello,...
Buy at AllPosters.com


Aromatic Garden
Art Print
Buy at AllPosters.com


Leek Stalks
Photographic Print
Baxter, Steve
Buy at AllPosters.com


Copper Pots
Deborah Chabrian
Buy This at Allposters.com


Green Puy Lentils
Jonathan Syer
Buy This at Allposters.com


Carrots (Carottes)
Giclee Print
Ochoa, Isy
Buy at AllPosters.com


Your patronage of our affiliate partners supports this web site.
We thank you! In other words, please shop at LBC Gift Galerie!

A Foggy Day
Art Print
Levit, Keith
Buy at AllPosters.com



Soulful, Soothing Soup

"Only the pure of heart can make a good soup."
~ Beethoven

"The first Mrs. Astor, the Mrs. Astor, was a true eccentric. . . Mrs. Astor made herself famous in social circles and infamous in culinary circles by putting
down that great masterpiece of the dining art - soup. Mrs. Astor didn't serve
soup at her famous dinners. . . she even said, 'Why would anyone want to put
their dinner on top of a lake?' Well, all I can say about Mrs. Astor is, what
did she know about love, having married for money? Soup is a mainstay of
civilization. It is a creative synthesis of flavors and textures, served in a com-
forting, back-to-childhood style; or as a precise and perfectly elegant begin-
ning to the shape of things to come. . . free-lancers of every stripe cannot
live without it. By that I mean writers, artists, inventors and confined
housewives. Lives have been saved by soup....."
~ Liz Smith, from the foreword to Lee Bailey's "Soup Meals"

"There is nothing like soup... To feel safe and warm on a cold,
wet night, all you really need is soup."
~ Laurie Colwin

Amen, Sisters! I simply cannot imagine a world without soup. God forbid!

My Best Black Bean Soup (So Far)

Sometimes June in Germany is more like October in Oshkosh. It was
on just such a chilly, rainy weekend in Bad Homburg (quite some years
ago now) that I stumbled upon a truly fine soup. Actually, it evolved...
My plan was to prepare a feast of steamed white asparagus, a warm
salad of new potatoes and scallions in pesto dressing, and sautéed veal scallops. Sort of a Saltimbocca. What could be more suitable for spring
on its way to becoming summer?
Alas. The day dawned cold and gloomy. And wet. Again. Since I could
not do anything toward selling everything we owned and moving to Key
West at that very moment, I decided to accept my fate and regroup.
Fine. Regroup to what, please?
More in search of comfort and consolation than ideas, I curled up on
the sofa with my second cup of coffee and my cherished well-worn
copies of Home Cooking and More Home Cooking , absolute jewels
created by the late, inimitable Laurie Colwin. As fate would have it, I
opened "More Home Cooking" to her "Black Beans" article. After
reading a bit, I was so inspired that nothing would do but a big pot of
heart-and-soul-warming soup. What could possibly be more consoling,
more soothing, more good-for-what-ails-you, than a steaming-hot
serving of homemade soup? And not only that, but according to
Laurie, "Black beans are the frazzled person's friend."
That did it! After a quick check for ingredients, I found that I would
have to digress somewhat from Laurie's recipe. I began to thumb
through my soup file and was astounded to find no fewer than twelve
black bean soup recipes. Good grief! After considerable browsing,
I decided on a combination of Craig Claiborne's recipe, Laurie's, one
from a very old back issue of Gourmet, and a twist of my own…

1 pound dried black beans
8 cups good beef or chicken stock
2 cups chopped onion
2 medium carrots, diced
2 large stalks celery, cut in half
3 garlic cloves, chopped
Bouquet Garni: 2 bay leaves,
10 cracked peppercorns, 4 whole cloves,
1 large sprig fresh basil
2 tablespoons good-quality olive oil
1 red bell pepper, diced
1 1/2 cups chopped onion
1 tablespoon minced garlic
1 teaspoon ground cumin
1 cup peeled, seeded, diced tomatoes
1/4 cup balsamic vinegar
2 tablespoons minced fresh coriander
Juice of 1 lime
Dry Sherry (optional)

In your favorite soup pot, cover the beans, rinsed and picked over,
with water. Bring to the boil, remove pan from heat and let the beans
soak, partially covered, for 1 hour. (Obviously, I could not soak the
beans overnight, as I had not been planning to make bean soup!) Drain
the beans, place them into the saucepan and add the stock. (Are you one
of those enviable cooks who always has homemade stock in the freezer?
I salute you! No? Then do the best you can. You may have to resort to
bouillon or canned broth. I rely quite heavily on 'Maggi Klare Suppe mit Suppengrün', a quite superior German version of the ubiquitous bouillon
cube. It makes the world's best broth/stock not make from scratch.)
Sorry. I do tend to digress. As I was saying, place the drained beans back
into your soup pot, add the stock/broth, 2 cups chopped onion, carrots, celery, 3 chopped garlic cloves, and the bouquet garni. I also threw in a generous pinch of a "Cajun seasoning" herb blend. Important note: You would not really need the bouquet garni if you were using good home-
made stock. But, the addition of the bouquet garni is a good way of
fooling people! In a good way, of course.
Bring the stock/broth to a boil, then lower the heat and and simmer,
partially covered, for 2 to 2 1/2 hours, or until the beans are very
tender. Discard the celery stalks and the bouquet garni.
In a blender or food processor, purée the mixture coarsely, in batches.
Or, if you are fortunate enough to have one of those handy immersion
blenders, by all means use it. I swear by mine. Great investment.
Transfer the purée to a large saucepan and place it over very low heat.
You may need to add more liquid at this point, depending on how thick
you like your soup. I like mine very soupy.
In a heavy medium-size skillet place the olive oil, bell pepper, 1 1/2 cups chopped onion, 1 tablespoon minced garlic, and the cumin. Cook, stirring, until the onions are wilted. Add the tomatoes and balsamic vinegar. What
we are making here is sort of an Italian-style soffrito. Let this luscious
mixture simmer over very low heat about 10 minutes.
Now. This is where is gets really good. Add the tomato mixture to the
soup along with the minced coriander (which I did not have, so I substi-
tuted flat-leaf parsley). Stir in the lime juice (or lemon, like I did, since
limes were not so plentiful in Germany). Taste and adjust the seasoning
as necessary.
At this point I added several sprinkles of a favorite standby of mine:
Tony Chachere's Famous Creole Seasoning. If you happen to have dry Sherry on hand (which I did not), a tablespoon or so added to each serving
is delicious. If you can manage it, serve this excellent soup with a freshly-baked loaf of crusty French or Italian bread and plenty of sweet butter.
Drool drool, drool…
Delicious? For sure. But more to the point, you may find that a weary, stress-ridden soul can actually take refuge in a warm cozy kitchen with
a pot of soup simmering on the stove. The unmistakable, comforting
aroma of bread baking will enhance the experience considerably.
By the way, ole what's-his-face, the German guy I used to be married
to, swore this was absolutely, positively THE BEST bean soup he had
ever tasted. But please. By all means, do not take his word for it. Give
it a try and decide for yourself.

Beef, Leek and Barley Soup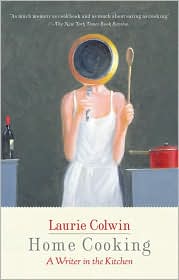 Home Cooking:
A Writer in the Kitchen

by Laurie Colwin, 1993, HarperPerennial
"There is one soup I make all winter long which has the double virtue of
being scrumptious and effortless. It is full of good things. You make it in
the morning and eat it in the evening. All you have to do is skim the fat
off the top. The second day you can add to it to change it, if you have
any left over.
The meat for this soup is short ribs. There is nothing like it for soup,
but it is fatty; shin makes a good enough substitute. Trim as much fat
as you can from the short ribs, which can be kept in one piece or cut
up by the butcher.
1. Trim two big, meaty short ribs and put them on the bottom of your
soup pot.
2. Add 1/2 cup of barley, three big cloves of garlic chopped up, two
chopped onions, and three big leeks cut lengthwise – both the white
and the green parts. You can also add mushrooms and any other
vegetables you might like. Grind in a little black pepper.
3. Add about eight cups of filtered water or beef stock and let simmer
on the back burner for at least three hours while you go about your
business. (You can add lima beans, cubed potatoes, peas, corn, string
beans, and chopped tomatoes. I myself would not put any kind of
squash into this soup, and I am not fond of turnips.)
4. Before serving, skim off the fat, take the meat off the bones, chop
it and put it back in the soup.
This sort of soup makes a meal, and if you are not feeding intimidating company, you can serve it as the meal. A little dish of pasta, followed by soup, bread and cheese and a salad makes a very heartwarming dinner,
with grapes and chocolate cookies for dessert.
Soup has come to symbolize the ultimate in comfort and safety. Many
years ago, when I was about fifteen, I saw someone served a cup of
soup, and this vision, which had all the sentimental charm of a painting
by Sir Edwin Landseer, is indelibly imprinted on my mind.
It was a cold, rainy autumn night, and some grubby teenagers had gathered
at a friend's rather splendid house. We heard the crunch of a car on gravel.
A taxi pulled up and into the wet night stepped the friend's older sister,
who was coming home from college for the weekend. She was probably
nineteen but she looked like the picture of sophistication. She wore brown pumps, a green tweed suit, pearl earrings and her hair was pulled back in
a French twist.
She took off her wet coat, sat down in front of the fire and her mother brought her a large, ornamental bone china cup of soup. She warmed
her hands on the cup and then she set it on its saucer, balanced it on her
lap and ate the soup with a bouillon spoon. The dog, a Weimaraner,
lay dozing at her feet. Outside the rain clattered. Inside that pretty
living room all was safe.
Of course you need not have a Weimaraner or a fire or anyone coming
home from college. To feel safe and warm on a cold wet night, all you
really need is soup."
Wonderful Lentil Soup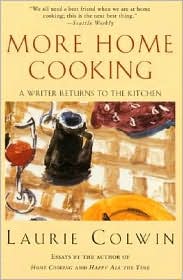 `
More Home Cooking:
A Writer Returns to the Kitchen

by Laurie Colwin, 1995, HarperPerennial
"In all your life you will be hard-pressed to find something as simple, soothing, and forgiving, as consoling as lentil soup. You can take things
out of it or put things into it. It can be fancy or plain, and it will never
let you down.
There are two ways to make it: healthy and unhealthy. Amazingly
enough, both are delicious. Furthermore you can purée it or leave it
alone, and you can eat it hot or cold.
The unhealthy way is made with slab bacon, preferably double-smoked,
cut into dice and sautéed with onion and garlic. Or made with short ribs,
which have a sublime flavor and tons of fat, most of which is happily
absorbed by the lentils and then passed right into your bloodstream. You
can throw in some delicious, high-calorie, and very indigestible sausage.
All of these will produce a delicious soup.
Or you can poach your lentils gently in a very rich, defatted chicken or
beef stock, then pour the result in a blender with a spike of brandy (or
not) and some cayenne pepper and serve this very velvety potion to
grown-ups.
You can simmer your soup with tomatoes and red peppers, or you can
leave it alone in some water with a few vegetables. Even this abstem-
ious preparation tastes fine. The fact is, lentils always taste fine, and if
you hate soup you can poach them, drain them, and turn them into
a salad.
But it is soup that concerns us here for a number of reasons:
It is warming, comforting, good for you, and most important, it is easy.
It is thrillingly easy, and it has a quality loved by all pressed cooks – it
does the work for you.
Lentils are friendly – the Miss Congeniality of the bean world. They
take well to almost anything. But let us start from scratch.
The most minimal lentil soup calls for a cup of lentils; a quart of
water or stock of any kind; one sliced carrot; one or two cloves
of garlic, minced; one small diced onion; and there you are.
This makes a nice plain soup to which no hungry person can object.
The next step is to
add to this one potato, diced up (I love lentil soup with potatoes
in it), one rib of celery, one bay leaf, a sprig of thyme, another
clove of garlic, and you have a more varied potage that is actually
a vegetable soup with lentils.
Going one step further, string beans and lentil soup seem to call out to
each other. You can add this to your vegetable soup with lentils or simply
make lentil and string bean soup with garlic and onions. A tablespoon of
tomato paste goes well with any of these combinations.
A purée of lentil soup with chopped spinach is heaven, spiked with a little cream or yogurt. And a piping hot lentil soup with some long-cooked, very tender broccoli di rape mixed in is divine (for those who adore broccoli di rape, which is pungent, bitter, and full of wonderful flavor). The bliss of
all this is that, aside from a little vegetable chopping, there is almost
nothing to do.
You cook this gently on the stove. You will have soup in an hour. You
will have a better soup if you wait a little longer. You will have a slightly different soup if you add some cut-up tomatoes, tomato paste, or some leftover canned tomatoes. The point is, you can't mess it up. Lentil soup comes through for you. With a loaf of bread, a salad, and some cheese,
and something or other for dessert, you have your midday or evening
meal without much trouble on your part.
But what if you want a nice, rich, slightly unhealthy soup? Or you would
like to take a lot of trouble?
In the first case you can dice up some double-smoked bacon, sauté with
the vegetables, and add a few veal bones. Add the lentils and cook for a
long, long time. If you want to go the distance, use veal bones and a short rib, sawed into pieces by the butcher. Make sure the veal bones have lots
of marrow. This produces a rich, thick, velvety soup but nothing you want
to give vegetarians or people on fat-free diets. Still, once a year it is a truly
splendid soup."

Some of our favorite soup recipes:
Favorite Soups!
Corn Chowder, Southern Style
Gigi's Potage St. Germain
(Split Pea Soup)
Gumbo Galaxy
Lentil and Brown Rice Soup
Michele's Mushroom Soup with Pasta
Michele's Potage d'Hiver
Minestrone with Sweet Sausage and Tortellini
New Orleans Navy Bean Soup
Oodles of Onion Soup Recipes
Potato Soup, Grandmother's, with "Riffles"
Rainy Tuesday in Huntsville Soup
Union Square Cafe Soups


Index - Food Features
Index - Soup Recipe Archives
Basic Stock Recipes
Daily Recipe Index
Recipe Archives Index
Recipe Search