Your patronage of our affiliate partners supports this web site.
We thank you! In other words, please shop at LBC Gift Galerie!

Pirates Alley in the French Quarter
Giclee Print
Millsap, Diane
Buy at AllPosters.com


New Orleans Boiled Brisket of Beef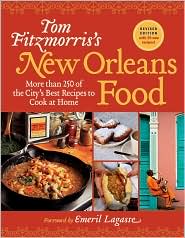 Tom Fitzmorris's
New Orleans Food:
More Than 250 of the City's
Best Recipes to Cook at Home

"In New Orleans, the favorite method of cooking brisket is to simmer it
for hours. The flavorful meat is served with boiled cabbage, carrots, and
potatoes as a classic lunch special in the older restaurants. One of the by-
products of making boiled beef is the ultimate stock for making Brisket
and Vegetable Soup."
8-pound choice brisket, flat end preferably
2 medium yellow onions, each cut into 8 pieces
Leafy tops from a bunch of celery
Stems from 1 bunch of flat-leaf parsley
4 garlic cloves, crushed
1 teaspoon black peppercorns
1 teaspoon dried thyme
1 teaspoon dried marjoram
1/2 teaspoon mustard seed
2 bay leaves, broken in half
2 cloves (optional)
2 tablespoons salt
Sauce: 1/2 cup Creole mustard
1/2 cup chili sauce (or ketchup)
1/2 cup prepared horseradish
1. Bring two gallons (32 cups) of water to a boil in a large stockpot.
2. Meanwhile, trim any excess fat from the brisket. Cut it in three pieces
and put it into the water (no need to wait for it to boil). Add all of the
other ingredients except for the sauce ingredients. Cover the pot and
bring to a boil. Reduce the heat to as low a temperature as possible
with bubble still breaking. (The lowest heat setting will usually do
the job.) Simmer for 4 – 5 hours, skimming any foam that rises to
the surface.
3. Remove the brisket and set aside. Strain out the vegetables and discard,
but save the beef stock for other uses. The stock can be kept in the refrigerator for about a week, or it can be frozen.
4. To make the sauce: Blend the 3 sauce ingredients together in a bowl.
Chill in the refrigerator until ready to use.
5. Slice the brisket or serve it in large cubes, but cut against the grain
with a sharp, nonserrated knife. The meat will be falling apart and
easy to eat. Serve with boiled cabbage, potatoes, carrots and the
chilled sauce.
Serves 8, with leftovers for sandwiches or to add to Brisket and
Vegetable Soup.

Featured Archive Recipes:
Boiled Beef with Chive-Horseradish Sauce
(Salzburger Gekochter Tafelspitz)
Gigi's Boiled Beef Dinner, Gigi's
Braised Beef Rolls
Comforting Shredded Beef and
Softly Simmered Onions
Gail Zweigenthal's Mother's Brisket
Irish Boiled Dinner
New England Boiled Dinner
Round Steak and Onions (Emeril)


Index - Beef Recipe Archives
Do you know what it means
to miss New Orleans?
Daily Recipe Index
Recipe Archives Index
Recipe Search