Recipe of the Day Categories:
Recipe Index
Recipe Search
Fruit

View from a French
Quarter Window
Diane Millsap
Buy This at Allposters.com


French Quarter Courtyard,
New Orleans
Giclee Print
Millsap, Diane
Buy at AllPosters.com

Dream of New Orleans
Diane Millsap
Buy This at Allposters.com


Hot Jazz in New Orleans
Giclee Print
Millsap, Diane
Buy at AllPosters.com


Shack in Bayou

Buy This at Allposters.com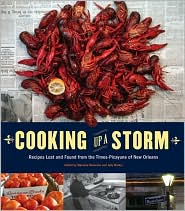 Cooking Up a Storm:
New Orleans Recipes
for Recovery

Cajun Country, Atchatalaya Swamp, Near Gibson, Louisiana, USA
Photographic Print
Francis, Robert
Buy at AllPosters.com


Your patronage of our affiliate partners supports this web site.
We thank you! In other words, please shop at LBC Gift Galerie!

French Quarter
Art Print
Dynner, Lidia
Buy at AllPosters.com


"I thought her Creole gumbo was the finest in the world. Her cabbage
and rice was marvelous. As for red beans and rice, well, I don't have
to say anything about that. It is my birthmark."
~ Louis Armstrong
(on his mother's cooking)
In the South, particularly in south Louisiana and extending into Mississippi,
the quality of a cook's red beans is a VERY BIG DEAL. Trust me. There are
contests. And Festivals. And feuds! Ongoing family feuds have been ignited
by what initially appeared to be an innocuous difference of opinion over the
essential ingredients. The Monday meal of red beans and rice is a sacred
TRADITION not to be taken lightly! Despite the inevitable emulsion that
results as our world grows smaller and smaller, the South is an area whose
inhabitants still embrace their precious traditions.
Now that I think of it, perhaps traditions are more important now than ever,
because of our shrinking, intermingled world. There is at least the illusion of
security in tradition...
But why red beans? Here's what Chef Emeril Lagasse has to say about
this sacrosanct ritual, in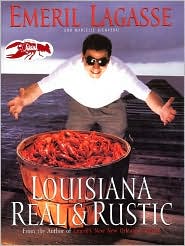 Louisiana Real
and Rustic

Emeril Lagasse with Marcelle Bienvenu,
1996, William Morrow & Co.
"Monday wouldn't be Monday in Louisiana without red beans and rice.
Legend has it that since Monday was traditionally wash day, an all-
day affair before electric washers and dryers, a pot of red beans spent
the morning simmering on the back of the stove. If there was a ham
bone left over from Sunday's dinner, it was thrown into the pot of
beans. The marrow from the cracked bone and a good amount of herbs
and spices made the beans tasty; long cooking made them tender and
creamy. When the laundry was done, so were the beans. Red beans
ladled over fresh steamed rice with a pile of French bread for sopping
up every last drop, this is the dish and the day of the week that trans-
planted Louisianans miss most..."
I spent a large part of my childhood in New Orleans. I never questioned the fact
that Monday meant we would be eating red beans and rice - somewhere. I loved
them as a child and I love them now.
Perhaps because of the cherished childhood memories of New Orleans, I've been
on a quest all of my adult life for THE quintessential red beans and rice recipe.
I was very serious about it at the time, and now all I can do is smile because it's
one of those unreachable stars. Which recipe for red beans and rice is the best?
Why, yo' mama's, of course! Just like she makes the best potato salad and the
best vegetable soup and the best meat loaf. You have all her recipes, but do
your red beans and rice actually taste like hers?
Of course not! Are your biscuits as light as your grandmother's? No way! Can
anyone else make my shrimp dip? Nope. Not really. Just one of those things...

Actually, the best red beans and rice I've ever eaten, bar none, are not my
mama's. As a matter of fact, I'm not at all sure that she ever made her own.
She could, however, with incontestable authority, tell you where in the French Quarter she called home in the late 1940s you would be served the best red
beans. And gumbo. And Pompano en Papillote (Antoine's, of course...)
But back to the red beans. The best I've ever eaten anywhere, bar none,
were those concocted by my dear friend and soul sister, Sweet Rhymes.
But no matter how hard I try, I can't duplicate them. SHE has to make them.
Sweet has always been a master of picturesque speech, and she says they're
good enough to make you want to slap yo' BIG Mama! So, having said that,
please allow me to pass along to you some Red Beans and Rice recipes.
Please understand as you cook that part of the fun in preparing a dish like
this is experimentation and creativity. Just relax and let it evolve!
The following recipe is the one I decided to call my own, after years of trial
and error. That was in the early 1980's. No doubt I'll change a thing or two
next Monday... (MG)
New Orleans Red Beans and Rice
1 pound dried red beans
10 cups water (or more)
1 ham bone or ham hock
1 pound smoked sausage,
cut into 1-inch pieces
3 garlic cloves, crushed
1 1/2 cups chopped yellow onion
1 green bell pepper, chopped
1 cup chopped scallions
2 bay leaves
1 teaspoon Worcestershire
1 tablespoon dried parsley flakes
1 teaspoon dried thyme
1/4 teaspoon dried basil
1 teaspoon Creole/Cajun seasoning,
such as Tony Chachere's
Crushed red pepper to taste
Lemon juice, just a splash
Tabasco sauce to taste
4 cups hot cooked rice
Rinse beans well and drain them in a colander. If you remember to cover
them with water and let them soak overnight, great. Otherwise, place beans
in a large pot, cover them with water and "fast soak" by bringing to a boil
and letting them stand off of the heat, covered, for 1 hour. Return beans to
the stove, add ham bone, garlic, onions, bell pepper and seasonings. Bring mixture to a boil and reduce heat to simmer. Cook very slowly, partially covered, for 1 1/2 hours. Stir the entire mixture just once about every half hour. Add the smoked sausage and cook another hour, partially covered. Beans are ready to serve when a rich natural "gravy" is formed. (In case you're tempted to omit the ham bone or ham hock, don't. According to
my friend and soul sister, Sweet, that's what gives the liquid it's creamy consistency.) Serve over rice with garlic bread and a huge salad. How
many hungry people will this recipe feed? Well, that depends…at least
4, maybe up to 8. How hungry are they? Are they Cajuns?
Lots of folks like to dress up their red beans by topping them with sliced scallions, and maybe even grated cheese. If the idea appeals to you, by
all means do it! But please, don't serve this dish without good, crusty
hot French bread, or better yet, garlic bread. Man, dat's good, yeah!

Imagine my delight when I discovered years later, that Emeril's recipe
is actually pretty close to the one I'd settled on! Gee, maybe I really
DO know how to cook, after all!
Emeril Lagasse's Red Beans and Rice
Louisiana Real and Rustic

Emeril Lagasse with Marcelle Bienvenu,
1996, William Morrow & Co.

Yield: 8 servings

2 tablespoons vegetable oil
1 cup chopped onion
1/2 cup chopped bell peppers
1/2 cup chopped celery
1 teaspoon salt
1/2 teaspoon cayenne
1/4 teaspoon freshly ground
black pepper
1 teaspoon dried thyme
4 bay leaves
1 pound boiled ham, cut into
1/2-inch cubes
6 ounces smoked sausage, cut crosswise
into 1/4-inch slices (1 cup)
1 pound dried red beans, rinsed
and sorted over, soaked overnight
and drained
3 tablespoons chopped garlic
8 to 10 cups water
Steamed rice

1. Heat the oil in a large heavy saucepan over medium-high heat. Sauté
the onions, bell peppers, celery, salt, cayenne, black pepper and thyme
for about 5 minutes. Add the bay leaves, ham and sausage and sauté
for 5 to 6 minutes. Add the beans, garlic, and enough water to cover
the contents in the pot. Bring to a boil. Reduce the heat to medium
and simmer, uncovered, stirring occasionally, for about 2 hours. Add
more water if the mixture becomes dry and thick.
2. Use a wooden spoon to mash about half of the mixture against the side
of the pot. Continue to cook, stirring occasionally, for about 1 1/2 hours,
or until the mixture is creamy and the beans are soft. Add more water if
it becomes too thick. The mixture should be soupy, but not watery.
3. Remove the bay leaves and serve over steamed rice.


Even Emeril's recipe is not written in stone, of course. The red beans and
rice recipe he demonstrated on the TV Food Network in 1998 included 1
pound ham hocks and 1/2 pound boiled pickled pork meat as well as 10
cups of chicken stock or water and 1/4 cup chopped green onions to garnish,
which I really like to do, being an onion lover. An interesting cultural note -
in South Louisiana, green onions or scallions are quite often referred to as
"shallots". There must be a story there somewhere. I was pleasantly amused
to discover that in a local supermarket the green onions were displayed
under the sign "shallots" with "scallions" in parentheses.

Red Beans, My Way

Who's Your Mama,
Are You Catholic,
and Can You Make a Roux?
(Book 1): A Cajun/Creole
Family Album Cookbook

Marcelle Bienvenu, 1998,
Times of Acadiana Press
"Just like gumbo, everyone in south Louisiana has his very own recipe
for red beans. I've listened to people argue if they should have smoked
sausage and ham, or either one or the other. Some like to use only ham
hocks. Others like the red beans served along with a fried pork chop. I'm
not a purist when it comes to red beans. Do it any way you like. The fol-
lowing recipe happens to be a combination of Mama's way and my way."
Serves 8
1 pound red kidney beans
2 quarts water
1/2 cup beef broth
3 tablespoons margarine or vegetable oil
2 medium onions, chopped
1 sweet green pepper, chopped
2 stalks celery, with leaves, chopped
2 cloves garlic, minced
1 pound smoked pork sausage,
cut into 1/2-inch slices
1/2 pound ham pieces
3 bay leaves
2 pinches of thyme
Salt, black pepper, and cayenne
pepper to taste
Soak beans overnight. Place the beans in a large soup pot or kettle along
with the water and beef broth; bring to a gentle boil. In a large skillet, heat
the margarine or oil and sauté the onions, green peppers, celery, garlic, and sausage or ham. Brown well on a fast fire. When the beans have come to a boil, add the vegetables and meat mixture. Add bay leaves, thyme, salt and peppers. Reduce heat to a high simmer and cook for 2-3 hours until beans have become tender. I like my red beans a little creamy, so I remove 2 or
3 cups, purée them in a food processor or blender, and return them to the
pot. Serve the red beans over rice.

Featured Archive Recipes:
Eggs Louis Armstrong (Commander's Palace)
Hoppin' John Jambalaya
Lundi Gras Red Bean and Rice Salad
New Orleans White Beans with Andouille

Do you know what it means
to miss New Orelans?
Index - Food Features
Index - Main Dish Recipes
Daily Recipe Index
Recipe Archives Index
Recipe Search