Recipe of the Day Categories:
Recipe Index
Recipe Search
Fruit

Mardi Gras
Giclee Print
Cézanne, Paul
Buy at AllPosters.com


Blaine Kern's Mardi Gras World,
New Orleans, Louisiana, USA
Photographic Print
Jones, Adam
Buy at AllPosters.com


Jazz du Jour
Art Print
Brown, Betsy
Buy at AllPosters.com

Love New Orleans?
This book's for you!

New Orleans, Do It
Art Print
Lourenco, Didier
Buy at AllPosters.com


Expanded Edition - 25
delicious new recipes!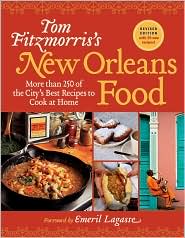 Tom Fitzmorris's New Orleans Food: More Than 250 of the
City's Best Recipes
to Cook at Home

Your patronage of our affiliate partners supports this web site.
We thank you! In other words, please shop at LBC Gift Galerie!

Dolls Decorated for Mardi Gras Carnival, New Orleans, Louisiana, USA
Photographic Print
Laskowitz, Ray
Buy at AllPosters.com


New Orleans Po' Boys
Mardi Gras, 12 February 2002

Okay. I admit it. I led you astray the other day with a very elaborate Mardi Gras menu. Sorry. I was just trying to make a point. As in, on Mardi Gras Day you can EAT WHATEVER YOU WANT, because you will fast on Ash Wednesday. Maybe even throughout the entire Lenten period! (What a concept…) What we really eat
on Mardi Gras Day (assuming, of course, that we are taking part in the revelry),
is street food. We ain't talkin' McDonald's here, folks.) Something substantial,
but not requiring that we be seated with a knife and fork to partake of it. Nothing fancy while we are dancing our way through the crowded streets, balancing our favorite libation in one hand and grabbing for beads, doubloons, cups, and trinkets with the other. The infamous Po' Boy is a natural, although we will need to have at least one hand free. (Now that I think of it, just have your sweetie feed you!) And while you won't find one on every street corner, rest assured that po' boys are
quite plentiful here. And totally scrumptious.
First and foremost, you need to know that when you order a Po' Boy (or Poor
Boy, if you must) in New Orleans, the reply you are sure to hear is, "Dressed?"
No, they are not stupid. Or blind. They simply want to know whether you want
your sandwich gussied up with lettuce, tomatoes, pickles, mayo and such, or wit'
nuttin' on it. And believe you me, the New Orleans pronunciation of mayonnaise
is something I defy an out-of-towner to duplicate. Sort of like MY-nez. Cannot
quite manage it myself (alas), even though I have spent many years, off and on,
in this glorious city.
Just a touch of history, while we're at it. What we know for sure is that the name "po' boy" derives from the fact that the sandwich originated as a way to alleviate
the hunger of striking streetcar workers. 1914, I believe. And it seems to be a
fact that the owners of Martin Brothers Grocery are to be credited with this deliciously sloppy innovation.
We have heard all sorts of stories surrounding the price of said po' boys.
Some folks adamantly proclaim they were free. Others insist they were sold
for 15 cents, while some say a dime. In any case, they are one of the many,
many things I love about New Orleans. And one of the first things I miss
when I have to leave…
Disillusionment can be cruel. While it is my distinct pleasure to provide you with
the following recipes, I must honestly admit that you are not going to be able to
enjoy an authentic New Orleans po' boy unless you have an excellent source for
freshly-baked crusty French bread. Otherwise, you will wind up with just another
hoagie, or hero, or sub. You need bread with a really crisp, crunchy crust and a
marvelously light crumb. Even here, it is not that easy to get excellent French
bread these days. Sad. Just get the very best bread you can. Or maybe even
bake your own! What a concept...
And what do we put inside this marvelous concoction? These days, just about anything you like, I suppose. Emeril Lagasse is quite fond of the Roasted Pork
and French Fry version, as well as his Garlic Meatball creation. Bam! Why not?Speaking of which, why not andouille, or Italian sausage? More traditionally,
though, you will be offered oysters, shrimp, roast beef (absolutely dripping with gravy), ham, or catfish.
For many po' boy enthusiasts, the absolute quintessential version remains the "Famous Ferdi Special" served at Mother's, in the CBD, New Orleans' central
business district. (Even the address is uniquely New Orleanian: on the corner
of Tchoupitoulas - pronounced <'chop-@-TOO-l@s> - and Poydras. Love it!).
The Ferdi is loaded with Mother's best baked ham, roast beef, debris and gravy, shredded cabbage, pickles, mayo, and both yellow and Creole mustards. And a
Ferdi with cheese is called a Ralph. What else?? (In case you are wondering
about "debris", it refers to all the beef that falls into the gravy. Yum!)
Admittedly, I am mighty fond of both the Ferdi Special and Mother's Debris, (although, alas, they are not what they once were), but something there is about
a po' boy that cries out for seafood. So let us begin with some commentary (and
recipes, of course!) from what we have long considered the quintessential New
Orleans restaurant: Commander's Palace… (And, no, they are not paying me
a dime, believe it or not!)

Commander's Kitchen:
Take Home the True Taste
of New Orleans with More
than 150 Recipes from
Commander's Palace Restaurant
by Ty Adelaide Martin and Jamie Shannon
2000, Broadway Books, a division of Random House, Inc.
"So there I was on a panel with other restaurateurs and we were asked what we'd like for our last meal. One said, 'Foie gras.' Another said, 'Caviar.' Yet another said, 'Truffles.' Then it was my turn: 'Oyster Po' Boy, dressed.' That's how much
I love fried oysters. The ultimate Po' Boy is made with corn-fried oysters, just like the ones in this dish. And the keys to the ultimate corn-fried oysters are these:
Don't over-fry the oysters, and serve them immediately after frying. This dish
cries out for a good amber beer…" [from Abita Springs, perhaps?]

Corn-Fried Oysters with
Horseradish Cream
Makes 8 appetizer or 4 entrée servings
Horseradish Cream:
1/4 cup white vinegar
1 cup heavy cream
1 cup prepared horseradish
Kosher salt and freshly ground pepper to taste
Oysters:
8 cups vegetable oil, for frying
1 cup all-purpose flour
1 cup masa flour or fine-ground cornmeal
1 cup cornmeal
1/2 cup Creole Seafood Seasoning, or to taste
40 raw oysters, shucked, in their own liquor
Kosher salt
Chopped fresh parsley (optional garnish)
Make the horseradish cream first. (In fact, you can make it in advance and reheat it.) In a small saucepan over high heat, bring the vinegar and cream
to a boil. Add the horseradish and season with salt and pepper. Simmer for
1 minute, or until sauce is hot. Remove from heat.
Then cook the oysters. In a 6-quart or large pot, heat the oil to 325 to
350 degrees F on a deep-fry thermometer. While the oil heats, thoroughly combine the flour, masa, cornmeal, and Creole seasoning in a large bowl
and dredge each oyster in the mixture, letting the oyster liquor act as an adhesive. Shake off excess coating, and set the oysters aside until all are coated.
Fry the oysters in small batches to avoid crowding and prevent a drop in
the oil temperature. Cook the oysters for about 45 to 60 seconds, until
their edges curl and turn crisp and brown. Pull the oysters from the oil
and drain on a cloth towel. Season immediately with salt.
Serve immediately atop a pool of warm horseradish sauce, and garnish
with chopped parsley, if desired.
Chef Jamie's Tips: The key to successful deep-frying – crisp food that's
not soggy - is making sure the oil is hot enough so the food cooks without
absorbing oil yet not so hot that the food burns. Some tips for this dish:
♦ Use clean oil, and never overcrowd the fryer.
♦ Use a deep-fry thermometer to help you keep the oil
at a constant temperature.
♦ Don't overcook the sauce or you risk losing the pungent
horseradish flavor. Taste the horseradish before using it,
because the flavor can vary from batch to batch.
♦ Serve fried oysters immediately.
Or, make a fantastic Oyster Po' Boy, à la Commander's!
"Want to make a to-die-for Oyster Po' Boy? Easy: Spread this Creole Tartar
Sauce on hot French bread, and add Creole or vine-ripened tomato slices,
Vidalia onion slices, and quick-fried oysters."
(Also delicious on fried catfish, fried seafood or with vegetables.)
1 cup chopped kosher dill pickles, or
pickle relish of your choice
1 bunch green onions, thinly sliced
1 1/2 tablespoons Creole mustard or
other coarse mustard
2 teaspoons prepared white horseradish
1 1/2 teaspoons hot sauce, or to taste
2 teaspoons Creole Seafood Seasoning, or
any Creole seasoning mix, or to taste
1 cup mayonnaise
Place the chopped pickles, green onions, mustard, horseradish, hot
sauce, Creole seasoning, and mayonnaise in a bowl and mix well. Add
the seasoning if needed. Store, refrigerated, in an airtight container for
up to 2 weeks.
Mercy, mercy, mercy, somebody save me…
And by the way, there is an interesting culinary legend to the effect that the
oyster po' boy was once known as "la médiatrice", or the peacemaker, as it
was what dallying husbands brought home to assuage their wives. (Thanks to
Jane and Michael Stern, in "Real American Food".)

Emeril, of course, is an alumnus of Commander's Palace. I daresay the influence during his tenure was mutual. (Probably accounts for the fact that I am so taken
with both.) From Louisiana Real and Rustic (Emeril Lagasse and Marcelle Bienvenu, 1996, William Morrow), we bring you Chef Emeril's take on catfish,
just right for a po' boy…

Panfried Catfish with Lemon and Garlic
"...These panfried catfish fillets are golden and crisp on the outside, smooth
and hot within. Real Potato Salad is all that is needed to go with them. My
friend Mr. Thibodeaux prefers his catfish on a poor boy. He hollows out a
loaf of crisp French bread, lathers both sides with Creole Tartar Sauce and
fills the loaf with fried fish, then washes it down with cold Dixie beer.
Mon cher, c'est bon, oui."
4 catfish fillets (6 to 6 1/2 ounces each)
3/4 cup fresh lemon juice
1/4 cup minced parsley
1/4 cup minced garlic
1 tablespoon plus 2 teaspoons Rustic Rub
1/2 cup yellow cornmeal
2 tablespoons flour
1/2 cup vegetable oil
Put the catfish in a shallow bowl. Add the lemon juice, parsley, garlic
and 1 tablespoon plus 1 teaspoon of the rub. Toss to coat the catfish
evenly. Cover and refrigerate for 1 hour.
Combine the cornmeal, flour and the remaining rub in another shallow
bowl. Remove the catfish from the marinade and dredge in the corn-
meal mixture, coating evenly.
Heat the oil in a nonstick skillet and fry for about 3 to 4 minutes on
each side, or until golden brown. Serve immediately. 4 servings.

Featured Archive Recipes:
Chicago-Style Italian Beef Sandwiches
Clarence and Lefty's Original
Roast Beef for Po' Boys
Emeril's Garlic Meatball Po' Boys
Emeril's Roast Pork and French Fry Po' Boy
French Quarter Muffuletta
Gizmo Grinders
Italian Sausage Grinder
Louisiana Red Beans and Rice
Mardi Gras Munchies


Index - Food Features
Do you know what it means
to miss New Orleans?
Party Central
Daily Recipe Index
Recipe Archives Index
Recipe Search