Champignons
Buy This Allposters.com

La Belle Cuisine - More Vegetable Recipes
Fine Cuisine with Art Infusion
"To cook is to create. And to create well...
is an act of integrity, and faith."
Mushroom Conserva

Free Shipping on over 450 products. Check them out now!
"When we eat together, when we set out to do so deliberately, life is better,
no matter what your circumstances. Whether it's a sad or difficult time,
whether it's an ordinary-seeming day, or whether it's a time of celebration,
our lives are enriched when we share meals together. And that's what the
food in this book is all about. ~ Thomas Keller, 'ad hoc at home'
---
Recipe of the Day Categories:
Recipe Home
Recipe Search
Appetizers
Beef
Beverage
Bread
Breakfast
Cake
Chocolate
Fruit
Main Dish
Pasta
Pies
Pork
Poultry
Salad
Seafood
Side Dish
Soup

Field Mushrooms for Sale by
Roadside Near Cluj-Napoca,
Cluj-Napoca, Cluj, Romania,
Photographic Print
Mayfield, Diana
Buy at AllPosters.com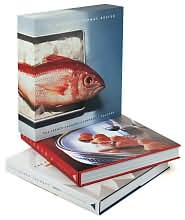 The Complete Keller: The French Laundry Cookbook & Bouchon

Your patronage of our affiliate partners supports this web site.
We thank you! In other words, please shop at LBC Gift Galerie!

Morel Mushrooms Among Violets, Morchella Esculenta, Central USA
Gary Meszaros
Buy This at Allposters.com

Mushroom Conserva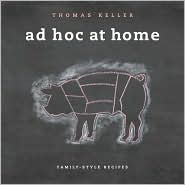 Ad Hoc at Home

Copyright © 2009 by Thomas Keller
Publisher Artisan

Makes about 3 cups

2 pounds assorted wild mushrooms such as
small shiitakes, morels, chanterelles, small
porcini, hen-of-the-woods, trumpet
and oyster
2 cups extra virgin olive oil
2 bay leaves
4 sprigs thyme
One 6-inch rosemary sprig
1 teaspoon piment d'Espelette *
3 tablespoons sherry wine vinegar
Kosher salt
Fresh cracked black pepper

Dave Cruz learned this technique for preserving mushrooms from a chef
in the Basque region of Spain, and it's so tasty and versatile that you'll
find many uses for it. The method is simple -- mushrooms are steeped in
medium-hot aromatic oil for 5 minutes and then seasoned with vinegar
and salt. Mushrooms prepared this way are both earthy and acidic, ex-
cellent served hot with meats, or as a base for fish. They are also good
cold, as a condiment, as a component of a salad, or even as the main
component, garnished with shaved radishes and similarly preserved
tomatoes. Use a variety of mushrooms for textural and taste contrast
-- oyster, hen-of-the-woods, trumpet, shiitake, chanterelle, porcini, and morels. Strain and save the oil when you're finished with the mush-
rooms to use in vinaigrettes or as a flavored oil.
Just before cooking, rinse the mushrooms to remove any dirt. Remove the shiitake stems and any other stems that are tough, and discard, or set aside
for another use (such as a vegetable stock). Trim the end of other stems
as well as any bruised areas. Leave small mushrooms whole. Cut larger mushrooms into pieces or into slices; or slice mushrooms with meaty
stems, such as porcini or trumpet mushrooms, lengthwise in half, then
use the tip of a paring knife to score the inside of the stem in a crosshatch
pattern. The pieces of mushroom will shrink as they cook, but the finished pieces should not be larger than one bite. You should have about 10 cups
of trimmed mushrooms.
Combine the olive oil, bay leaves, thyme sprigs, rosemary and Espelette in
a large, wide pot, put a deep-frying thermometer in the pot, and heat over medium to medium-high heat until the oil reaches 170 degrees F (it may
be necessary to tilt the pot and pool the oil to get a correct reading on the thermometer). Add the mushrooms to the pot and gently stir them in the
oil. When the oil reaches 170 degrees F again, adjust the heat as necessary
to maintain this temperature and cook for 5 minutes, gently turning the mushrooms from time to time. The mushrooms will not initially be sub-
merged in the oil, but will wilt as they steep.
Remove from the heat, stir in the vinegar and salt and pepper to taste,
and let the mushrooms steep in the oil for 45 minutes. Transfer the
mushrooms, oil and herbs to a covered storage container; the mush-
rooms should be covered by the oil. The mushrooms will keep for up
to 1 month in the refrigerator. Serve hot or at room temperature.

* Piment d'Espelette – If you haven't tried piment d'Espelette (Espelette
pepper), it's worth seeking out. These ground dried chile peppers, from
the village of Espelette in Spain's Basque region, will give a fruity heat
to any number of dishes. The powder is more flavorful and less hot
than cayenne. Piment d'Espelette is available here.
[Alternatively, we suggest a good smoked hot paprika. MG]

Serving suggestions:
Serve hot with Santa Maria-Style Tri-Tip (recipe in cookbook).
Serve as a component of Mushroom and Leek Salad with
Oven-Roasted Tomatoes and Radishes (recipe in cookbook).


Featured Archive Recipes:
Asparagus with Mixed Mushrooms
and Parmesan
Sautéed Morels with Goat Cheese,
Spinach, and Beet Vinaigrette
Warm Camembert with Wild
Mushroom Fricassee
More from Chef Thomas Keller:
Butter-Poached Lobster with Leeks,
Pommes Maxim & Red Beet Essence
Lemon-Brined Fried Chicken
Molten Chocolate
Recipes from 'The French
Laundry Cookbook'
Roasted Rib Steak with Golden
Chanterelles... aka "Yabba Dabba Doo"



Index - Vegetable Recipe Archives
Rites of Spring Recipes
Daily Recipe Index
Recipe Archives Index
Recipe Search