From the Garden II
Art Print
Kruse-Kolk, Alie
Buy at AllPosters.com

La Belle Cuisine - More Vegetable Recipes
Fine Cuisine with Art Infusion
"To cook is to create. And to create well...
is an act of integrity, and faith."
Asparagus with Mixed Mushrooms
and Parmesan


Thousands of premium wines and gourmet gifts
"Cooking is not a set of dogmas
but a craft that can be learned and enjoyed."
~ Mark Bittman
---
Recipe of the Day Categories:
Recipe Home
Recipe Search
Appetizers
Beef
Beverage
Bread
Breakfast
Cake
Chocolate
Fruit
Main Dish
Pasta
Pies
Pork
Poultry
Salad
Seafood
Side Dish
Soup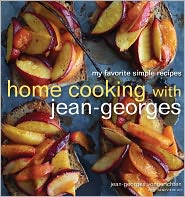 Home Cooking
with Jean-Georges:
My Favorite Simple Recipes

Your patronage of our affiliate partners supports this web site.
We thank you! In other words, please shop at LBC Gift Galerie!

Asparagus and Mushrooms at Stall in Pike Place Market, Seattle, Washington, USA
Photographic Print
Ricca, Connie
Buy at AllPosters.com



Asparagus with Mixed Mushrooms
and Parmesan
Jean-Georges: Cooking at
Home with a Four-Star Chef
by Jean-Georges Vongerichten and Mark Bittman,
1998, Broadway Books

"This quick, simple, and lovely dish can be given four-star elegance if
you choose to make the optional asparagus 'jus'. It makes great use
of peelings and trimmings and, as Jean-Georges says, 'I think the
peelings actually have more flavor than the interior.' Do not use
pencil-thin asparagus here; in fact, the thicker the better.
These make a nice first course, or a good side dish for something
straightforward…"

Makes 2 main-course or 4 appetizer or side-dish servings

About 1 pound of the largest asparagus
you can find (12 jumbo)
1/4 cup extra-virgin olive oil
12 ounces mixed mushrooms, trimmed,
washed, and roughly chopped
(about 4 cups)
1shallot, minced
2 garlic cloves, minced
Salt and freshly ground black pepper
1/3 cup freshly grated Parmesan cheese
1/4 cup chopped chives

1. Set a large pot of salted water to boil. Make the asparagus jus if you
like (recipe follows).
2. Place 2 tablespoons of olive oil in a 10-inch skillet and turn the heat
to medium-high. Add the mushrooms, shallot, and garlic, along
with a sprinkling of salt and pepper. Cook over medium heat, stir-
ring occasionally, until most of the mushroom liquid evaporates,
about 10 minutes. Turn off the heat, but keep the mushrooms
warm.
3. Meanwhile, poach the asparagus spears in the boiling water, just until
they begin to become tender, 2 to 4 minutes depending on their
thickness. They should still be slightly crunchy. Plunge them into
ice water, drain, then dry on a towel.
4. Place the remaining 2 tablespoons oil in a 12-inch skillet and turn the
heat to medium-high. When the oil is hot, add the asparagus spears.
Brown them lightly, turning as each side browns. Sprinkle them with
pepper, but not salt.
5. When the asparagus are lightly browned, sprinkle them with the Parme-
san and shake the pan once or twice to distribute it. Stir the chives into
the mushrooms.
6. To serve, place a portion of the asparagus on each plate, then top
with a portion of the mushrooms. Spoon a bit of the asparagus jus
around the plate if you like.

To make asparagus jus

1. Reserve all the asparagus trimmings; chop the bottoms into 1/2-inch
pieces and cook them, along with the peels, in boiling salted water
to cover (use this same water to poach the asparagus afterward).
When very tender, after 6 to 10 minutes, drain, reserving about 1/4
cup of the cooking liquid. Purée the trimmings in a blender, adding
as much of the reserved 1/4 cup cooking liquid as necessary.
2. Heat 1 tablespoon butter in a small saucepan over medium heat.
When it melts, add the purée, salt, and pepper. Heat through, taste
and adjust seasoning, and keep warm until ready to serve.


Featured Archive Recipes:
Asparagus - The Royal Vegetable
Asparagus and Baby Leeks
Asparagus Clafoutis (Daniel Boulud)
Asparagus Three Ways (Alain Ducasse)



Index - Vegetable Recipe Archives
Rites of Spring Recipes
Daily Recipe Index
Recipe Archives Index
Recipe Search