Your patronage of our affiliate partners supports this web site.
We thank you! In other words, please shop at LBC Gift Galerie!

Old Books I
Art Print
Belkovskij, Igor
Buy at AllPosters.com

During June, 2000 we will be featuring the winners of the 2000 IACP (International Association of Culinary Professionals) Crystal Whisk Awards. Books were nominated in eleven categories, and only one emerged the winner at a ceremony held in conjunction with the annual IACP conference on April 1, 2000, in Providence, RI.
IACP Cookbook of the Year
(The French Laundry Cookbook was also the winner
of the Julia Child Award, the First Book Category.)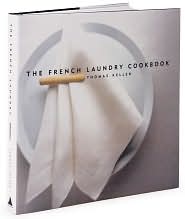 The French Laundry Cookbook

by Thomas Keller with Susie Heller
and Michael Ruhlman, 1999, Artisan
"Thomas Keller may be the best chef in America. Now that Alain
Ducasse and Fredy Girardet are no longer behind the line, he may
be the best chef in the world."
- Irene Sax
Irene Sax is the Epicurious cookbook reviewer, in addition to being restaurant reviewer for the New York Daily News. We respect her opinion tremendously,
and have appreciated her words of wisdom over the years in Gourmet
, Bon
Appetit
, Saveur
, Martha Stewart Living, and New York Magazine
. In 1995,
she was named food editor of the year by the James Beard Foundation.
(Note: For fascinating reading on Thomas Keller's evolution from hamburger
cook to America's best French chef, we highly recommend Michael Ruhlman's
article, "Natural-Born Keller" in the October 1999 issue of Gourmet
.)
How did an American become our best French chef (sacre bleu!) The October
1999 Gourmet has the skinny on the possible end of French food (mon Dieu!) Alexander Lobrano tells us that even Alain Ducasse wonders if Paris has lost
its edge. A great read!
Gazpacho
1 cup chopped red onions
1 cup chopped green bell pepper
1 cup chopped English cucumber
1 cup peeled and chopped tomatoes
1 1/2 teaspoons chopped garlic
1 1/2 teaspoons kosher salt
1/4 teaspoon cayenne
1/4 cup tomato paste
1 tablespoon white wine vinegar
1/4 cup plus 2 tablespoons
extra virgin olive oil
1 tablespoon fresh lemon juice
3 cups tomato juice
Sprig of thyme
Balsamic Glaze (recipe follows),
in a squeeze bottle
"Don't always think of gazpacho as soup. Think of it as sauce. Think of it as
hot as well as cold. It goes beautifully with grilled chicken or fish. Gazpacho
is served in small portions as a canapé at the French Laundry, garnished with balsamic glaze, or as a sauce with the Salad of Globe Artichokes with Garden
Herbs and Gazpacho. It can also be served in larger portions as a traditional
cold soup. This soup couldn't be easier; it achieves its powerful flavor simply
by overnight maceration, which is the only 'cooking' involved."
Mix all the ingredients except the balsamic glaze together in a bowl or
other container, cover, and let sit in the refrigerator overnight.
The next day, remove the thyme and blend all ingredients in a blender
until the gazpacho is smooth. You will have about 2 quarts. For a
smoother texture, strain the soup to yield about 1 quart. Refrigerate
the gazpacho until ready to serve.
To complete:
Ladle the cold soup into bowls and squeeze dots of balsamic glaze
over the top.
Makes 8 to 16 servings.

Balsamic Glaze
2 cups balsamic vinegar
"We use glazes often in the cheese course, always sparingly, because they
are so intense. When making a vinegar or wine glaze [this same procedure
applies to Port Wine Glaze], reduce it slowly, almost as if you were letting
it evaporate. If you boil it too hard, the acid will remain and make the glaze
too sharp. Reducing it slowly and gently results in a much softer tasting
glaze. It's easiest to control the heat with the aid of a diffuser."
Heat the vinegar [or port] in a heavy saucepan over medium heat until
steam rises from the liquid. Place the saucepan on a heat diffuser and let
the liquid reduce very slowly (it shouldn't simmer) for 2 to 3 hours, until
it has reduced and thickened to a syrupy glaze. There should be approx- imately 1/2 cup of balsamic glaze [or 1/4 cup of Port glaze]. Keep the
glaze in a squeeze bottle at room temperature for garnishing plates; if
the glaze is too thick, warm the bottle in hot water to loosen the glaze.
Strawberry Sorbet Shortcakes with
Sweetened Crème Fraîche Sauce
Strawberry Sorbet
Makes 1 Quart
2 1/2 pounds strawberries,
preferably organic,
rinsed and hulled
1/4 cup honey, or to taste
1 cup superfine sugar
Pinch of kosher salt
Biscuits
Makes 8 or 9
1 1/2 cups all-purpose flour, plus a
ittle extra for cutting the biscuits
1/2 teaspoon kosher salt
1 1/2 teaspoons sugar
1/2 teaspoon baking powder
1/4 teaspoon baking soda
4 tablespoons (2 ounces) unsalted
cold butter, cut into chunks
About 1/2 cup buttermilk
2 tablespoons milk
Crème Fraîche Sauce
Makes 3/4 Cup
3/4 cup crème fraîche
1 tablespoon plus 1 1/2 teaspoons
sugar, or to taste
1/4 vanilla bean, split
3/4 cup chopped strawberries, drained
Sugar to taste
Powdered sugar, in a shaker
All the components of this dessert can be made ahead. The uncooked
biscuits can be frozen and bakes directly from the freezer. Or, since the biscuit doubles easily, you may want to make a double batch and freeze
half the unbaked biscuits for another time.
For the Strawberry Sorbet: Puree the strawberries in a blender and strain through a fine-mesh sieve into a bowl. You should have about 4 cups. Add the honey, superfine sugar, and salt. Freeze in an ice-cream machine, then transfer to a container and place in the freezer.
For the Biscuits: Sift the dry ingredients into a bowl. Add the butter and
rub the butter and flour through your fingertips until they are completely combined and the butter is in small beads. Make a well in the center of
the flour mixture and pour in 1/2 cup buttermilk and the milk. Use a
dough scraper to incorporate the milk and flour from the edges toward
the center. If the dough seems too dry, add a little more buttermilk. The
finished dough should feel damp, but not wet, and be a "shaggy mess,"
not a solid mass. Turn the dough out onto parchment and let rest for 10
to 15 minutes. Preheat the oven to 500 F. Stack two baking sheets (for
more even heat distribution) and place a piece of parchment on top. Place
the dough on a lightly floured work surface and roll out 1/2 inch thick.
Dip a 2-inch biscuit cutter in flour and cut out rounds. Place the rounds
2 inches apart on the baking sheet. Bake for 8 to 10 minutes, or until
golden brown. Transfer to a rack to cool.
For the Crème Fraîche Sauce: Combine the crème fraîche and sugar in
a small saucepan. Scrape the seeds from the vanilla bean into the crème fraîche, add the pod, and bring to a simmer, whisking constantly until the sugar is dissolved. Remove the sauce from the heat and strain through a
fine-mesh strainer. Keep the sauce warm, or cover and refrigerate until
ready to serve. Sweeten the drained chopped strawberries with sugar
to taste.
To Complete: Rewarm the crème fraîche sauce over low heat. Cut the biscuits into neat round with a 1 1/2-inch biscuit cutter and split them in
half. Dust the tops with powdered sugar. Put a spoonful of sauce on each
plate. Top with the bottoms of the biscuits. Spoon the chopped berries
over the biscuits and cover each with a quenelle, or small scoop, of
sorbet. Set the tops of the biscuits on the sorbet and serve. Serves 8.

Index - Cookbook Features
Index - Food Features
Daily Recipe Index
Recipe Archives Index
Recipe Search

Click for winners in other categories:
American Category
Bread, Other Baking and Sweets
Chefs and Restaurants
Food Reference/Technical
General
Health and Special Diet
International
Literary Food Writing
Single Subject
Wine, Beer or Spirits