Recipe of the Day Categories:
Recipe Home
Recipe Search
Fruit

Beurre Gautier
Giclee Print
Cappiello,...
Buy at AllPosters.com


Leeks

Buy This at Allposters.com


Ocean Harvest I
Susan Gillette
Buy This at Allposters.com


Rockport Harbor with Lobster
Fishing Boats, Row Boats
Photographic Print
Laman, Tim
Buy at AllPosters.com


Lobster Boats Moored Near
Public Pier in Harbour...
Photographic Print
Levesque, Kevin
Buy at AllPosters.com


Bouchon

Chef Thomas Keller

Gourmet Lobster Tails Four (6-ounce)

Your patronage of our affiliate partners supports this web site.
We thank you! In other words, please shop at LBC Gift Galerie!

Still Life with Lobster
Giclee Print
Beyeren, Abraham...
Buy at AllPosters.com


A Chef Invents a Lobster Dish,
and Pots Start Boiling All Over
by Florence Fabricant
The New York Times, April 10, 2002
"In the fall of 1999, after five years serving an inventive butter-poached lobster
dish at the French Laundry, his celebrated restaurant in Yountville, Calif., the
chef Thomas Keller published the recipe.
'Butter-poached lobster,' he wrote at the beginning of his instructions in 'The
French Laundry Cookbook,' 'is extraordinarily versatile.' No kidding. The recipe
hit bookstores in 1999, and since then butter-poached lobster has spread from its
original home in the Napa Valley to restaurants across the country and as far
afield as Vancouver, the Bahamas and London, sometimes in variations that
Mr. Keller would scarcely recognize.
Now, threatening to become as commonplace as a tuna tartare appetizer or a
molten chocolate cake dessert, the dish is achieving status as a main course, like
a culinary Birkin bag. But unlike the tartare and the cake, whose origins have
been muddied by the currents of memory and evolution, the source of today's
butter-poached lobster is quite clear: Mr. Keller. 'I wanted to find a way to cook
lobster gently, so it wouldn't be tough,' Mr. Keller said. 'I don't remember seeing
it done anywhere else, and this made perfect sense to me. Who in America hasn't
had lobster with melted butter?'
Most chefs who have put butter-poached lobster on their menus, including Rick Moonen of Oceana in Manhattan and Michael Kramer of McCrady's in Charles-
ton, S.C., readily credit Mr. Keller with creating the dish. 'I saw butter poaching
in Thomas Keller's book,' said Gerry Hayden, the executive chef at Aureole in
Manhattan, where he serves what he calls butter-braised lobster with either truffle
coulis or a coconut curry broth. Mr. Hayden acknowledges that the technique he
uses is essentially the same one Mr. Keller described in his book.|
Butter poaching a lobster follows a critically important first step: par-cooking,
which lets the chef remove the lobster from its shell. It is impossible to extract
raw lobster from its carapace, Mr. Keller explained, but a very brief blanching,
enough to kill the lobster without actually cooking it, frees the flesh. 'Most of
the time they tell you to boil a lobster so many minutes depending on the size,'
he said. 'But it can toughen, and even if it doesn't, you can forget about trying
to reheat the meat without it getting rubbery.'
Mr. Keller pours boiling water with a little vinegar over his lobsters. Other chefs blanch them in boiling water for just a minute or two. Treated this way, lobster
meat can be kept refrigerated for as long as several hours, until just before serving
time. The final cooking takes minutes.
The process, Mr. Keller wrote in the cookbook, 'loads the flavor of butter into the
meat and cooks it so slowly and gently that the flesh remains exquisitely tender -
so tender some people think it's not completely cooked.'
The lobster emerges glistening and lush-textured from its butter bath, which is not simply melted butter but what chefs call a beurre monté. Before the lobster is put
in its pot, butter is whisked bit by bit into a few tablespoons of simmering water or
other liquid like wine or stock, so its milk solids do not separate as they would if
he butter were melted on its own. The butter can be infused with spices and other
seasonings.
For three one-and-a-half-pound lobsters, Mr. Keller uses nearly a pound of butter. The lobster meat is allowed to cook slowly in it for five to six minutes.
For his dish at the French Laundry, Mr. Keller combines the cooked lobster with tender leeks, a sheet of contrastingly crisp potato and a tart-sweet deep-ruby beet glaze.
'I've always liked pairing lobster with leeks and beets, but now think I've found the perfect interpretation,' he said. But that hasn't stopped him from coming up with seasonal variations... with carrot emulsion and spring pea shoots.
Mr. Moonen of Oceana also changes his version of the dish with the seasons, and
is about to introduce butter-poached lobster with asparagus flan, morels, pea
shoots and black-truffle vinaigrette on his spring menu.
Mr. Kramer, of McCrady's in Charleston, features butter-poached lobster with foie
gras, poached pear and a black truffle-Riesling sauce. The dish is available with
sweet white corn and leek ragout, petits lardons and a lobster bisque at La Folie
in San Francisco.
Brandon Wolff, the executive chef at Dream Dance, a casino restaurant in
Milwaukee, combines his herb-butter-poached lobster with saffron risotto and
beurre blanc.
In Reno, Nev. high rollers dining at the White Orchid in the Peppermill Hotel
Casino can indulge in sweet butter-poached lobster with truffled potato, spring
vegetable medley and chive butter.
If you start with butter-poached lobster, as Mr. Keller noted, almost anything
goes. Still, he probably never imagined butter-poached lobster with Kobe beef,
seared foie gras and maitake mushroom egg foo yong, all in a balsamic-soya
reduction, which is what the dish has morphed into at the Woodlands Resort
and Inn in Summerville, S.C.
Not every chef attributes the inspiration for butter poaching lobster to Mr. Keller.
Indeed, William Morris, the executive chef at the new Lure in Manhattan, said he
stole the idea from Mr. Moonen, giving the recipe a second-generation pedigree,
since Mr. Moonen readily acknowledges Mr. Keller as his muse.
David Walzog, who serves butter-poached Maine lobster with parsley couscous
and a brandy lobster sauce at the Monkey Bar in Manhattan, said the idea came
from his mentor, Alfred Portale of Gotham Bar and Grill, who he said taught
him to use a butter bath for cooking vegetables.
At Le Papillon in San Jose, Calif., the executive chef, Scott Cooper, said he
dreamed up butter-poached lobster served atop roasted veal loin in a chive jus
because he wanted a dish to pair with red wine. He said that the butter poaching
was his variation on olive oil poaching, which he learned before he went to Le
Papillon.
Brent Pollock, the executive chef at Azie in San Francisco, said he got the idea
from Donnie Masterton, the previous chef there, who he said learned it at Tavern
on the Green in New York when Patrick Clark, who died in 1998, was the execu-
tive chef. Instead of being poached, the shelled lobster is drenched with butter and
roasted in a slow oven for about five minutes.
Roland Passot, the executive chef at La Folie in San Francisco, said he thought
he remembered chefs butter poaching lobster in France, and he noted that the
technique is similar to the one used to make confit: slow poaching in fat. 'It's a
much better technique than the old way of doing lobster,' he said.
Gordon Ramsay, the Michelin three-star chef in London, who also serves butter-poached lobster at Claridge's, offered the same confit comparison. He said his
source was Michel Bras, in France. But a certain amount of Kellerization still
applies to his version, Mr. Ramsay acknowledged, because he exchanged chefs
with Mr. Keller's restaurant a few years ago.
Taking credit for originating a recipe or a dish is risky. Save for a few exceptions - the invention of lobster Newburg in the late 1800's at Delmonico's restaurant in
New York, for example - it is rare to find something truly new under the heat lamp.
People have concocted, cooked and combined ingredients without recording the
results ever since the first takeout menu for haunch of saber-toothed tiger was
slipped into the cave.
No one should assume, for example, that the fennel sorbet or truffle ice cream on
a cutting-edge tasting menu is a chef's brilliant new creation.
As Elizabeth David, the English food writer, wrote in her book 'Harvest of the
Cold Months: The Social History of Ice and Ices' (Viking, 1994), both dishes
were made in 18th-century France.
Indeed, while Mr. Keller may have come up with his butter poaching technique
independently, his preparatory step has been around for years. A number of
lobster recipes in the 1984 edition of Larousse Gastronomique, for example, call
for preliminary blanching. It's also the way Jean-Georges Vongerichten has
always started the lobster that is prepared with Thai herbs at Vong.
None of that should bother Mr. Keller. After all, the potatoes he serves with his butter-poached lobster at the French Laundry have a pedigree, too. They were
created at Maxim's in Paris, which opened in 1893."
Butter-Poached Lobster With Leeks,
Pommes Maxim and Red Beet Essence
Adapted from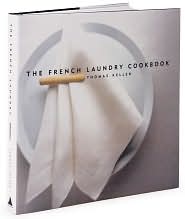 The French Laundry Cookbook

by Thomas Keller with Susie Heller
and Michael Ruhlman, 1999, Artisan
Thomas Keller, 1999, Artisan)
Time: 2 hours
1 pound unsalted butter at room
temperature, in pieces
Salt and pepper
1 1/2 cups thinly sliced leek rounds
1/4 medium-size ripe tomato, peeled,
flesh cut in small diamond shapes
2 teaspoons minced chives
1 teaspoon each finely diced carrot,
turnip and dark green of leeks
Red-beet essence [recipe follows]
Par-cooked meat from 3 lobsters at room
temperature [recipe follows]
Pommes Maxim [recipe follows].
1. Place 2 tablespoons water in a saucepan. Bring to a boil. Reduce heat to very low, and whisk in butter piece by piece. Continue adding until all
butter is emulsified. Set aside, and keep warm (the best way is in a
thermos); do not allow to boil.
2. Bring a 3-quart pot of water seasoned with 1 tablespoon salt to a boil.
Have a large bowl of ice water ready. Add leeks to boiling water, cook
5 minutes until just tender, drain in a sieve and place sieve with leeks in
ice water until leeks are cool. Drain, and transfer to a small sauté pan.
Place over low heat to reheat. Add tomato, chives, diced carrot, turnip
and leek greens. Stir in 1/3 cup emulsified butter. Season with salt and
pepper, and cover to keep warm.
3. Place beet essence in a small saucepan. Whisk in 3 tablespoons emul-
sified butter, and cover to keep warm.
4. Heat oven to 300 degrees [F]. Place lobster pieces in single layer in a
large saucepan or sauté pan. Add remaining emulsified butter. Lobster
meat should be just about covered. Place pan over low heat, and cook
5 to 6 minutes, until meat is just heated through. Remove knuckle
pieces, drain and fold into leek mixture.
5. While lobster cooks, place potatoes in oven 2 to 3 minutes to reheat.
6. To serve, place a spoonful of warm beet essence in center of each of
6 plates. Briefly reheat leek mixture, and spoon onto beet essence.
Remove lobster tails and claws from butter mixture, draining well;
place a tail piece and a claw on each plate, on top of leeks. Break
potatoes in six pieces and place on top of the lobster. Serve.
Yield: 6 servings.
Red-Beet Essence
Time: 30 minutes
1 pound red beets, peeled and juiced, or
1 cup juice from health-food store
1/2 teaspoon red-wine vinegar
A few drops lemon juice.
Place beet juice in a saucepan over medium-low heat. Slowly reduce
to no more than 1/4 cup; it should be thickened to a glaze. Add vinegar
and lemon juice, and set aside.
Par-Cooked Lobsters
Time: 30 minutes
Three 1 1/2- to 2-pound live lobsters
White vinegar.
1. Place lobsters in a container with tight-fitting lid. Cover with cold water, remove lobsters and measure water. Pour water into another large pot,
and add 1 tablespoon vinegar for every quart of water. Boil.
2. Return lobsters to lidded container. Pour the hot water over them, cover and steep 2 minutes for 1 1/2-pound lobsters, 3 minutes for 2-pound
lobsters. Remove lobsters. Reserve water in container.
3. Pull off lobster claws and knuckles, and return to hot water for 5
minutes. Twist off tails, and discard bodies.
4. Snip through bottom sides of tail shells with shears. Remove meat.
Discard shells. Cut tail meat in half lengthwise. Remove vein running
through top of meat. Place meat on a platter lined with paper towel,
cover with plastic wrap and refrigerate.
5. Remove claws from hot water. Twist off knuckles, and reserve. Hold
claw, pull down on small pincer and pull it off. Use heavy shears to
snip shell at knuckle end enough to open it; remove meat in one
piece. Add to platter with tail meat.
6. Use shears to snip through the knuckle shell, pry open and
remove meat. Add to the platter.
Pommes Maxim
Time: 1 hour 15 minutes
7 tablespoons unsalted butter
1 large Yukon Gold potato, about 9 ounces,
peeled and sliced paper thin
Kosher salt.
1. Heat oven to 300 degrees. Place butter in a saucepan over low heat.
Skim foam from surface, and discard. Slowly pour off clear golden
melted butter into a bowl, discarding milky residue.
2. Toss potatoes in bowl with clarified butter. Arrange slices, over-
lapping, on a nonstick baking sheet, and sprinkle with salt. Bake 45
to 50 minutes, until crisp and golden. Set aside at room temperature.
Copyright 2002 The New York Times Company. Used with permission.

Featured Archive Recipes:
Chateaubriand for Two with Lobster Tails
Roast Lobster with Meyer Lemon Butter
Thomas Keller's "Yabba Dabba Do"
Charlie Trotter's Olive Oil-Poached Cod
with Roasted Tomatoes and Broccoli Rabe

More Lagniappe Recipes!
Index - Seafood Recipe Archives
Index - Fish Recipe Archives
Holiday Central!
Daily Recipe Index
Recipe Archives Index
Recipe Search