Recipe of the Day Categories:
Recipe Home
Recipe Index
Recipe Search
Fruit

Bright New Year,
Embossed Gold Bell
Art Print
Buy at AllPosters.com


Exploding Champagne
John Gillmoure
Buy This at Allposters.com


Chef's Masterpiece I
Lisa Audit
Buy This at Allposters.com


Your patronage of our affiliate partners supports this web site.
We thank you! In other words, please shop at LBC Gift Galerie!

Happy New Year, Waking up the Moon
Art Print
Buy at AllPosters.com


Nigella's New Year's Lunch for Eight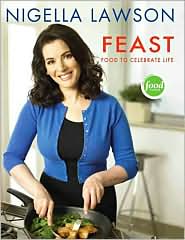 Feast: Food to
Celebrate Life

Copyright © Nigella Lawson 2004, Hyperion
"There is something about New Year's Eve, all that enforced jollity, that tense hopefulness, that induces an ineluctable melancholy in me. [Amen, Sister!]
New Year's Day, however, seems for once a date that lives up to its significance
on the calendar. I feel like it's starting anew; my optimism returns, give or take,
of its own accord, rather than having to be stoked up in the name of sentimen-
tal camaraderie. I want to see people, to eat with them…
And once you start inviting people for lunch, you can find it turns into a mopping-
up exercise. Be prepared for large numbers/ Not that you have to do anything fancy.
You might want to – within reason – but it's not a bad idea to go for the comfort
food option: a tureen of soup, a bowl of something starchy, a dessert you can really dive into…
The difficulty is, that it's easy to start thinking one is up to much more in the way
of social activity than turns out to be the case. The New Year does not make a new you, even though renewed hope and an optimistic belief in the perfectibility of self induces a confidence that all will be well, and all manner of things will be well…"
Rolled Loin of Pork Cinghiale
Grandmother's Apple Horseradish Sauce
Lentils Braised in Red Wine
Bitter Endive Salad
Easy Holiday Trifle
Rolled Loin of Pork "Cinghiale"
"Let me explain: 'cinghiale' simply means wild boar in Italian, and this recipe is
my way of trying to recreate a diner eaten in Umbria last year: gamey boar, pebbly lentils, bitter leaves. I think it's a pretty unbeatable combination: rich yet earthy. This seems a suitable way to mark the New Year – shows how you mean to go on.
I can't pretend it doesn't make a difference if you get the butcher to remove the
rind and roll the loin for you. It means you get the wherewithal to make fabulous crackling, plus you'll get the bones that have been taken out. Roast these with the joint and the flavor will deepen, giving you meat with more taste and a gravy to
boot. But I've made this with fatless, or pretty well fatless, ready-rolled boned loin
of pork and it's still good. That's the marinade for you: not only does it bolster the relatively delicate flavor of the pork, giving it something of the tang and oomph of boar, it also overcomes one of the problems of supermarket meat – the leanness
which when cooked turns into dryness – by tenderizing and, in a manner of
speaking, moisturizing it.
Like all meat, pork is best when left to sit awhile, well wrapped in foil. Which is
just as well as the separated rind will have time to blister and burn in the now
hotter oven, turning, as it does, into the crackliest crackling imaginable. It helps
if the rind is scored diagonally crossways, making shapes all over – or that was
how my mother did it – so if you've got a butcher doing the boning and removing
the rind anyway, you may as well ask for the harlequined scoring to be done at
the same time."
Serves 8
1 tablespoon pink peppercorns
1 tablespoon juniper berries
1 tablespoon allspice berries
1 clove
4 cloves garlic, bruised
1 tablespoon molasses
1/2 cup extra-virgin olive oil
2 tablespoons Worcestershire sauce
2 tablespoons dark brown sugar
1/3 cup Marsala
2 – 2 1/2 cups red wine
4 3/4-pound tied pork loin,
weighed without bones and rind
(bones and rind removed, and see above)
Crush the peppercorns, juniper and allspice berries in a pestle and mortar
with the clove. Or if you haven't got a pestle and mortar, just put them in
a freezer bag and bash with a can of something heavy. Turn into a bowl
and add the bruised garlic cloves, molasses, oil, Worcestershire sauce and
the sugar. Whisk together to disperse the molasses and sugar before
adding the Marsala and wine.
Put the pork loin into a large freezer bag and pour in the marinade, seal
the bag well and try to get as much of the pork in the liquid as possible.
Put in the fridge in a dish to avert accidents with leakages. Leave over-
night or ideally for a couple of days. Keep the bones in the fridge, too,
and wrap the rind in parchment paper to keep it dry.
Let the meat, bones and rind come to room temperature before you
cook them, and at the same time preheat the oven to 400 degrees F.
Line a roasting pan with aluminum foil or Silpat, as the sugar in the
marinade will make the pan burn.
Lay the bones from the pork loin in the bottom of the lined roasting pan
and take out the meat from its marinade and lay it on top. Pour 2 cups
of the marinade liquid over the pork and put it in the oven, reserving any marinade left to help make the gravy later. Roast the pork for 1 3/4 - 2
hours, basting the joint every now and then. The only way to tell the
pork's cooked is really by spearing it with a slim sharp knife. And be
prepared for it to shrink enormously.
After the pork has had an hour, put the rind in a shallow roasting pan
and put it on the rack under the pork. It won't actually cook that much
underneath the joint, but it will render down slightly, getting ready for
its blitzing later.
So, when the meat comes out to rest, turn the oven up to the hottest it
will go to let the crackling become everything it can become. After about
20 minutes, the pork will be perfect to carve and the crackling ready to
be splintered into crisp amber shards.
Meanwhile, make your gravy. Remove the bones from the pan – this is
the best bit, cook's treat – and pour whatever juices remain into a sauce-
pan, tipping in the rest of the marinade and as much water as you need
to dilute into a gravy. It's so hard to give accurate directions here as, for example, liquid evaporates more in an electric oven than a gas one (and is
why I prefer to cook meat in a gas oven). I'd start by adding about a 1/4
cup of water and add more as the gravy heats on the burner. Whisk well
before pouring into a warmed gravy boat or pitcher and again before serving
to help disperse the oil, tasting as you do to make sure it's as you want it.
If you want to cook some Italian sausages to serve with the lentils, in place
of the pork or, rather excitingly, to add to it, then simply buy about 2 pounds of either sweet or hot sausages and heat 2 bruised cloves of garlic in a little olive oil. Now, brown the sausages on both sides, throw in 1/2 cup red wine and 1/3 cup water. Let this bubble up, then turn down the heat. Cover the
pan with foil or a lid and cook for 15-20 minutes. Remove the sausages
(break one to check it's cooked), arrange on top of the lentils, and over a
high heat, bubble up the winey juices, mashing the garlic into them. Taste
to check it isn't too salty (if it is, add some water and whisk in some
unsalted butter) and pour over the sausages and lentils.
My Grandmother's Apple Horseradish Sauce
"My maternal grandmother always ate horseradish and applesauce with
pork and I've combined the two here as a grateful gesture of affectionate remembrance. And because she was right to do so: the combination of
heat and sharpness is a great one for the robust, meaty pork. I add crème
fraîche, but Greek or whole-milk yogurt or, indeed, sour cream, would
work well too…
Naturally, this would be wonderful made with fresh apples and freshly
grated horseradish, but I'm trying to be realistic here."
4 tablespoons crème fraîche
4 tablespoons unsweetened apple sauce or puree|
2 tablespoons hot horseradish sauce
Combine the above ingredients in a bowl (or combine them in one
and decant to another if you're sloppy like me) to serve with the
thinly sliced pork.
Lentils Braised in Red Wine
"I think life is made very much easier if you can get as much stuff as possible
done in advance. So when you put your pork in its marinade, you can start
making these and, once they're cooked, leave them in a cold place until
you're ready to reheat. I don't even take them out of the pan. You need to
add quite a bit of oil and some water when you reheat them, but as long as
the flame's low, they shouldn't come to any harm.
I've used Beluga lentils here, partly because I love the name, but mostly because
I am very keen on these tiny, black spheres which, when slicked with oil, look
like caviar. But do use the paler grey-green Italian Castelluccio lentils if you
can get them, or indeed the slate-blue Puy lentils from France. The crucial
thing here is that lentils be served on New Year's Day. In Italy, sausages and
lentils are a traditional New Year's Day feast, as the lentils are supposed to
resemble coins and therefore signal a year of prosperity ahead. [In the South,
black-eyed peas and cabbage are generally considered fortuitous, and therefore mandatory New Year's Day fare.]
Serves 8
1 carrot
2 cloves garlic
1 stick of celery
1 large onion
4 ounces bacon
3 tablespoons olive oil
2 1/3 cups Beluga lentils
2 bay leaves
2 teaspoons Dijon mustard
1 1/4 cups red wine
3 cups water
Olive oil
Fresh parsley, optional
Peel the carrot and garlic cloves and chop finely with the celery, onion and bacon, or process everything until finely chopped. Heat the oil in a large
pan, and add the chopped or processed vegetables and bacon. Cook them
over a gentle heat until soft, which will take up to about 10 minutes.
Tip the lentils into the pan and stir them around to get slicked with the oil,
and then add the bay leaves and Dijon mustard.
Pour in the red wine and the water, or enough water so that the lentils are
just covered in liquid. Bring to the boil and cover and simmer for about 30
minutes or until just tender. One of the good things about the Beluga lentils
is they tend not to turn mushy, so there's less problem about overcooking.
When the lentils are cooked, check the seasoning and add salt if necessary
and dress with a little olive oil as you serve them. If you are cooking the
lentils in advance, simply take them off the heat, and put the pan in a cool
place somewhere (say on a chilly stainless-steel surface or near a window
out of the sun). Warm through the next day by adding a little water and
olive oil and keeping them, covered, on a low heat until warm. Then, by
all means, take the lid off and stir through with a wooden spatula to help
them get hot throughout.
Transfer to a serving dish, tasting for seasoning and dressing with a little olive oil as you do so. If you want some freshly chopped parsley on top, scatter as desired. I rather like, however, their uninterrupted muddy blackness.

Nigella's New Year's Lunch for Eight (cont.)

Featured Archive Recipes:
F & W's New Year's Day Brunch
New Year's Day Buffet
New Year's Celebration
New Year's Day Comfort
James Beard's Leg of Pork to Taste
Like Wild Boar
Nigella's Char Siu
Nigella's Marinated Pork Loin
Daniel Boulud's Braised Pork Shoulder with
Endives and Green Lentils
Lee Bailey's Endive Salads
Apple, Celery Root and Endive Salad
Endive, Orange, Avocado and Bacon Salad
Nigella's Grandmother's Ginger-Jam
Bread and Butter Pudding
Tidewater Trifle
Trifle with Me

More Lagniappe Recipes
Holiday Central!
Party Central!
Daily Recipe Index
Recipe Archives Index
Recipe Search