Recipe of the Day Categories:
Recipe Search
Fruit

Le Coq
Jo Moulton
Buy This Allposters.com


Your patronage of our affiliate partners supports this web site.
We thank you! In other words, please shop at LBC Gift Galerie!

La Mere Catherine Restaurant
Art Print
Fernandez,...
Buy at AllPosters.com


Chicken Grand-mère Francine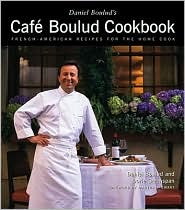 Daniel Boulud's
Cafe Boulud Cookbook:
French-American Recipes
for the Home Cook

By Daniel Boulud and Dorie Greenspan,
1999, Scribner
"Chicken grand-mère, a savory fricassee, is a classic in French cuisine in
general, but it was a classic in my family too. It was a specialty and a favorite
of my Grandmother Francine, the grandmother who cooked at the original
Café Boulud outside Lyon, and at no time was it better than at mushroom
harvest time. Mushrooms are a typical chicken grand-mère ingredient, but
there was nothing typical about the dish when my grandmother would add
rose des prés, pink field mushrooms, newly dug potatoes, and new garlic.
Fortunately, this dish always seems to be both satisfying and soothing
whether you're making it plain, with cultivated cremini or oyster mush-
rooms and creamer potatoes, or fancy, dressing it up with exotic mush-
rooms and any of the small fingerling or banana potatoes that many
greenmarkets now offer."
makes 4 servings
2 tablespoons extra-virgin olive oil
One 3-pound chicken, cut into 8 pieces
Salt and freshly ground white pepper
2 tablespoons unsalted butter
12 cipolini onions, peeled and trimmed
4 shallots, peeled and trimmed
2 heads garlic, cloves separated but not peeled
3 sprigs thyme
4 small Yukon Gold potatoes, peeled and
cut into 1 1/2-inch chunks
2 small celery roots [celeriac], peeled and
cut into 1 1/2-inch chunks
2 ounces slab bacon, cut into short, thin strips
12 small cremini or oyster mushrooms,
trimmed and cleaned
2 cups unsalted chicken stock or store-bought
low-sodium chicken broth
1. Center a rack in the oven and preheat the oven to 375 degrees F.
2. Working over medium-high heat, warm the olive oil in a large
ovenproof sauté pan or skillet – choose one with high sides and
a cover. Season the chicken pieces all over with salt and pepper,
slip them into the pan, and cook until they are well browned on all
sides, about 10 to 15 minutes. Take your time – you want a nice,
deep color and you also want to partially cook the chicken at this
point. When the chicken is deeply golden, transfer it to a platter
and keep it in a warm place while you work on the vegetables.
3. Pour off all but 2 tablespoons of the cooking fat from the pan.
Lower the heat to medium, add the butter, onions, shallots, garlic,
and thyme, and cook and stir just until the vegetables start to take
on a little color, about 3 minutes. Add the potatoes, celery root,
and bacon and cook for 1 to 2 minutes, just to start rendering the
bacon fat. Cover the pan and cook another 10 minutes, stirring
every 2 minutes.
4. Add the mushrooms, season with salt and pepper, and return the
chicken to the pan. Add the chicken stock, bring to the boil, and
slide the pan into the oven. Bake, uncovered, for 20 to 25 minutes,
or until the chicken is cooked through. Spoon everything onto a
warm serving platter or into an attractive casserole.
To serve: Bring the chicken to the table, with plenty of pieces
of crusty baguette to sop up the sauce and spread with the soft,
sweet, caramely garlic that is easily squeezed out of its skin.
To drink: A rustic Bandol Rouge

More from Chef Daniel Boulud:
Cod, Clams and Chorizo Basquaise
Pork Shoulder, Braised, with
Endives and Green Lentils
Potato Gratin Forestier

Featured Archive Recipes:
Chicken Chasseur (Jacques Pepin)
Sautéed Chicken Maison (Jacques Pepin)
Sautéed Chicken with Onion and Tomato
Sauce Patricia Wells/Joel Robuchon)


Index - Poultry Recipe Archives
Classic French Recipe Index
Daily Recipe Index
Recipe Archives Index
Recipe Search