Your patronage of our affiliate partners supports this web site.
We thank you! In other words, please shop at LBC Gift Galerie!

Bon Appetit
Art Print
Robinson, Carol
Buy at AllPosters.com


Julia Child
August 15, 1912 - August 13, 2004
(Photo courtesy of Reuters)
Bon Appétit!


Sautéed Mushrooms in Cream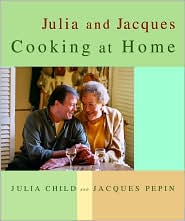 Julia and Jacques
Cooking at Home

Julia Child and Jacques Pepin,
1999, Alfred A. Knopf
(IACP Cookbook Award Winner)
Julia: "Wild mushrooms have their distinctive flavors, and when I have a
special kind, like chanterelles or porcini (also known as cèpes), I prefer to
cook them separately, rather than mixed with other varieties. All they need
is a brief sautéing in a bit of butter and careful seasoning.
With more ordinary mushrooms, the cream finish that we give in this recipe
brings special flavor and texture to the mushrooms. You can omit the cream
and just finish them with dry Madeira or port (which you should always have
on hand). When the juices have evaporated and the mushrooms are beginning
to turn brown, add 2 or 3 tablespoons of wine to the pan, and cook another
minute or so, until it's reduced to a syrupy consistency. Adjust the seasonings, sprinkle in some chopped parsley, and serve with a sizzling steak."
Yield: About 2 cups, serving 4
12 ounces mixed wild mushrooms and/or
cultivated mushrooms (6 to 8 cups)
3 tablespoons unsalted butter
3 tablespoons minced shallots or scallions
Salt
1 teaspoon flour
1/2 cup or more heavy cream
2 to 3 tablespoons dry port or Madeira
Freshly ground white pepper
Special equipment:
A non-stick skillet or sauté pan, 10 inches
top diameter or larger, with a cover
Break up or cut the wild mushrooms into 1-inch pieces, and halve or
quarter the common mushrooms to roughly the same size.
Set the pan over high heat with 2 tablespoons of the butter, swirling to
film the bottom and sides. When the butter foams and begins to subside,
add the mushroom pieces and the minced shallots. Toss and stir for a
minute or two to coat with butter, then cover the pan, lower the heat,
and cook for 3 to 4 minutes as the mushrooms exude their juices. Un-
cover, season with 1/8 teaspoon of salt, and sauté over medium-high
heat until the juices are absorbed and the mushrooms start to brown,
about 3 to 4 minutes.
Add the remaining tablespoon of butter and toss with the mushrooms. Sprinkle the flour over all, stirring well and shaking the pan for a few moments to incorporate the flour. Pour in 1.2 cup of cream, stirring as
it heats and thickens; then stir in the port. Bring to a boil and cook for
another 2 minutes or so. Taste the sauce and season with salt and white pepper; if too thick, add more cream. Serve hot.

A selection of Julia Child recipes from our archives:
In Loving Memory of Julia:
First you take a leek...
Appetizers:
Gravlax
Open-Faced Mediterranean Onion Tart
Beef:
Beef Sauté with Cream and Mushroom Sauce
Beef Sauté with Fresh Tomato Sauce,
Olive and Herbs
Beef Sauté with Red Wine, Bacon,
Mushrooms and Onions
Paupiette of Beef Gargantua
Pot Roast of Beef (Master Recipe)
Bread:
Bagels (with Lauren Groveman)
Brioche (with Chef Nancy Silverton)
Pumpernickel Loaves
Fish:
Poached Fillets of Red Snapper
Salmon en Papillote
Pasta:
Sunday Night Pasta with Balsamic Vinegar
(with Lynne Rossetto Kasper)
Poultry:
Roast Chicken with Garlic and Lemon
(with Chef Gordon Hamersley)
Roast Turkey
Sautéed Chicken (Master Recipe with
Variations ('The Way to Cook')
Simple Sauté of Chicken with Herbs
Salad:
Authentic Caesar Salad
Potato Salad American Style
Soup:
Soulful Chicken Soup
Veloute Cream Soups
Vegetables:
Stuffed Onions
Zucchini au Gratin
Dessert:
Chocolate Buttermilk Fudge Cake
(with Chef Jim Dodge)
Chocolate Soup (with Chef
Jacques Torres)
Crème Brûléed Chocolate Bundt
(Mary Bergin, Baking with Julia)
Dessert Soufflés
Fruit Sherbet
Pate a Choux... a touch of magic!
Reine de Saba (Chocolate Almond Cake)
Tarte Tatin
Two Amazing Almond Cookies
Other:
Classic Mayonnaise
Classic Sauce Beurre Blanc
Classic Sauce Hollandaise
Classic White Sauces
Eggs by Julia (Master Recipes)
Savory Soufflés
Pate Brisée and Pate Sablée

A Tribute to Julia Child
Happy 90th Birthday, Julia!
Julia Child in her own words...
Index - Food Features
Index - Favorite Recipes
Daily Recipe Index
Recipe Archives Index
Recipe Search