Your patronage of our affiliate partners supports this web site.
We thank you! In other words, please shop at LBC Gift Galerie!

Je t'aime
Jennifer Garant
Buy This at Allposters.com


Paupiette of Beef Gargantua
Bottom Round of beef stuffed with mushrooms
and braised in red wine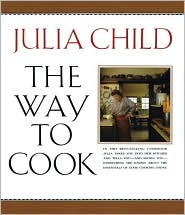 The Way to Cook

by Julia Child, 1994, Alfred A. Knopf
"Here is a grand dish for a crowd, especially since you can get all the cooking
done well in advance. The beef is slit open on one side, and about a third of
the interior meat is removed to be ground and mixed with a mushroom duxelles, herbs, etc., then returned to stuff the meat before trussing and braising."
For 15 to 20 servings
A 10- to 12-pound fully trimmed bottom round of
beef, covering fat removed but left in one piece)
to be tied around the beef for braising)
Olive oil or fresh peanut oil
Salt and freshly ground pepper
Dried thyme or Italian herb mixture
Several large cloves of garlic
Mushroom duxelles stuffing (recipe follows)
1/3 cup all-purpose flour
3 to 4 tablespoons oil
4 to 6 cups young red wine such as zinfandel,
a good jug red, or Mâcon, or Chianti
2 cups each chopped carrots and onions
4 to 6 cups beef stock, plus more if needed
3 cups chopped ripe red unpeeled tomatoes and/or
sufficient fresh tomatoes and drained canned
Italian plum tomatoes
An herb bouquet [bouquet garni]: 12 parsley sprigs
with stems; 12 peppercorns; 6 whole cloves;
8 allspice berries; 2 teaspoons thyme;
4 to 6 large cloves of garlic, smashed;
2 large imported bay leaves – tied together
in washed cheesecloth
Special equipment suggested: White butcher's twine, if needed;
a jelly-roll pan, for browning the meat; a covered casserole or
roaster just large enough to hold the roast comfortably; a food
processor is useful for mincing onions and chopping meat
Preparing the beef. Lay the beef lengthwise, top side up (the smoother
of the two wide sides). With your sharp knife, make a lengthwise pocket
in the beef, removing the middle third of the meat so as to leave a thick
shell open at one small end and open at one long side. Rub inside and out
with a light smearing of oil, sprinkle inside with salt and pepper, and a
good pinch of herbs. Purée several cloves of garlic into a bowl, mash
with 1/4 teaspoon salt, blend in a spoonful of oil; smear this inside the
meat with a rubber spatula.
Stuffing and browning the beef. With a rubber spatula, spread the
stuffing inside the beef, but do not cram it too full – you will have some
left over, which will make first-rate hamburgers or stuffing for vegetables.
Sew or skewer the meat to enclose the stuffing completely, and tie loops
of string around the circumference at 2-inch intervals. Dry the beef tho- roughly, paint with oil, lay it in an oiled jelly-roll pan, and brown slowly
under the broiler, turning as necessary. Tie the reserved fat (cut from the
top of the beef) over the top and sides of the roast, and transfer to the
covered roaster. Deglaze the jelly-roll pan with a little of the wine and
pour over the beef.
The braising sauce. Make a brown roux [by browning together in a sauce- pan] the 1/3 cup flour and 3 to 4 tablespoons of oil. Whisk in 2 cups of the
beef stock; when thoroughly blended pour it around the beef, adding the
rest of the stock, and the wine, then stirring to blend. Add the remaining
braising ingredients.
Ahead-of-time note: May be prepared a day or two in advance; cover
and refrigerate, turning the meat every several hours.
Braising – 2 1/2 to 3 hours or more. Braise the beef as described
in the Master Recipe, but do not turn it – baste every 1/2 hour or so.
When done, remove it to a board or tray. Strain the sauce into a sauce-
pan, pressing juices out of the vegetables. Return beef to the casserole;
cover loosely with foil and the pan cover.
Finishing the sauce. Thoroughly degrease the sauce, bring it to the sim-
mer, skimming off any fat that rises for several minutes. Taste very care-
fully for strength and seasoning; if it is too thin, boil it down rapidly; if
too thick, thin out with spoonfuls of beef stock.
Ahead-of-time-note: You may now cover the casserole loosely and
keep it warm. Or let it cool, then cover and refrigerate it; reheat for a
good 1/2 hour either on top of the stove or in a 325-degree-F. oven.

Mushroom Duxelles Stuffing
For 5 to 6 cups
2 cups diced onions
4 tablespoons butter
2 quarts (1 1/4 pounds) minced
fresh mushrooms (chop roughly and
mince a handful at a time in the food
processor, then squeeze dry; add juices
to your sauce)
Salt and freshly ground pepper
1/4 teaspoon thyme
3 to 4 tablespoons dry Port wine
Ground beef removed from the roast
1/2 cup pork breakfast sausage meat
1/2 cup grated Swiss cheese
The onions and mushrooms. Sauté the minced onions in a 10-inch
no-stick frying pan with the butter for 6 to 8 minutes, until tender but
not browned. Stir in the minced and squeezed mushrooms and continue
sautéing for several minutes over moderately high heat until the mush-
room pieces begin to separate from each other. Season nicely with salt,
pepper, and the thyme, and pour in the Port wine. Boil several minutes
to evaporate liquid.
Finishing the stuffing. Chop the reserved beef in a food processor or
by hand. Scrape in the mushroom duxelles and blend together by hand
or pulse off-on in the food processor 2 or 3 times just to blend.

Featured Archive Recipes:
Paupiettes de Boeuf Braisées Bourbonnaise
Julia's Pot Roast of Beef - Master Recipe
Julia's Sauté de Boeuf à la Bourguignonne
Julia's Sauté de Boeuf à la Parisienne
Julia's Sauté de Boeuf à la Provençale
Julia's (Authentic) Caesar Salad
Julia's Soulful Chicken Soup
Julia's American-Style Potato Salad
Julia's Mayonnaise - Master Recipe
Julia's Sauce Hollandaise
Julia's Pâte Sablée (Sweet Pastry Dough)
Julia's Pâte à Choux
Julia's Savory Puffs
Michael Lomonaco's Roast Beef and
Wild Mushroom Hash
Michele's Potage d'Hiver
(with gratitude to Julia!)
Our culinary philosophy...


Index - Beef Recipe Archives
Classic French Recipe Index
Daily Recipe Index
Recipe Archives Index
Recipe Search