Eiffel Tower, Paris, France
Art Print
Blakeway, James
Buy at AllPosters.com

La Belle Cuisine - More
Lagniappe * Recipes
Fine Cuisine with Art Infusion
"To cook is to create. And to create well...
is an act of integrity, and faith."
*Lagniappe (lan-yap) - a little something extra,
that little unexpected pleasant surprise.
A Bastille Day (July 14) Menu

Free Shipping on over 450 products. Check them out now!
"It was in France that I first learned about food. And that even the
selection of a perfect pear, a ripe piece of Brie, the freshest butter,
the highest quality cream were as important as how the dish you
were going to be served was actually cooked."
~ Robert Carrier
---
Recipe of the Day Categories:
Recipe Home
Recipe Index
Recipe Search
Fruit

The Bastille Prison,
14th July 1789
Giclee Print
Dubois, Jean
Buy at AllPosters.com


Place de la Bastille Shimmering
with Light During the Night
Photographic Print
Morse, Ralph
Buy at AllPosters.com


Shop the best in
French Cuisine at
igourmet.com

Your patronage of our affiliate partners supports this web site.
We thank you! In other words, please shop at LBC Gift Galerie!

The People Burning the Throne at the Place de La Bastille, 1848
Giclee Print
Buy at AllPosters.com

"Allons enfants de la Patrie
Le jour de gloire est arrivé!"
~ 'La Marseillaise'
A Bastille Day Menu
Recipe Source: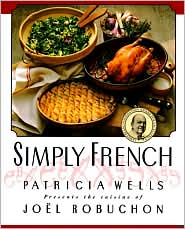 Simply French

© 1991 by Patricia Wells and Joël Robuchon
William Morrow/HarperCollins
First Course:
Marinated Mushroom Salad (below)
Fish Entrée:
Roasted Monkfish with Tomatoes,
Zucchini, Lemon, and Thyme
Meat Entrée:
Charcoal-Broiled Halved Chicken
with Hot Mustard
Side Dish:
The "Upper Crust" Potato Gratin
Dessert:
Peaches and Strawberries in Pink Champagne
Marinated Mushroom Salad
(Champignons, Légumes, et Raisins
Marinés à la Coriandre)
"Highly seasoned and exotically seasoned with the flavors of coriander and the sweetness of raisins, this salad is served as a refreshing first course at Jamin.
I've also prepared simplified versions, deleting the raisins and using only the
ground coriander, not the whole grains, which some palates can't tolerate.
In warm weather it is delicious as a side dish to grilled meats of roast chicken.
The salad (without the garnishes) may be prepared one day in advance, to give
the flavors some time to mellow. Just be sure to remove it from the refrigerator
at least 30 minutes before serving so that it can reach room temperature."
2 1/2 pounds firm, fresh mushroom caps
(about 3 pounds whole mushrooms)
2/3 cup extra-virgin olive oil
1 medium onion, minced
3 tablespoons whole coriander seeds
Sea salt and freshly ground white pepper to taste
1 bottle dry white wine, preferably a Chardonnay
2 tablespoons freshly ground coriander
Bouquet garni: several parsley stems, celery leaves,
and sprigs of thyme, wrapped in the green part
of a leek and securely fastened with cotton twine
6 tablespoons freshly squeezed lemon juice
1 can (14 1/2 ounces) imported plum tomatoes,
drained and puréed in a food processor or blender
1/2 cup tomato paste
3/4 cup golden raisins
3/4 cup black currants
Vegetable Garnish:
About 16 small green asparagus stalks, tender tips only
8 small leeks, white and green tender parts, well rinsed
16 fresh baby onions (or substitute pearl onions)
1 cup cauliflower florets
1 cup fresh peas
Several tablespoons vinaigrette
Herb Garnish:
1 small bunch of chives, snipped with a scissors
1/4 cup fresh mint leaves, snipped with a scissors
1. One day before serving: Rinse the mushrooms under cold running
water, and drain. Twist off the stem ends, to leave perfect caps.
(The stems will not be used in this recipe, but may be reserved
for preparing stocks or a mushroom soup.) If the mushroom
caps are large, quarter them. Set aside.
2. In a large deep [non-reactive] skillet, combine the oil, onion, whole coriander seeds, salt and pepper over moderately high heat. Cook
until the onions are softened, 2 to 3 minutes. Add the wine, ground
coriander, and bouquet garni. Increase the heat to high and bring to
a boil. Boil to help burn off the alcohol in the wine, about 5 minutes,
then reduce heat to low. Add the mushrooms and the lemon juice.
Cover, increase the heat to high, and cook for 5 minutes. The mush-
rooms will give off a good deal of liquid.
3. With a slotted spoon, transfer the mushrooms to a sieve set over a
large bowl. Set aside to drain. Add the tomato purée and tomato
paste to the liquid in the skillet. Cover, and cook over high heat
until reduced to about 1 quart, about 10 minutes.
4. Meanwhile, prepare the raisins and currants: Rinse well and combine
in a small saucepan. Cover with cold water. Bring to a boil over
high heat and cook for 2 minutes. Drain thoroughly and set aside.
5. To combine the basic salad, remove and discard the bouquet garni
from the sauce. Add the raisins, currants, and mushrooms, and
cook for 1 minute. Taste for seasoning. Transfer to a bowl,
cover, and refrigerate for 24 hours, to allow the flavors to blend
and mellow.
6. Several hours before serving, prepare the garnish vegetables: Prepare
a large bowl of ice water. Bring a large pot of water to a boil. Salt
the water and add the asparagus. Cook until tender, 2 to 3 minutes.
With a slotted spoon, transfer the asparagus to the ice water and
leave until thoroughly chilled. Drain, and set aside. Repeat for the
leeks, onions, cauliflower and peas, but change the cooking water
for each vegetable.
7. To serve: With a slotted spoon, transfer the mushroom mixture
(draining off all excess sauce) to individual salad plates. Toss the
garnish vegetables in the vinaigrette and arrange on top of the
salad. Sprinkle with the chives and mint, and serve.
Yield: 8 to 12 servings
Wine Suggestion: A flinty white Sancerre

A Bastille Day Menu, page 2
A Bastille Day Menu, page 3

Suggestions from our Archives:
Artichokes (and/or other vegetables)
with Anchoïade
Goat Cheese with Herbed Olive Oil
and/or
Goat Cheese with Bell Pepper Dressing
Pâté d'Aubergine Provençale
Ratatouille Dip
Beef Tenderloin Roasted in an
Herb-Infused Salt Crust
Salmon en Papillote (Julia & Jacques)
Pork Tenderloin with Sautéed Onion,
Fennel and Fennel Cream
Herb-Roasted Chicken (Alain Ducasse)
French Potato Salad (Jacques Pépin)
Tarragon Green Bean Salad (Patricia Wells)
Oven-Roasted Vegetable Casserole
(Daniel Boulud)
Clafoutis aux Cerises Mulot
Gâteau Basque (François Payard)
Tarte au Citron Nézard
(World's Best Lemon Tart)
Madeleines (Chocolatier)
Trao-Mad with Peach Compote
(Daniel Boulud)
Tuiles aux Amandes (Julia Child)


More Lagniappe Recipes
Index - Bastille Day Recipes
Summer Holiday Recipes!
Daily Recipe Index
Recipe Archives Index
Recipe Search