Your patronage of our affiliate partners supports this web site.
We thank you! In other words, please shop at LBC Gift Galerie!

Cherries,...
David Wall
Buy This at Allposters.com


Cherry Clafoutis
(Clafoutis aux Cerises)
Adapted from Pâtisserie Mulot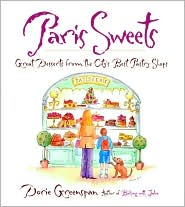 Paris Sweets:
Great Desserts from the
City's Best Pastry Shops

by Dorie Greenspan, 2002,
Broadway Books/Random House
"Among my Paris apartment's many assets is its proximity to Gérard Mulot's
pastry shop: I can walk there in five minutes flat – and do so often. Pass by the
shop and you might find me, surrounded by like-minded admirers, marveling at
the tarts topped with arrangements to rival any fruit-filled cornucopia painted
by Caravaggio. Yet, as stunning as these tarts are, the tart that consistently
sells out is M. Mulot's simplest tart, his clafoutis. In fact, the tart is so popular
he makes it three times a day, the better to ensure that the crust is crisp and
its filling custardy, morning, noon, or night.
The traditional clafoutis is a specialty of the Limousin region of France, where
it is always made with unpitted cherries, since the pits are thought to give the
fruit more flavor. This clafoutis strays from the traditional in that it is baked
in a crust (the original was crustless, which could explain why the French
Academy declared it a cake rather than a tart) and studded with griottes, small
ruby-colored sour cherries. Griottes are available frozen (M. Mulot's preference)
or jarred at specialty shops. They are also often seen imported from Italy, packed
in syrup in blue-and-white-patterned milk-glass bottles. However, as good as
these Italian griottes are, they are OK but not ideal for this tart because of
their heavy syrup.
If you cannot find griottes either frozen or jarred, stick with tradition: make
this clafoutis with fresh cherries, pitted or not."
Makes 6 servings
1 partially baked 9-inch (24-cm) tart shell
made from Sweet Tart Dough
3 large eggs
6 tablespoons ( grams) sugar
1 cup (240 grams) crème fraîche, homemade
or store-bought, or heavy cream
Pulp of 1/2 moist, plump vanilla bean or
2 teaspoons pure vanilla extract
11 ounce (330 grams) frozen griottes or
sour cherries, defrosted and patted dry,
or sour or sweet fresh cherries,
pitted or not (see headnote)
1. Center a rack in the oven and preheat the oven to 400 degrees F
(200 degrees C). Put the tart shell on a parchment-lined baking
sheet and keep the setup on the counter.
2. Whisk the eggs in a mixing bowl just until they are blended. Whisk
in the sugar, followed by the crème fraîche (go easy on the crème
fraîche – beat it too energetically, and you'll have whipped cream)
and the vanilla. Switch to a rubber spatula and gently stir the
cherries into the batter.
3. Turn the batter into the crust, poke the cherries around a bit if neces-
sary so that they're more or less evenly distributed. And slide the
baking sheet into the oven. (If you have too much batter for the tart,
as might be the case if you are using heavy cream, pour in just enough
to fill the tart and bake for 10 minutes, then pour in just enough to fill
the tart and bake for 10 minutes, then pour in as much of the remain-
ing batter as possible; continue baking as directed.) Bake for about 25
minutes, or until the custard is set at the center – tap the tart pan, and
the custard shouldn't jiggle. Transfer the clafoutis to a cooling rack.
You can serve the clafoutis after it has cooled for about 15 minutes
(the temperature at which Gérard Mulot prefers his clafoutis), or
you can allow it to come to room temperature.
Keeping: The clafoutis will keep for about 12 hours at room temperature.
It is best served shortly after it is made and is always best unchilled.
An American in Paris: I've made this clafoutis with winy dried cherries
and loved it – the tangy dried cherries are wonderful with the rich custard
filling. But before you plop the dried cherries into the tart shell, make sure
they're moist and plump. If they're not, steam them for a minute or two, then
pat them dry before proceeding. Of course, you can also make this tart with
poached (or high-quality canned) apricots or peaches, purple prune plums,
or an assortment of raspberries, blackberries, and blueberries.
Featured Archive Recipes:
Life is just a bowl of cherries...
Fig, Walnut & Cranberry Clafoutis
Peach and Blueberry Clafoutis

Sweet Cherry Clafouti from New York's Vong

Bing Cherries Preserved in Port
Charlie Trotter's Bing Cherry Sorbet
Daniel Boulud's Milk Chocolate and Cherry Tart
François Payard's Spiced Cherry Soup
Sweet Cherry Ice Cream with Amaretto

Index - Fruit Recipe Archives
Index - Miscellaneous Dessert Recipes
Classic French Recipes
Daily Recipe Index
Recipe Archives Index
Recipe Search