Recipe of the Day Categories:
Recipe Home
Recipe Index
Recipe Search
Fruit

Hen
Anthony Morrow
Buy This at Allposters.com


Jazz Club
Art Print
Lourenco, Didier
Buy at AllPosters.com


Your patronage of our affiliate partners supports this web site.
We thank you! In other words, please shop at LBC Gift Galerie!
Maurice

Art Print
Rafuse, Will
Buy at AllPosters.com

Okay. Here is my question: If Paul Prudhomme created Gumbo Ya Ya
(???), does it not seem strange that I cannot find it in one of HIS cook
books? Hmmmm. Perhaps it is what is called "Chicken and Andouille
Smoked Sausage Gumbo" in "Louisiana Kitchen
".
In any case, I have always associated the dish with Mr. B's Bistro (one of my favorite restaurants in the universe). Chef Paul was, of course, the "corporate
chef for the Brennan family" prior to opening his own restaurant. And it is
interesting to note that this particular gumbo is au courant enough to have
appeared in "Commander's Kitchen", which was published in 2000...
This just adds more fuel to the fire for one of my favorite controversies:
Whose recipe is whose, anyway? A recipe is a living thing, never static. It
evolves, does it not? This topic is bound to show up in The Spice Cabinet
one of these months.
Gumbo Ya Ya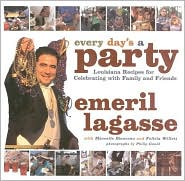 Every Day's a Party:
Louisiana Recipes for Celebrating
with Family and Friends

by Emeril Lagasse with Marcelle Bienvenu and
Felicia Willett, 1999, William Morrow and Co., Inc.

"The term 'Gumbo Ya Ya' loosely translates to 'everybody talking at once' and refers to the mélange of people – French, Spanish, Indian, Acadian, and African-American – who settled in the bayou country of Louisiana and in and around
New Orleans, and their various traditions, which melded together to form what
is now a unique community.
Gumbo is the quintessential dish of the state. It is made with a roux and includes meats like fowl, game, sausage and seafood. Gumbo is also the Africa-American word for okra, which is often added to the pot for thickening.
When the Brennan family opened Mr. B's Bistro in the French Quarter, Gumbo
Ya Ya appeared on the first menu. Created by Chef Paul Prudhomme, it was a
rich, thick gumbo, intensely flavored with smoky andouille sausage, and I must admit it is one of my favorite versions of the local dish. This is my interpretation
of the gumbo. The secret is to make the stock with a big hen, then take the meat
off the bones and add it to the gumbo with sausage."

Makes 8 to 10 servings

1 hen (about 6 pounds)
8 cups water
2 medium-size yellow onions, quartered
2 ribs celery, each cut into 6 pieces
2 bay leaves
1 tablespoon plus 1 1/2 teaspoons salt
1 1/2 teaspoons cayenne
1 1/2 cups vegetable oil
1 1/2 cups bleached all-purpose flour
2 cups chopped yellow onions
1 cup chopped green bell peppers
1 cup chopped celery
1/2 pound andouille or other smoked sausage,
finely chopped, plus
1 pound smoked sausage, cut crosswise
into 1/4-inch-thick slices
2 tablespoons chopped green onions or
scallions (green part only)
2 tablespoons chopped fresh parsley leaves

Put the hen, water, quartered onions, celery pieces, bay leaves, 1 table-
spoon of the salt, and 1 teaspoon of the cayenne in a large, heavy pot.
Bring to a boil over high heat, then reduce the heat to medium and cook,
partially covered, until the hen is tender, about 2 hours. Remove the
hen, strain and reserve the broth.
In a large, heavy pot or a Dutch oven over medium heat, combine the
oil and flour. Stirring slowly and constantly, make a dark brown roux,
the color of chocolate, 20 to 25 minutes. Add the chopped onions, bell
peppers, chopped celery, and chopped sausage. Cook, stirring, until the
vegetables are very soft, 8 to 10 minutes. Add the reserved broth and stir
until the roux mixture and broth are well combined. Bring to a boil, then
reduce the heat to medium-low and cook, uncovered, stirring occasionally, for 1 1/2 hours.
Meanwhile, remove the skin from the hen and pick the meat off the
bones, discarding the skin and bones. Coarsely chop the chicken meat.
Add the chicken and the sliced sausage to the gumbo. Cook for 15 min-
utes. Remove from the heat and let sit for 5 minutes before skimming
off the fat that has risen to the surface.
Stir in the green onions and parsley and serve the gumbo in individual
soup or gumbo bowls.

Gumbo Ya Ya

Commander's Kitchen:
Take Home the True Taste
of New Orleans with More
than 150 Recipes from
Commander's Palace Restaurant
by Ty Adelaide Martin and Jamie Shannon
2000, Broadway Books, a division of Random House, Inc.

"Gumbo Ya Ya led to the reemergence of many classic non-seafood gumbos
that had long been overlooked in fine dining establishments. All of a sud-
den, gumbos once eaten only at home began appearing in restaurants all
over town – duck and wild mushroom gumbo, rabbit gumbo, quail gumbo,
turkey and andouille gumbo, and so on."

Makes about 4 quarts, enough for 12 entrée servings

1 small chicken, quartered
Kosher salt and freshly ground pepper to taste
3/4 cup all-purpose flour, sifted,
plus extra for dusting
3/4 cup vegetable oil (or any oil with
a high smoking point)
3 large onions, in medium dice
7 stalks celery, in medium dice
4 bell peppers, in medium dice
12 cloves garlic, peeled and minced
1 teaspoon cayenne pepper, or to taste
Pinch of dried oregano
Pinch of dried basil
Pinch of dried thyme
4 bay leaves
2 1/2 quarts cold water
1 1/2 pounds andouille sausage or
other smoked sausage,
sliced 1/4 inch thick
1 tablespoon filé powder
1 tablespoon hot sauce, or to taste
Boiled Rice
3 green onions, thinly sliced

Season the chicken with salt and pepper, and dust it with flour. Shake
off excess flour.
Heat the oil in a large, heavy, dry pot over high heat until it reaches its smoking point, about 3 minutes. Sear the chicken in the hot oil until it is golden brown, about 5 minutes on the first side and 4 minutes on the
second. Remove the chicken from the pot.
When the oil has returned to the smoking point, make a roux by slowly adding the flour to the oil, stirring constantly over high heat with a wooden spoon until the roux is the color of milk chocolate, about 3 to 5 minutes. Scrape the sides and bottom of the pot as you stir. Be careful not to burn
the roux; if black spots appear, you will need to start over.
When the roux has reached the desired color, add the onions and cook for
1 minute. Add the celery and cook for 30 seconds. Add the bell peppers, scrape the bottom of the pot, and cook for 1 minute. Add the garlic, cay-
enne, oregano, basil, thyme, and bay leaves, and season with more salt
and pepper. Slowly add the water, stirring constantly to avoid lumps of
roux. Add the chicken and the sausage, stir, bring to a boil, then simmer
for about 2 1/2 hours, skimming away any excess fat from the surface of
the gumbo. When the meat falls off the bones, remove the skin and bones
from the pot. If necessary to get the liquid to the desired consistency, add
water or simmer to reduce. Return to a boil and stir in filé. Stir vigorously
to avoid clumping until the filé is dissolved. Adjust the salt and pepper,
and finish with hot sauce to taste.
Serve over boiled rice and garnish with green onions.

Chef Jamie's Tips: Oil is released from the roux and the sausage, so
skimming excess fat from the gumbo is important.
Some people like thick gumbo, while others prefer it thin, so adjust to
the desired consistency. Or me, it depends on the weather. I like it thick
in the colder weather and thinner in the warmer months.


Featured Archive Recipes:
Mr. B's Gumbo Ya Ya
Chicken, Oyster and Andouille Gumbo
Paul Prudhomme's Chicken and
Andouille Gumbo
Gumbo Galaxy


Index - Soup Recipe Archives
Basic Stock Recipes
Do you know what it means
to miss New Orleans?


Daily Recipe Index
Recipe Archives Index
Recipe Search