Pierrot and Harlequin
Giclee Print
Cezanne, Paul
Buy at AllPosters.com
La Belle Cuisine - More Beef Recipes
Fine Cuisine with Art Infusion
"To cook is to create. And to create well...
is an act of integrity, and faith."
Two Steak Classics


Thousands of premium wines and gourmet gifts
"A mighty porterhouse steak an inch and a half thick, hot and sputtering
from the griddle; dusted with fragrant pepper; enriched with little melting
bits of butter of the most unimpeachable freshness and genuineness..."
~ Mark Twain, while touring Europe in 1878
---
Recipe of the Day Categories:
Recipe Search
Fruit

Blaine Kern's Mardi Gras World,
New Orleans, Louisiana, USA
Photographic Print
Jones, Adam
Buy at AllPosters.com

Your patronage of our affiliate partners supports this web site.
We thank you! In other words, please shop at LBC Gift Galerie!

The Beouf Gras
Photographic Print
Buy at AllPosters.com


Tom Fitzmorris reminds us,

"Although it's lost to most people, the Carnival season that culminates in
Mardi Gras historically is centered on the effort to cram as much drinking, indulging, and especially red-meat-eating before the meatless days of Lent.
So I thought we'd [honor] the animal who has appeared in the Rex parade
as long as anyone can remember: the boeuf gras, or fattened beef.
One of the first floats in the parade of Rex tomorrow will be the same one
it's always been: the Boeuf Gras, or fattened beef. In the old days, this was
an actual cow that was pulled on a cart through the streets. (Now there's
something they ought to bring back. What throws!)
The Boeuf Gras is the closest our celebration on Mardi Gras gets to its
ancestral meaning: a celebration of meat before we swear off it for
Lent. So let's eat the fattened beef!"

Steak Diane
Tom Fitzmorris
"A classic from another generation of diners (those of the immediate post-war
era), this luscious beef dish is a well-liked specialty at Brennan's, among other
places. They bring out three thick disks of filet mignon and prepare them and
the sauce at the table. This is not the steak Diane you might find in a classic
cookbook, but it is a very good dish. I guarantee you will be getting up every
drop of that sauce."
Serves four
1/2 stick [4 tablespoons] butter
8 slices of filet mignon, about 1/2 inch thick
3 cloves garlic, chopped
1 small white onion, chopped
2 stalks celery, chopped
3 sprigs fresh parsley, chopped
1/2 tsp. salt
3/4 tsp. black pepper
3/4 cup Worcestershire sauce
Juice of 1/2 lemon
3 drops Tabasco
1. Melt the butter in a large skillet over medium-low heat. When the
butter starts to bubble, sauté the filets, turning once, until cooked
to desired degree of doneness. Remove the filets and keep warm.
2. Add the garlic, onion, celery, parsley, salt and pepper. Sauté until
the vegetables are tender. Add the Worcestershire sauce, lemon
juice, and Tabasco. Bring to a low boil and simmer until the
sauce is thickened somewhat.
3. Return the filet mignons to the pan and cook in the sauce for about
30 seconds. Remove the filets to a serving platter, and pour the
sauce over them.
Filet Mignon au Poivre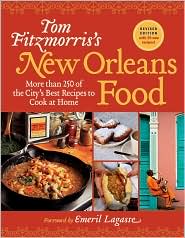 Tom Fitzmorris's
New Orleans Food:
More Than 250 of the
City's Best Recipes
to Cook at Home
"My favorite fancy steak dish is steak au poivre (with pepper). Here's a
simple version of that restaurant classic.
The method of cooking steaks in a skillet with butter is the one that most
restaurants use. I find that it's the easiest way to cook a steak. But I also
like the appearance and the flavor it gives and the uniform brown crust it
produces. This technique works better for a filet than for other cuts."
Serves four
Four 8- to 10-ounce filets mignons
Salt and freshly ground black pepper
1 tablespoon butter
2 teaspoons chopped shallots
1/4 cup brandy
1 cup heavy whipping cream
1 tablespoon black peppercorns, cracked
2 teaspoons demi-glace (optional)
1. Trim the filets if necessary, removing all but the central true filet part,
as well as the tough silverskin. Season lightly with salt and pepper.
2. Heat a heavy skillet over medium heat. Add the butter and turn the
pan to distribute and melt it quickly. Put the steaks into the skillet.
Scatter the shallots around the steaks. Cook the steaks 3 to 5 minutes
per side. The steaks are ready to be turned when they come unstuck
from the pan. (That doesn't always happen, but if the steak is really
stuck down there it's probably not ready to be turned yet.) If the
steaks are thick, cook them on their sides as well as on their faces.
About 6 to 8 minutes of total cooking time will make for medium
rare. (For perfect results, use a meat thermometer and look for a
reading of 130 - 135 degrees F for medium rare.) Remove the
steaks to a warm platter and keep warm.
3. Add the brandy to the pan and bring to a boil. (Be careful. It may
catch on fire, which is all right for flavor but potentially dangerous.)
With a whisk, dissolve the browned bits of meat in the brandy as it
boils. When the brandy is almost boiled away, add the cream and
cracked peppercorns (and the demi-glace, if you have it). Bring to
a simmer and cook 3 to 5 minutes, shaking the skillet, until the
sauce is reduced by about a third.
4. Place a steak on each of 4 warm plates and spoon on the sauce.

Featured Archive Recipes:
Beef Tenderloin Roasted in an Herb-
Infused Salt Crust (Simply French)
Steak au Poivre with Mustard Sauce
T-Bone Fiorentina with Sautéed Spinach
Filet Mignon with Red-Wine Horseradish Sauce
Rib-Eye Steaks over
Gorgonzola Vidalia Onions

Index - Beef Recipe Archives
Do you know what it means
to miss New Orleans?
Daily Recipe Index
Recipe Archives Index
Recipe Search