Your patronage of our affiliate partners supports this web site.
We thank you! In other words, please shop at LBC Gift Galerie!

French Quarter Magic
Diane Millsap
Buy This at Allposters.com

Bienville Stuffing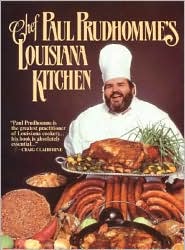 Chef Prudhomme's
Louisiana Kitchen

by Paul Prudhomme, 1984,
William Morrow and Co., Inc.
Makes about 4 cups
"This stuffing is excellent in many dishes…or use it to stuff
seafood such as trout. You can use leftover stuffing in Bienville
Sauce to serve over the stuffed seafood."
[We find this works well as a side dish just as it stands for a
variety of roasted or grilled meats, fish and seafood.]
Seasoning mix:
1 1/2 teaspoons salt
1 1/2 teaspoons sweet paprika
1/2 teaspoon white pepper
1/2 teaspoon ground red pepper
(preferably cayenne)
1/4 teaspoon black pepper
1/4 teaspoon dried sweet basil leaves
1/4 teaspoon dried thyme leaves
1/4 teaspoon dried oregano leaves
1/3 pound bacon, cut into 1-inch pieces,
about 1 cup
1/2 cup very finely chopped tasso (preferred)
or other smoked ham (preferably Cure 81)
1 cup very finely chopped onions
1 cup very finely chopped celery
1/2 cup very finely chopped green bell peppers
2 cups thinly sliced mushrooms
1/2 pound peeled shrimp, cut into 1/4-inch pieces
6 small to medium oysters in their liquor,
about 3 ounces
1 1/2 cups Basic Seafood Stock (see below)
1 teaspoon minced garlic
1/4 pound (1 stick) unsalted butter, melted
1/2 cup all-purpose flour
1/4 cup heavy cream, plus additional cream
if making the stuffing into a sauce
1/2 cup very finely chopped green onions,
plus additional green onions if
making the stuffing into a sauce
Combine the seasoning mix ingredients in a small bowl and set aside.
In a large skillet fry the bacon until crisp. Add the tasso to the bacon
and sauté over low heat until the tasso is crisp, about 4 minutes, stir-
ring occasionally. Drain off all but about 1 tablespoon drippings. Add
the onions, celery and bell peppers. Sauté over medium heat about 7
minutes, stirring constantly. Add the mushrooms and continue cooking
and stirring for about 3 minutes. Add the shrimp and oysters with their
liquor and simmer about 2 minutes, stirring constantly. Stir in the stock,
garlic and seasoning mix. Bring to a boil; reduce heat and simmer for
about 6 minutes, stirring occasionally.
Meanwhile, in a small bowl combine the melted butter with the flour.
After the shrimp and oyster mixture has simmered about 6 minutes,
stir the butter mixture into it. Reduce heat to low and simmer about
7 minutes, stirring occasionally and scraping the pan bottom. Stir in
the cream. Remove from heat and stir in the green onions. Let cool.
Refrigerate until ready to use..
To make the Bienville Sauce, heat 1/2 cup stuffing over medium
heat. Stir in 1 cup cream and 3 tablespoons green onions. Simmer
over low heat, whisking constantly, until sauce is smooth and
thickened, about 7 minutes. Makes about 1 1/2 cups.
Basic Seafood Stock
To Make 1 Quart of Basic Stock:
About 2 quarts cold water
Vegetable trimmings from the recipe(s)
you are serving, or
1 medium onion, unpeeled and quartered
1 large clove garlic, unpeeled and quartered
1 rib celery
…shells or carcasses from seafood used
in the recipe(s) you're cooking, or

For Seafood Stock: 1 1/2 to 2 pounds rinsed shrimp heads and/or
shells, or crawfish heads and/or shells, or crab shells (2 1/2 to 3 quarts),
or rinsed fish carcasses (heads and gills removed), or oyster liquor or
any combination of these
Note: If desired, you can first roast meat bones and vegetables at 350 degrees
F until thoroughly browned. Then use them to make your basic stock. (When
you brown bones and vegetables, the natural sugar in both caramelizes on
the surface, which gives the stock a fuller taste and adds color when it dis-
solves in the stock water.)
Always start with cold water – enough to cover the other stock ingre-
dients. Place all ingredients in a stock pot or a large saucepan. Bring to
a boil over high heat, then gently simmer at least 4 hours, preferably 8
(unless otherwise directed in a recipe), replenishing the water as needed
to keep about 1 quart of liquid in the pan. The pot may be uncovered or
set a lid on it askew. Strain, cool, and refrigerate until ready to use.
(Note: Remember that if you are short on time, using a stock simmered
20 to 30 minutes is far better than using just water in any recipe.)

Featured Archive Recipes:
Eggplant, Shrimp and Rice Dressing
Louisiana Dirty Rice
Louisiana Thanksgiving Feast
Paul Prudhomme's Eggplant Bayou Teche
Paul Prudhomme's Seafood Dirty Rice
Paul Prudhomme's Seafood-Smothered Potatoes
Southern Oyster Casserole
Stuffed Mirlitons


Index - Side Dish Recipe Archives
Do you know what it means
to miss New Orelans?
Daily Recipe Index
Recipe Archives Index
Recipe Search