Pouring Hot Chocolate
Armin Zogbaum
Buy This at Allposters.com

La Belle Cuisine - More Chocolate Treats
Fine Cuisine with Art Infusion
"To cook is to create. And to create well...
is an act of integrity, and faith."
Double Chocolate Bread Pudding with
Salted Bourbon Caramel Sauce
"Chocolate flows in deep dark, sweet waves, a river to
ignite my mind and alert my senses."
~ Unknown
---
Recipe of the Day Categories:
Recipe Home
Recipe Index
Recipe Search
Appetizers
Beef
Beverage
Bread
Breakfast
Cake
Chocolate
Fruit
Main Dish
Pasta
Pies
Pork
Poultry
Salad
Seafood
Side Dish
Soup

Melted Chocolate Running
from a Whisk
Photographic Print
Zogbaum, Armin
Buy at AllPosters.com


Jazz in the Big Easy
Giclee Print
Millsap, Diane
Buy at AllPosters.com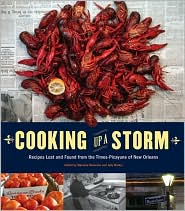 Cooking Up a Storm:
New Orleans Recipes
for Recovery

Marcelle Bienvenu
Judy Walker

Your patronage of our affiliate partners supports this web site.
We thank you! In other words, please shop at LBC Gift Galerie!

Bar of Chocolate with Cocoa, Cocoa Powder and Cocoa Beans
Peter Rees
Buy This at Allposters.com

"All I really need is love, but a little chocolate
now and then doesn't hurt!"

~ Lucy Van Pelt, in 'Peanuts'
by Charles M. Schulz
Double Chocolate Bread Pudding with
Salted Bourbon Caramel Sauce
By Judy Walker
The Times-Picayune, New Orleans
December 03, 2009
"David Guas writes in "DamGoodSweet" (with Raquel Pelzel, The Taunton
Press) that he makes bread pudding for his family every holiday season. It's
great for large gatherings and potlucks because it can be made up to three
days ahead of time. This chocolate version is amazing when served with
salted bourbon caramel sauce."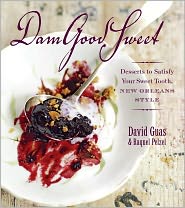 DamGoodSweet:
Desserts to Satisfy Your
Sweet Tooth, New Orleans Style

© David Guas with Raquel Pelzel,


November 2009, Pub.The Taunton Press

Makes 10-12 servings

For the bread pudding:
2 tablespoons unsalted butter,
at room temperature
1 pound brioche bread, crust removed
and sliced into 1-inch cubes
6 large eggs
1⁄3 cup Dutch-processed cocoa powder
12 ounces bittersweet chocolate
(preferably 66%–72% cacao),
finely chopped
5 1⁄2 cups whole milk
2 1⁄2 cups heavy cream
1 3⁄4 cups sugar
1⁄4 teaspoon salt
3⁄4 teaspoon vanilla extract

For the caramel sauce:
1 1⁄2 cups sugar
3⁄4 cup heavy cream
2 tablespoons unsalted butter,
at room temperature
1⁄4 cup bourbon
1⁄4 teaspoon salt

Heat the oven to 325 degrees F. Grease a 9- by 13-inch baking dish with
the softened butter. Put bread on a rimmed baking sheet and toast until
golden brown, 12-15 minutes, rotating midway through. Set aside to cool.
Place the bread in the prepared baking dish and set aside. Whisk the eggs
in a medium bowl and set aside. Sift the cocoa into a medium bowl and
set aside.
Place the chocolate in a large bowl. Bring the milk, cream, sugar, and salt
to a boil in a large pot, stirring occasionally to dissolve the sugar. Turn off
the heat, stir in the vanilla, and then pour the hot mixture over the chopped
chocolate. Cover the bowl with plastic wrap, set aside for 5 minutes, and
then whisk until smooth.
Whisk 1/2 cup of the chocolate mixture into the cocoa, stirring until smooth. Whisk in another 1/2 cup of the chocolate mixture and then whisk in the
eggs. Transfer to the large bowl of remaining chocolate mixture and whisk
until they are completely incorporated.
Pour all but 1 cup of the chocolate mixture over the bread cubes in the
baking dish and set aside so the bread can soak up the liquid. Press down
on the bread with a wooden spoon every 15 minutes for 1 hour, adding
the rest of the chocolate mixture after about 30 minutes, or when the
bread has soaked up enough so the last cup of liquid will fit.
Heat the oven to 350 degrees F.
Cover the bread pudding with aluminum foil and use a paring knife to
make 4 small slits in the foil to allow steam to escape. Set the baking dish
in a large roasting pan and place in the oven. Pour enough hot water in
the roasting pan so the water reaches 1 inch up the side of the baking dish
(if you don't have a roasting pan large enough to fit the baking dish, set
the dish onto a rimmed baking sheet and slide it in the oven, adding enough water to the baking sheet so it cushions the baking dish but doesn't spill
over). Bake for 45 minutes, and then remove the foil and bake until the
pudding begins to puff slightly and the center bounces back to light
pressure, about another 25 to 35 minutes. Cool for 30 minutes.
To make the sauce: While the bread pudding cools, make the caramel.
Place the sugar in a 2-quart saucepan and add 1/4 cup of water. Cover
(or if you can't find a lid, top the saucepan with a heatproof bowl,
making sure the bottom of the bowl doesn't touch the sugar) and cook
over medium heat, swirling the mixture every 1 to 2 minutes, until the
sugar is liquefied, about 6 minutes. Continue to cook until the sugar is
a medium-amber color, another 4 to 6 minutes. Turn off the heat and
add the cream (it will vigorously bubble up at first), whisking the mix-
ture until smooth, then add the softened butter, bourbon, and salt.
Set aside and serve with the still-warm bread pudding.

Make Ahead:
Bread pudding is one of those desserts that is great for entertaining
because it can be made and refrigerated a few days ahead of time.
To warm, reheat the entire pan of bread pudding in a water bath in
a 350-degree F oven until the center is warm. Or, for individual
portions, slice and reheat in your micro-wave or toaster oven.
The caramel can be covered and stored at room temperature for 2
days, or covered and refrigerated for up to 2 weeks ahead of time.
Reheat the sauce in a saucepan or in your microwave.


Featured Archive Recipes:
Bread and Butter Pudding, Ginger-Jam
(Nigella's Grandmother's)
Bread Pudding Soufflé, with Whiskey Sauce
(Commander's Palace)
Chocolate Bread Pudding with
Spiced Cream (Emeril)
Chocolate Brioche-English Toffee Bread
Pudding (Charlie Trotter)
Chocolate Silk Bread Pudding
Christmas Bread Pudding with
Amaretto Sauce
Greek Bread Pudding with Brandy
and Cherries Sauce
"Jambalaya" Bread Pudding
Pumpkin Bread Pudding
White Chocolate Bread Pudding
White Chocolate Banana Bread Pudding with
Caramel Semi-Freddo and Boozy Caramel Sauce



Index - Chocolate Recipe Archives
Index - Miscellaneous Dessert Recipes
Holiday Central!
Do you know what it means
to miss New Orleans?
Daily Recipe Index
Recipe Archives Index
Recipe Search