Peppers, Hot Shot Variety
David Cavagnaro
Buy This at Allposters.com

La Belle Cuisine - More Appetizer Recipes
Fine Cuisine with Art Infusion
"To cook is to create. And to create well...
is an act of integrity, and faith."
Ain't No Thing, Chicken Wing

For the spiciest gift ideas on the web visit www.TABASCO.com
"You can tell how long a couple has been married by whether
they are on their first, second or third bottle of Tabasco."
~ Bruce Bye
---
Recipe of the Day Categories:
Recipe Home
Recipe Index
Recipe Search
Appetizers
Beef
Beverage
Bread
Breakfast
Cake
Chocolate
Fruit
Main Dish
Pasta
Pies
Pork
Poultry
Salad
Seafood
Side Dish
Soup

Peppers
Carol Robinson
Buy This at Allposters.com



Your patronage of our affiliate partners supports this web site.
We thank you! In other words, please shop at LBC Gift Galerie!

Pollo Caliente I
Elizabeth King...
Buy This at Allposters.com


Ain't No Thing, Chicken Wing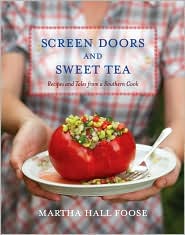 Screen Doors and Sweet Tea:
Recipes and Tales from a
Southern Cook

Copyright 2008 Martha Hall Foose
Clarkson Potter/Publishers
"Retired Mississippi Valley State University head football coach Archie 'The Gunslinger' Cooley said on more than one occasion, while wearing a ten-gallon
hat and a rumored pistol slung on his hip, 'Jerry could catch a BB in the dark of night.' He was talking about Jerry Rice, possibly the greatest wide receiver ever to play the game of football, who was also a star on the TV show 'Dancing with the Stars.' He surely knows a thing or two about fancy footwork. In the 1984 South Western Athletic Conference season, Rice teamed with quarterback Willie Totten, and 'The Satellite Express' averaged 59 points a game. The Delta Devils rounded out the season with an unprecedented 628 points.
'The Devils' introduced college football to the 'no huddle' offense and ushered in
an era of showmanship. The tiny town of Itta Bena blazed with excitement, and
the tailgating was legendary. Today the Alcorn State vs. Valley game brings the
fans to a fevered pitch, and the wings are still as hot as the devil."
Serves 6
2 garlic cloves, minced
1 cup chili sauce
1 teaspoon ground cumin
1 teaspoon ground ginger
1 teaspoon salt
2 tablespoons apple cider vinegar
3 tablespoons hot pepper sauce
1 tablespoon honey
12 chicken wings
In a large bowl, combine the garlic, chili sauce, cumin, ginger, salt, vinegar, hot pepper sauce, and honey. Add the chicken wings and let marinate for 1 hour in the refrigerator.
Line a large, rimmed baking sheet with aluminum foil. Remove the wings from the marinade (reserving marinade) and arrange them in a single layer on the foil.
Bake for 30 minutes. Turn the wings for even browning and cook an additional 20 minutes.
Meanwhile, in a small saucepan over high heat, bring the reserved marinade to a boil. Cook for 3 minutes, or until thick. Brush the thickened sauce over the wings and bake for 5 to 8 minutes, or until the wings are well glazed and no longer pink next to the bone.
Notes
• This marinade works well on shrimp, chicken, and pork kabobs.
• For a pronounced cumin kick, heat the cumin seeds briefly in a dry skillet to bring out the flavor and then let cool. Grind seeds in a spice mill, or with mortar and pestle.
• Sometimes, in a less casual setting where sticky fingers and tons of paper napkins might be frowned upon, little skewers of boned chicken are a better option.
• For tailgating or outdoor grilling, I have found it best to follow the recipe up until the wings are to be brushed with the sauce. Remove the wings and allow them to cool; cool the sauce and store both in a cooler or refrigerator until ready to grill
• To grill, place the wings over the indirect heat of medium coals or over a medium gas flame. Cook, brushing occasionally with the sauce, until browned, glazed, and heated through,
Shop for TABASCO(R) Mardi Gras items.

Featured Archive Recipes:
Martha's Mississippi Comeback Sauce
Cajun Chicken Morsels
Cajun Popcorn (Paul Prudhomme)
Hot, Hot, Hot, Hot Wings - 4 Super Recipes!
Hot Pepper Wings with Cilantro Sour Cream
Margarita Chicken Wings
Southwestern Grilled Chicken Wings
with Black Bean Dip


Index - Appetizer Recipe Archives
Index - Poultry Recipe Archives
Party Central!
Daily Recipe Index
Recipe Archives Index
Recipe Search