Recipe of the Day Categories:
Recipe Search
Fruit

Mardi Gras
Giclee Print
Cezanne, Paul
Buy at AllPosters.com

Love New Orleans?
This book's for you!

Blaine Kern's Mardi Gras World, New Orleans, Louisiana, USA
Photographic Print
Jones, Adam
Buy at AllPosters.com


"Absolut"
George Rodrigue

Blaine Kern's Mardi Gras World, New Orleans, Louisiana, USA
Photographic Print
Jones, Adam
Buy at AllPosters.com


Carnivale Costume...
Photographic Print
Gerometta,...
Buy at AllPosters.com


Mardi Gras Elements

Buy This at Allposters.com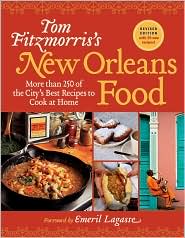 Tom Fitzmorris's New Orleans Food: More Than 250 of the
City's Best Recipes
to Cook at Home

Your patronage of our affiliate partners supports this web site.
We thank you! In other words, please shop at LBC Gift Galerie!

Laissez les bons temps rouler!

Dolls Decorated for Mardi Gras Carnival, New Orleans, Louisiana, USA
Photographic Print
Laskowitz, Ray
Buy at AllPosters.com


Mardi Gras Madness in La Place! (2002)
Laissez les bons temps rouler, cher! Yes, indeed, the good times will be
rolling today. Right here in La Place, LA. Not River City, but the Andouille
Capitol of the World.
And, I must say, 'tis a fine day for it we are having here. The gods are smiling
down on us. The weather gods have bestowed nothing less than perfection:
clear blue skies, cotton-candy clouds here and there, temperature in the
mid-60s, gentle breeze. Divine.
Not just the weather gods, though. I suspect Bacchus, Endymion, and Orpheus
must be grinning as well. During our customary Sunday morning sojourn (to take
the collective community pulse, if you will), MissSophieDog and I noted that the
local folk were already geared up to party. A frenzied atmosphere. At 9 a.m. yet.
And just what is all the fuss about? Why, the parade, of course. The Mardi Gras parade! The Krewe of du Monde is ready to roll, y'all, at one o'clock sharp.
What is a krewe?
It is now the generic term for all Carnival organizations hereabout, dating back
to the original 1857 Mistick Krewe of Comus who staged the first known Mardi
Gras parade in Louisiana.)
All along the parade route there are cars, trucks, SUVs, kids, dogs, portable
BBQ grills and coolers, umbrellas, party tents, you name it. Some folks have
gone so far as to cordon off their yard and place tall director's chairs (sort of
like life-guard stands) along the curbing for better viewing. This is apparently
Le Big Deal. Houses and vehicles and local folk are decked out in the garishly
bright traditional Mardi Gras colors of green, gold and purple. In profusion. (I
am, needless to say, wearing my purple sweatshirt as I write, and ALL of my
beads from past festivities.) Need I add that the beer is flowing like wine, and
the wine is flowing like water? Not to worry, though. The local gendarmerie is
out in full force, along with the Volunteer Fire Department.
And the aroma! Ohmigod! From who-knows-how-many grills all through town,
there wafts the unmistakable, intensely smoky scent of andouille and tasso. The
air is redolent with all manner of piquant spices. Not to mention garlic. Nothing
less than intoxicating. Makes ya wanna holler. And definitely makes your mouth water. A little bit of heaven…
Music? Mais oui! Cajun and Zydeco, primarily, with some New Orleans brass
band sounds here and there. And funk, of course. Lord have mercy… Gotta go
put my dancin' shoes on! What better excuse to fais do do? (And just in case you
were wondering, fais do do is, literally, a French term meaning "to make sleep",
which has come to be used for a Cajun dance.) There is music literally every-
where, blaring and blasting from the back of pick-up trucks to curb-side boom
boxes to elaborate front-yard stereo system setups. One thing that cannot be
denied about La Louisiane: We do know how to party. And eat.
Which brings us, of course, to more Mardi Gras recipes. You were hoping I
would eventually get around to the food, right? I would not dare to disappoint.
So. This being the Andouille Capitol of the World, it seems only fitting that we
choose that scrumptious sausage for our theme. Let's start with a couple of
Emeril's favorite Mardi Gras recipes…
Recipe source:
Every Day's a Party: Louisiana Recipes
for Celebrating with Family and Friends

By Emeril Lagasse with Marcelle Bienvenu and
Felicia Willett, 1999, William Morrow and Co., Inc.
Andouille Corn Dogs
"Mardi Gras food runs the gamut from hot dogs to caviar, but I'm a street
food junkie at heart and in my book, nothing is better than corn dogs.
This is my version, made with smoky andouille and slathered with yellow
mustard. They're ideal to serve up at pre- or post-parade parties."
1 large egg
1 cup milk
2 tablespoons baking powder
3/4 cup yellow cornmeal
1 1/4 cups bleached all-purpose flour
2 tablespoons sugar
1 teaspoon salt
1 teaspoon hot sauce
1/2 teaspoon Creole Seasoning,
plus some for garnish
8 cups vegetable oil
1 1/2 pounds andouille sausage, cut into
eight 3-inch-long pieces
16 bamboo skewers, cut into 6-inch lengths
Yellow mustard for dipping
In a large mixing bowl, whisk the egg and milk together. Add the baking powder, cornmeal, 1 cup of the flour, and the sugar. Whisk until smooth. Season with the salt and hot sauce.
In a small shallow bowl, combine the remaining 1/4 cup flour and the
Creole seasoning.
Heat the vegetable oil in a large, deep, heavy pot or an electric deep-fryer
to 360 degrees F. Thread a sausage link onto each skewer, leaving 3 inches
of the skewer bare at the bottom. Dredge the sausages in the flour mixture, tapping off any excess, then dip in the batter, coating evenly.
Carefully lay 2 to 3 corn dogs at a time (do not crowd them) in the hot oil
and fry until golden brown, about 8 minutes, gently rolling them with tongs
to brown evenly. Remove from the oil and let drain on paper towels.
Sprinkle with Creole seasoning.
Serve the corn dogs with the mustard. Makes 8 servings.
NOLA Blue Glacier Martini
"This is a special drink I like to serve at parade parties. Since I adore vodka
martinis, I have played around with different types of vodka and liqueurs and
finally settled on this mix. It's pretty and goes down real easy. Be careful!"
12 ounces high-quality vodka
Several splashes of Blue Curaçao
1 cup cubed ice
4 orange twists
4 lemon twists
Chill four martini glasses in the freezer for 1 hour.
In a cocktail shaker, combine the vodka, Curaçao, and ice cubes.
With a long-handled bar spoon, stir the mixture 40 times.
Strain the mixture equally into the glasses. Garnish each martini with
an orange and lemon twist. Makes 4 servings.
Frito Pie
[Okay, this recipe does not call for andouille. But hey, you
could throw some in if you want to, right?]
"I first saw this while watching one of my very first parades and I couldn't
get over how two simple ingredients – Fritos and chili – could taste so
good. Maybe because it's eaten right out of the bag with a plastic fork
on the sidewalk with all the hullabaloo going on!"
2 tablespoons vegetable oil
2 cups chopped yellow onions
2 teaspoons salt
1/2 teaspoon cayenne
2 pounds beef bottom round, trimmed
of fat and cut into 1/4-inch cubes
1/2 cup tomato paste
One 28-ounce can whole tomatoes
and their liquid
2 cups beef broth
2 tablespoons chopped garlic
1 tablespoon chili powder
2 teaspoons ground cumin
2 teaspoons dried oregano
1/2 teaspoon red pepper flakes
1 cup dried red beans, picked over, rinsed,
cooked in salted water to cover until tender,
drained, and cooled
Eight 1 1/4-ounce bags Frito corn chips
1 cup grated Monterey Jack cheese
1/2 cup sour cream
1/2 cup pickled jalapeño slices, drained
In a large, heavy pot, heat the vegetable oil over medium-high heat. Add
the onions, season with 1 teaspoon of the salt and the cayenne, and cook,
stirring, until they are wilted and golden, about 4 minutes.
Season the beef with the remaining 1 teaspoon salt and add to the pot.
Cook, stirring, until beef is browned evenly on all sides, about 4 minutes.
Add the tomato paste and cook, stirring, for 2 minutes. Add the tomatoes,
beef broth, garlic, chili powder, cumin, oregano, red pepper flakes, and
beans. Bring to a boil, then reduce the heat to medium-low and simmer,
uncovered, stirring occasionally, until the beef is tender, about 2 hours.
Skim off the fat that rises to the surface.
Open each bag of corn chips and remove half of the chips. Spoon 1/2
cup of the chili and 1 tablespoon of the cheese into each bag. Return the
remaining chips to each bag and add another 1/2 cup of the chili, another
tablespoon of cheese, 1 tablespoon of the sour cream, and 1 tablespoon
of the jalapeños to each one. Eat right out of the bag. Makes 8 servings.
And now from another of my favorite cookbooks...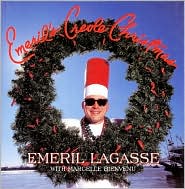 Emeril's
Creole Christmas

By Emeril Lagasse with Marcelle Bienvenu,
1997, William Morrow and Co., Inc.
Andouille Cheese Bread
Makes 18
1 envelope (1/4 ounce) dry yeast
2 tablespoons granulated sugar
2 tablespoons plus 1 teaspoon vegetable oil
2 cups warm water (about 110 degrees F)
6 cups bleached all-purpose flour
3/4 cup yellow cornmeal
2 teaspoons salt
1/2 pound andouille or kielbasa sausage,
chopped (about 1 cup)
1/2 pound white cheddar cheese,
grated (about 1 cup)
Vegetable oil for deep frying
Combine the yeast, sugar, and 2 tablespoons of the oil in the bowl of an electric mixer fitted with a dough hook. Add the water. With the mixer on
low speed, beat the mixture for about 4 minutes to dissolve the yeast. If
the yeast mixture doesn't begin to foam after a few minutes, it means it's
not active and will have to be replaced.
In a separate large mixing bowl, combine the flour, 1/2 cup plus 2 table-
spoons of the cornmeal, and the salt. Add this mixture to the yeast mixture.
Mix on low speed until it lightly comes together, then increase the speed to
medium and beat until the mixture pulls away from the sides of the bowl,
forms a ball, and climbs slightly up the dough hook.
Remove the dough from the bowl. Coat the bowl with the remaining tea-
spoon vegetable oil. Return the dough to the bowl and turn it to oil all sides.
Cover the bowl with plastic wrap, set in a warm, draft-free place, and let
rise until doubled in size, about 2 hours.
Meanwhile, brown the sausage in a medium-size skillet over medium heat
for about 4 minutes. Drain well on paper towels. Set aside to cool to room
temperature. Remove the dough from the bowl and turn it onto a lightly floured surface. Using your hands, gently roll and form it into a narrow
loaf about 24 inches long. Cut the dough into 18 equal portions (each
about 2 1/2 ounces). With the palm of your hand, roll the portions on
a slightly floured surface to form small round rolls.
Line a baking sheet pan with parchment or waxed paper and sprinkle it
with the remaining 2 tablespoons cornmeal. Place the rolls about 1 inch
apart on the paper. Using a pointed knife, make a slit in the top of each
roll. With your thumb and forefinger, spread the dough open to make a
small cavity about 1 inch deep and 2 inches wide. Spoon 1 tablespoon
of the cheese into each cavity, then top with 1 tablespoon of the sausage,
pressing the mixture gently into the cavity. Cover the rolls with plastic
wrap and let rise in a warm, draft-free place until doubled in size, about
30 minutes.
Heat 4 inches of oil, or enough to submerge the breads, in a deep pot or electric fryer to 360 degrees F. deep-fry the stuffed breads, two to three
at a time, in the hot oil for about 3 minutes, turning them with a metal
spoon or spatula to brown them evenly. Drain on paper towels.
Serve warm.
*~*~*~*~*~*~*~*~*~*~*
More Andouille...
Emeril's Crawfish and Andouille Jambalaya
Paul Prudhomme's Chicken and Andouille Gumbo
Paul Prudhomme's Corn and Andouille Soup
Crawfish and Andouille Pasta
Andouille Cheese Grits


Be well, stay safe, and (as they say in these parts)
pass a good time, cher! We only go around once...
And until next time, remember,
"Man is born to eat."
~
Michele
"It seems to me that our three basic needs, for food and security and love,
are so mixed and mingled and entwined that we cannot straightly think
of one without the others. So it happens that when I write of hunger, I
am really writing about love and the hunger for it, and warmth and the
love of it and the hunger for it… and then the warmth and richness and
fine reality of hunger satisfied… and it is all one."
~ M.F.K. Fisher, The Art of Eating
Current Spice Cabinet Feature
Index - The Spice Cabinet
Do you know what it means
to miss New Orleans?
Daily Recipe Index
Recipe Archives Index
Recipe Search