Your patronage of our affiliate partners supports this web site.
We thank you! In other words, please shop at LBC Gift Galerie!

Main Street with Christmas Lights at Night, Leavenworth, Washington, USA
Photographic Print
Wild, Jamie &...
Buy at AllPosters.com



Mamie Eisenhower's Fudge

This is the original version of the recipe as it came to me
from "Mammy", my maternal grandmother my grandmother:

Mix 4 cups granulated sugar, a pinch of salt, 2 tablespoons butter,
and a tall can undiluted evaporated milk in a large heavy saucepan.
Boil the mixture 6 minutes. Watch the clock and stir constantly.
In a large bowl, place 12 ounces semisweet chocolate chips, 12
ounces German sweet chocolate, 1 pint marshmallow cream, 3
cups chopped walnuts or pecans and 1 teaspoon vanilla. Pour
hot syrup over ingredients in bowl and beat until the chocolate
is melted. Pour into buttered pans and let stand for at least
several hours to set. Keeps well.

Following is the version of the recipe I use, in which only the
method has been rearranged in order to facilitate the process…

12 ounces semisweet chocolate chips
12 ounces German sweet chocolate
1 pint marshmallow cream
3 cups chopped walnuts or pecans
1 teaspoon vanilla extract
4 cups granulated sugar
a pinch of salt
2 tablespoons butter
One 12-ounce can undiluted evaporated milk

In a very large bowl, place the chocolate chips, German chocolate, marshmallow cream, chopped nuts and vanilla.
In large heavy saucepan mix together sugar, salt, butter and evaporated
milk. Bring the mixture to a boil over medium heat, stirring constantly.
Boil 6 minutes, continuing to stir. Pour the hot syrup over ingredients in
bowl and beat the mixture until the chocolate is melted. Pour the fudge
into buttered pans (I use one 9-by-13-inch and one 9-by-9-inch) and let
stand at least several hours to set.
There is NEVER any of this fudge left over. My family won't even
consider the use of any other recipe for holiday fudge!

Mammy's Divinity

4 cups granulated sugar
1 cup boiling water
1 cup white Karo syrup
2 egg whites
1 1/2 cups chopped nuts Boil sugar, water and Karo syrup until mixture reaches the soft ball
stage. Then beat SLOWLY into stiffly beaten egg whites. Add nuts. NOTE: I recommend adding 1 teaspoon vanilla just before stirring in
the nuts. Also, don't bother with trying to make this on a high-humidity
day... it just won't work.

Christmas Turtles
Bon Appetit
December 1994
Bon Appetit - One Year Subscription
2 cups (about) pecan halves
1 1/3 cups whipping cream
1 cup sugar
1/2 cup light corn syrup
1/3 cup milk
1/4 cup (1/2 stick) butter
1 teaspoon vanilla extract
12 ounces bittersweet or semisweet
chocolate, chopped
Butter 2 large nonstick cookie sheets. On prepared sheets, arrange pecan halves in clusters resembling turtles. Combine cream, sugar, corn syrup,
milk and butter in heavy medium saucepan. Stir over low heat until sugar dissolves. Clip candy thermometer onto side of pan. Increase heat to high
and boil without stirring until mixture turns golden, bubbles thickly and thermometer registers 234 degrees F., swirling pan occasionally, about 15 minutes. Remove mixture from heat. Stir in vanilla. Immediately drop one tablespoon caramel mixture onto center of each pecan cluster. Cool slightly.
Stir chocolate in top of double boiler over simmering water until melted. Drizzle one tablespoon chocolate over each candy. Chill until chocolate
sets, about 30 minutes. (Can be prepared 1 week ahead. Cover and
keep refrigerated.)
Sugar Plums
Saveur No. 39
Saveur - One Year Subscription
Makes 75
Sugar Plums tend to absorb the powdered sugar,
so redust just before eating, if you like.
2 cups whole almonds
1/4 cup honey
2 teaspoons grated orange zest
1 1/2 teaspoons ground cinnamon
1/2 teaspoon ground allspice
1/2 teaspoon freshly grated nutmeg
1 cup finely chopped dried apricots
1 cup finely chopped pitted dates
1 cup confectioner's sugar
Preheat oven to 400 degrees F.
Arrange almonds on a baking sheet in a single layer and toast in oven for
10 minutes. Set aside to cool, then finely chop.
Meanwhile, combine honey, orange zest, cinnamon, allspice, and nutmeg
in a medium mixing bowl. Add almonds, apricots, and dates and mix well.
Pinch off rounded teaspoon-size pieces of the mixture and roll into balls. (Rinse your hands often, as mixture is very sticky.) Roll balls in sugar,
then refrigerate in single layers between sheets of waxed paper in airtight
containers for up to 1 month. Their flavor improves after ripening for
several days.
Martha Stewart's
Simple Chocolate Truffles
Makes 3 dozen
Keep these truffles chilled until ready to eat.
1 pound bittersweet chocolate
1 cup heavy cream
Best-quality cocoa powder
1. Chop chocolate finely using a serrated knife, and place in a large
heat-proof bowl.
2. Bring cream to a boil over medium-high heat; pour directly over
chopped chocolate. Allow to sit 10 minutes; use a rubber spatula to
gently stir chocolate and cream until combined. Allow to sit at room
temperature until just thickened, about 15 minutes.
3. Pour ganache into a shallow glass dish. Cover with plastic wrap, and refrigerate until mixture is very cold and set but still pliable, about
30 minutes. Using a small spoon, scoop out ganache into 1-inch
nuggets; place on a parchment-lined baking sheet. Chill 10 minutes.
Use fingertips to mold truffles into round shapes. To make square or rectangular truffles, chill the ganache in a shallow sheet pan, and then
cut into shapes. Roll in cocoa powder to coat; chill in an airtight
container until ready to serve.
Gigi's Daiquiri Balls
1 cup semisweet chocolate pieces
1/2 cup sour cream
1/2 pound vanilla wafers
1 cup confectioner's sugar
1/4 teaspoon salt
3 tablespoons cocoa
1 teaspoon grated lime & orange zest
2 1/2 tablespoons lime juice
1/4 cup rum
1 cup finely chopped macadamia nuts
Melt chocolate over hot (not boiling) water. Cool. Add sour cream and refrigerate overnight. Form into 54 balls using 1/2 teaspoon of the mixture
for each (these will be used as centers). Crush the vanilla wafers. Add confectioner's sugar, salt, cocoa, and fruit zest. Blend in lime juice, syrup, rum and nuts. Form balls the size of walnuts, around chocolate centers.
Roll in confectioner's sugar. Store airtight. Can be frozen.
Chocolate-Covered Almond Brittle
Gourmet
December 1994
1/2 cup water
2 cups sugar
6 tablespoons light corn syrup
4 teaspoons baking soda
3/4 teaspoon salt
2 cups whole natural almonds, chopped coarse
and toasted until golden
6 ounces fine-quality bittersweet chocolate,
chopped coarse
Butter a large baking sheet and a metal spatula. In a heavy 5- to 6-quart saucepan combine water, sugar and corn syrup and bring to boil over moderately high heat, stirring until sugar is dissolved. Boil syrup, without stirring, until it registers 310 degrees F. on a candy thermometer. Remove pan from heat (syrup will be very hot). Carefully add baking soda and salt and, working quickly, stir until syrup foams and thickens. Stir in almonds
and pour mixture onto prepared baking sheet, spreading with prepared spatula. Cool brittle 5 minutes and sprinkle chocolate evenly over it. Let chocolate melt, about 5 minutes, and spread it with a clean spatula. Chill brittle on baking sheet until chocolate hardens. Loosen brittle with a clean spatula from baking sheet and, holding brittle underneath with palms of
hands to avoid smearing chocolate, drop from height of a few inches onto
work surface to break into pieces. Transfer brittle, separating it with layers
of wax paper, to airtight container. Brittle keeps, covered and chilled, 2 weeks. Makes about 1 1/2 pounds.
Fruit and Pecan Balls
Gourmet November 1985
1/2 cup dried apricots, chopped coarse
1/2 cup pitted prunes, chopped coarse
1/4 cup raisins
3 tablespoons orange-flavored liqueur
3/4 teaspoon freshly grated orange zest
3/4 cup sweetened flaked coconut
3/4 cup pecans, toasted and chopped fine
3/4 cup sugar
In a bowl combine the apricots, prunes, raisins, liqueur, and zest, let
the mixture macerate, stirring occasionally, for 1 hour, and in a food
processor chop it fine.
In a bowl stir together the coconut, pecans, and fruit mixture until the
mixture holds together and shape rounded teaspoons of the mixture into
balls. Roll the balls in the sugar and store them in an airtight container
lined with wax paper, separating each layer with wax paper, in a cool
dry place. The balls keep for up to 2 weeks. Makes about 36.
Apricot Macadamia Snowballs
Gourmet
December 1986
6 ounces dried apricots
1/4 cup apricot jam
1 tablespoon sugar
1 cup macadamia nuts
1 cup packaged sweetened coconut
In a food processor blend the apricots, jam, sugar, and the nuts, pulsing
the motor, until the mixture forms a mass. Form rounded teaspoons of the mixture into balls and roll the balls in the coconut, pressing the coconut
onto them to make it adhere. Chill the "snowballs", covered loosely, for
at least 1 hour or overnight. Makes about 20.
Chocolate Peanut Butter Balls
Gourmet
September 1991
3/4 cup firmly packed light brown sugar
1/2 stick (1/4 cup) unsalted butter, melted
and cooled, plus 6 tablespoons
3/4 cup graham cracker crumbs
1 cup creamy peanut butter
12 ounces semisweet chocolate chips
In a bowl stir together the brown sugar, 1/2 stick melted butter, graham cracker crumbs, and peanut butter until the mixture is smooth and chill the mixture, covered, for 1 hour, or until it is firm enough to form into balls.
Form teaspoonfuls of the mixture into balls and transfer the balls as they
are formed to a baking sheet lined with wax paper. In a metal bowl set
over a pan of barely simmering water melt the chocolate chips with the remaining 6 tablespoons butter, stirring until the mixture is smooth, and let
the chocolate mixture cool. Dip the peanut butter balls into the chocolate mixture with a fork, coating them well, and letting the excess drip off,
transfer them as they are coated to the baking sheet, and chill them,
covered loosely, for at least 1 hour or overnight. (The balls may be
double-dipped if desired.) Makes about 40 chocolate peanut butter balls.
Mrs. T. B. Cabell's Pecans
The Jackson Cookbook

1971, Symphony League of Jackson

4 cups brown sugar
4 tablespoons cold water
2 cups toasted pecans
1 stick (1/4 pound) butter

Boil sugar and water 1 1/2 minutes. Add pecans and butter; mix.
Then cook 2 minutes. Remove from stove; drop in clusters
on waxed paper.

Chocolate-Covered Almond-Filled Apricots


Gourmet Archives

24 unskinned whole almonds toasted lightly
24 dried apricot halves
6 ounces (1 cup) semisweet chocolate chips

Wrap each almond in an apricot half, pressing edges of apricot together
to enclose almond. In a metal bowl set over barely simmering water melt chocolate, stirring until smooth. Working with 1 apricot at a time, dip
apricots in chocolate, coating thoroughly, and on a wax paper-lined tray
chill until chocolate is hardened. Confections keep in an airtight container,
chilled, 1 week.

Pecan Penuche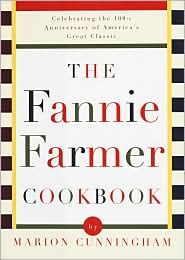 The Fannie Farmer Cookbook

Marion Cunningham, 1996, Alfred A. Knopf

2 cups dark brown sugar,
firmly packed
3/4 cup milk
1/8 teaspoon salt
2 1/2 tablespoons butter,
cut in small pieces
1 teaspoon vanilla
3/4 cup pecans, chopped

Oil a jelly-roll pan or an 8 X 8-inch pan.
Combine the sugar, milk and salt in a heavy 3-quart pot, stirring to mix
well. Place over medium heat and bring to a boil, stirring constantly, until
the sugar dissolves. Cover and let boil for 2 to 3 minutes.
Uncover and wash down the sides of the pot with a pastry brush dipped
in cold water. Continue to boil, over medium heat, to the firm ball stage
(240-250 degrees F.), stirring only if it starts to burn. Remove from the
heat and immediately place the pot in a larger pot filled with cold water;
this will stop the cooking process and bring the temperature down. Drop
in the butter and let cool slightly, without stirring.
Beat until it starts to thicken, add the vanilla and the pecans and continue
to beat until the candy loses some of its gloss. Spread evenly in the pan
and mark into squares. When firm, cut into pieces and store in an
airtight container.

Barbara Lee's Caramels

2 cups sugar
1 cup light Karo syrup
1 cup light cream
1/4 cup butter
1 teaspoon vanilla extract
1 1/2 cups chopped pecans

Line an 8-by-8-by-2-inch pan with foil and lightly butter the foil.
In a heavy 3 1/2-quart saucepan combine sugar, Karo, cream and
butter. Cook over medium heat and stir with wooden spoon until
sugar is dissolved. Continue cooking until mixture reaches 245
degrees F. on candy thermometer. Remove pan from heat and stir
in the vanilla and pecans. Turn candy into prepared pan and cool
for 1 hour.
Turn candy out of pan and peel off foil. Cut into squares. Wrap
in wax paper.


Featured Archive Recipes:
Bon Bons (C'est si Bon Bons)
Bonbons (Emeril Lagasse)
Chocolate-Almond Toffee (Spago)
Christmas Goodies
Christmas Truffles


Holiday Central!
Favorite Recipes
Index - Miscellaneous Dessert Recipes
Index - Chocolate Recipe Archives
Daily Recipe Index
Recipe Archives Index
Recipe Search