Recipe of the Day Categories:
Recipe Home
Recipe Search
Appetizers
Beef
Beverage
Bread
Breakfast
Cake
Chocolate
Fruit
Main Dish
Pasta
Pies
Pork
Poultry
Salad
Seafood
Side Dish
Soup

Melted Chocolate...
Armin Zogbaum
Buy This at Allposters.com

Chocolat Ideal
Art Print
Mucha, Alphonse
Buy at AllPosters.com

Caffe Espresso
Art Print
Buy at AllPosters.com

White and Dark Chocolate Cherries
Photographic Print
Lee, Joff
Buy at AllPosters.com


Your patronage of our affiliate partners supports this web site.
We thank you! In other words, please shop at LBC Gift Galerie!

Chocolate, Cream,...
Cabannes & Ryman...
Buy This at Allposters.com


Emeril's Chocolate Truffles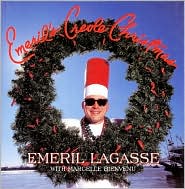 Emeril's Creole Christmas

by Emeril Lagasse with Marcelle Bienvenu,
1997, William Morrow and Co., Inc.
About 80 truffles
2 cups heavy cream
2 pounds semisweet chocolate, chopped
2 tablespoons unsalted butter
1/2 cup Grand Marnier or other orange-
flavored liqueur (optional)
1/2 cup unsweetened cocoa powder
1/2 cup granulated sugar
In a large, heavy-bottomed saucepan, heat the cream over medium heat
until it just begins to simmer, about 5 minutes. Add the chocolate. With a wooden spoon, stir until the chocolate melts and the mixture is smooth,
about 5 minutes. Add the butter and stir to melt completely.
If you wish to flavor the mixture, add the Grand Marnier at this point
Line a baking pan with parchment or waxed paper. Pour the chocolate
into the pan, spreading it evenly with a wooden spoon. Let it cool
completely, then refrigerate until it sets.
Remove the chocolate from the parchment paper, break it into pieces,
and put it in the bowl of an electric mixer fitted with a wire whisk. Beat
at low speed for 1 minute, then increase the speed to medium and beat
until it is creamy and smooth, 2 to 3 minutes.
Transfer the mixture to a pastry bag without a tip. Pipe out 1/2-ouince
truffles, each about the size of a walnut, onto a sheet of parchment or
waxed paper.
Combine the cocoa powder and sugar in a shallow bowl. Using two forks,
roll the truffles in the mixture, coating them evenly. Transfer to a sheet of parchment paper and leave to harden at room temperature or refrigerate.
Store the truffles between layers of parchment paper in an airtight con-
tainer. Will keep up to 1 week.
Variation: An alternative is to dip the truffles in melted chocolate. After piping
out the truffles, refrigerate for at least 4 hours. Use dipping chocolate (called couverture), which is available in bittersweet, semisweet, white, or milk
chocolate varieties in specialty food shops. It melts easily and smoothly. If you
plan to dip all of the truffles, you will need about 2 pounds of chocolate, but
if you want to do only two or three dozen, you will need about a pound. Work
in a cool, dry room. Melt the chocolate in a stainless steel bowl set over
simmering water. Use a four-prong fork to dip, then tip the truffles onto a
sheet of parchment paper by turning the fork upside down. Avoid touching
the dipped candies while they set. Chocolate is shinier if allowed to cool at
room temperature. Refrigerate the candies only if the chocolate has not set
after 15 minutes. After they set, put them in paper candy cups and store
between sheets of parchment paper.
French Chocolate Mint Truffles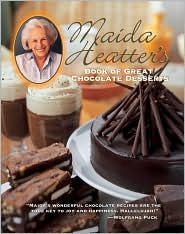 Maida Heatter's Book of
Great Chocolate Desserts

by Maida Heatter, 1995, Random House
20 truffles
"These are dense, bittersweet chocolate candies flavored with mint. Shaped
to resemble natural truffles. They are easy fun to prepare and should be
made at least a day before serving. Many truffle candies must be refrigerated
until serving – these must not. They are served at room temperature. They
may be served as dessert, with dessert, after dessert, or between meals. They
are especially good after dinner with espresso and/or Cognac."
6 ounces semisweet chocolate (see Notes)
2 ounces (1/2 stick) sweet [unsalted] butter,
cut into small bits
2 egg yolks
Approximately 1/4 teaspoon peppermint extract
Unsweetened cocoa powder (preferably Dutch process)
Approximately 2 ounces additional semisweet chocolate
(for coating the finished candies)
Break or chop the chocolate into medium-size pieces. Place it in the top
of a small double boiler over hot water on low heat. Cover and let stand
until partially melted. Uncover and stir until completely melted.
Remove the top of the double boiler temporarily. Add the butter, a few
pieces at a time, and stir with a small wire whisk after each addition
until smooth.
In a small bowl stir a bit of the chocolate into the yolks and then stir
the yolks into the chocolate.
Replace over the hot water on low heat and stir gently with a rubber
spatula for about 2 minutes.
Now, remove the top of the double boiler. Stir in the peppermint extract, adding just a few drops at a time. Taste it – make it as minty as you like
(I make it strong), but add it slowly and taste it carefully. Some mint
extracts taste unpleasant if you use too much.
Place the top of the double boiler in a bowl of ice and water. Stir con-
stantly with a small wooden spatula until the mixture is firm enough to
hold a definite shape.
Place a piece of wax paper in front of you. Use a slightly rounded tea-
spoonful of the mixture for each truffle. Place them in mounds on the
wax paper, forming 20 mounds.
If the mixture is firm enough, the truffles may be rolled into shape
immediately. But is it is too soft, let it stand uncovered at room
temperature for about half an hour or until firm enough to handle.
Spread out two more large pieces of wax paper. Onto one, strain a
generous amount of unsweetened cocoa. Coat the palms of your
hands well with the cocoa.
Pick up a mound of the chocolate mixture, roll it between your
hands to form an uneven ball (real truffles are very uneven), then
roll it around in the cocoa and place it on the other piece of wax
paper. Continue to shape all of the truffles, coating your hands
with cocoa before shaping each truffle.
Let the truffles stand overnight at room temperature, uncovered
or loosely covered, so the outsides dry a bit.
The 2 ounces of additional chocolate must be ground to a fine powder;
it may be done with a food processor, a blender, a nut grinder, or on a
fine metal grater. Spread the ground chocolate on wax paper and roll
the truffles around in it to coat them again.
These are best when they are very fresh, before they dry out too much
and while they are still creamy soft in the centers. They may be kept at
room temperature for a day or two but they should be refrigerated or
frozen for longer storage. (Bring them back to room temperature
before serving.)
Notes:
1. The flavor of the chocolate is very important in these candies –
use a delicious one. I especially like Barton's Bittersweet, Tobler
Tradition, or Lindt Excellence – they are all bittersweet. Or you
can use Baker's Semisweet, Baker's German Sweet, Maillard's
Eagle Sweet, etc.
2. The truffles may be placed in little fluted paper candy cases.
Variations: Truffle variations are endless. Here are just a few. To make plain chocolate truffles simply omit the mint. Then, if you wish, vary some by adding ground or very finely chopped nuts (toasted hazelnuts are special) or chopped shredded coconut. Or rum-soaked raisins or dates, or cut up soft, dried apricots.
Or some diced candied (or drained preserved) ginger. Or chopped candied
chestnuts. And/or a teaspoon or two of rum, Cognac, bourbon, Grand Marnier, Amaretto, whiskey, etc. For a coffee flavor add coffee extract… Or roll the
shaped truffles in very finely chopped nuts or coconut in place of the cocoa
and ground chocolate. Etcetera.
Coffee-Spice White Chocolate Truffles



Bon Appetit:
The Christmas Season

From the Editors of Bon Appétit, 2000,
Condé Nast Books, Clarkson Potter
"Set the truffles in paper or silver-foil candy cups,
and offer them in baskets wrapped in clear cellophane
and tied with raffia and pinecones. If you prefer, coat
the truffles in 12 ounces of melted bittersweet choco-
late instead of white chocolate."
Makes about 24
24 ounces good-quality white chocolate
(such as Lindt or
Baker's), finely chopped
5 teaspoons instant espresso powder
1 tablespoon ground espresso beans
1/4 teaspoon ground nutmeg
1/4 teaspoon ground cinnamon
1/4 cup crème fraîche or sour cream
1 tablespoon whipping cream
1 tablespoon coffee liqueur
1/2 teaspoon vanilla extract
24 candied violets or whole espresso beans
Stir 12 ounces white chocolate in medium metal bowl set over saucepan
of barely simmering water (do not allow bottom of bowl to touch water)
until melted and smooth and candy thermometer registers 110 degrees F.
(chocolate will feel warm to touch). Remove from over water. Mix in
espresso powder, ground espresso beans and spices. Add crème fraîche,
whipping cream, liqueur and vanilla; whisk until blended (mixture may
appear curdled).
Freeze until firm enough to hold shape, whisking occasionally, about
25 minutes.
Line 2 baking sheets with foil. Using about 1 tablespoon espresso mixture
for each truffle, spoon mixture in mounds onto 1 sheet. Freeze truffles
until just firm but still malleable, about 15 minutes. Quickly press or roll
each mound into irregular ball. Return to freezer on sheet.
Stir remaining 12 ounces white chocolate in medium metal bowl set over saucepan of barely simmering water (do not allow bottom of bowl to
touch water) until melted and smooth and candy thermometer registers
110 degrees F. Remove from over water. Drop 1 truffle into chocolate.
Using fork, turn to coat. Life truffle from chocolate on fork tines, allowing excess to drip back into bowl. Using knife as aid, slide truffle off fork onto second foil-lined sheet, being careful to keep truffle upright. Top with one candied violet or 1 espresso bean. Repeat with remaining truffles and chocolate, rewarming chocolate as necessary to maintain temperature of
110 degrees F. Chill truffles until coating is firm, about 30 minutes. (Can
be made 2 weeks ahead. Chill in airtight container.) Let stand 20 minutes
at room temperature before serving.

Featured Archive Recipes:
C'est si Bon Bons
Chocolate-Almond Toffee
Chocolate Orange Truffles
Chocolate Truffle Cake (Spago)
Christmas Candy Collection
Christmas Cookie Collection
Christmas Goodies
Ebony and Ivory Chocolate Truffles
Mrs. Eisenhower's Fudge
Soft Chocolate Caramels


Index - Chocolate Recipe Archives
Index - Miscellaneous Desserts
Holiday Central!
Daily Recipe Index
Recipe Archives Index
Recipe Search