Your patronage of our affiliate partners supports this web site.
We thank you! In other words, please shop at LBC Gift Galerie!

Onions
Art Print
Kruse-Kolk, Alie
Buy at AllPosters.com


Mirepoix:
Diced Aromatic Vegetables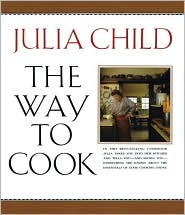 The Way to Cook

by Julia Child, 1994, Alfred A. Knopf
For flavoring sauces, meats and vegetables
"The mirepoix is one of fine cooking's great inspirations, an all-purpose
flavor enhancer made of finely diced and sautéed carrots and onions,
and often celery and ham. Used in sauces, with braised vegetables like
celery, or with chicken breasts poached in butter, it imparts that real
'je ne sais quoi' of sophistication to anything it is associated with. You
may want to triple or quadruple the recipe, since a mirepoix keeps nicely
in the freezer."
For 1/4 to 1/3 cup
1/4 cup each finely diced onions and carrots,
and celery, too, if you wish
2 tablespoons butter
1/8 teaspoon thyme
1/4 cup diced boiled ham, optional
In a small covered saucepan, cook the diced vegetables slowly in
the butter, adding the thyme and optional diced ham after 5 minutes;
continue for another few minutes, until the vegetables are tender but
not browned. Season lightly to taste, and set aside.

More Essentials:
Clarified Butter
Crème Fraîche
Egg Safety Information
Roasted Garlic

Index - Essentials
The Basics
Index - Thanksgiving Recipes!
Holiday Central!
Daily Recipe Index
Recipe Archives Index
Recipe Search