Recipe of the Day Categories:
Recipe Home
Recipe Search
Appetizers
Beef
Beverage
Bread
Breakfast
Cake
Chocolate
Fruit
Main Dish
Pasta
Pies
Pork
Poultry
Salad
Seafood
Side Dish
Soup

Farm Fresh Eggs
Lesley Hallas
Buy This at Allposters.com


Your patronage of our affiliate partners supports this web site.
We thank you! In other words, please shop at LBC Gift Galerie!

Basket of Eggs

Buy This at Allposters.com


Julia Child on Egg Safety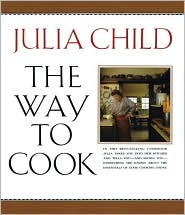 The Way to Cook

by Julia Child, 1994, Alfred A. Knopf
"The egg, that perfect, pristine, primal object – we may not gobble it up as
profusely now as we used to, but every mouthful should be memorable…
WARNING. Be sure that your eggs come from a certified and carefully
inspected source – and make every effort to see that poultry inspection and
sanitary regulations are strictly enforced in your area. If we, the public, are
alert and demanding, our elected officials have no choice but to follow.
Use Grade AA or Grade A eggs, and never buy or use cracked or dirty eggs
since broken or contaminated shells may have allowed harmful bacteria to
penetrate.
Keep raw eggs and egg dishes refrigerated, serve cooked egg dishes as soon
as they are done; wash hands, utensils, and work surfaces in hot soapy
water whenever raw eggs are involved in a recipe."
"Eggs – about 1 in every 10,000 at this writing [1994] - may contain salmonella bacteria. The bacteria multiplies at room temperature, but it is quiescent when chilled. It is killed when the egg is heated over 140 degrees F, or is hard boiled,
and it is also killed by a fairly strong dose of acid – lemon juice or vinegar.
A healthy immune system is built to handle a certain amount of harmful bac-
teria, but infants, the ill, and the elderly should beware of raw and under-
cooked eggs.
As for me, I love eggs in any form, and I happily eat boiled, scrambled, soft-
boiled, and poached eggs as well as soufflés and mayonnaise at home because
I know my eggs have been handled in the USDA-approved manner, and that
they have been under refrigeration practically from hen to table. Away from
home, I am wary and usually abstemious."
Some Egg Rules
Know your egg sources.

Never buy unrefrigerated eggs.

Never buy cracked eggs.

Never leave eggs sitting about in the kitchen – warmth allows bacteria to multiply – keep them always in the refrigerator. If they need to be at room temperature, place them in a bowl of hot water for several minutes, then
use at once.

Always wash all bowls, utensils, work surfaces, and hand in hot soapy
water after handling raw eggs.
~*~*~*~*~*~*~*~*~*~*~*~*~

Here is Chef Emeril Lagasse's take on egg safety...
(from Every Day's a Party)

"Salmonella warning: Let's talk about egg safety because I don't want any of you
out there to get sick. I personally love homemade fresh mayonnaise and I make it with fresh—and I mean FRESH—raw eggs. I've never had any trouble, but I
want you to take some precautions. Always purchase your eggs from a reputable source, a place you can trust with your life. Don't use eggs after the expiration
date on the carton. Don't go leaving your eggs in the backseat of your car while you're out and about, and once you get home, keep the eggs in the refrigerator.
I use eggs pretty quickly, so I don't have to worry about keeping them too long
at home. But I suppose there's a tiny risk some nasty old salmonella could sneak
into some eggs, so just be cautious about serving young kids or the elderly or to people who have health problems. Okay?"


~*~*~*~*~*~*~*~*~*~*~*~*~


The American Egg Board states:
"There have been warnings against consuming raw or lightly cooked eggs on the grounds that the egg may be contaminated with Salmonella, a bacteria responsible for a type of food poisoning... Healthy people need to remember that there is a very small risk and treat eggs and other raw animal foods accordingly. Use only properly refrigerated, clean, sound-shelled, fresh,
grade AA or A eggs. Avoid mixing yolks and whites with the shell."

U.S. Government Information on egg safety
1-800-535-4555 (Toll-free Nationwide)


Featured Archive Recipes:
Eggs by Julia - the basics of cooking eggs
The Incredible Edible Egg


The Basics
Index - Essentials
Index - Breakfast Recipe Archives
Daily Recipe Index
Recipe Archives Index
Recipe Search