Recipe of the Day Categories:
Recipe Home
Recipe Index
Recipe Search
Appetizers
Beef
Beverage
Bread
Breakfast
Cake
Chocolate
Fruit
Main Dish
Pasta
Pies
Pork
Poultry
Salad
Seafood
Side Dish
Soup

Garlic,...
Sergio Pitamitz
Buy This at Allposters.com


Garlic, Ischia Ponte, Ischia, Bay of Naples, Campania, Italy
Photographic Print
Bibikow, Walter
Buy at AllPosters.com

Your patronage of our affiliate partners supports this web site.
We thank you! In other words, please shop at LBC Gift Galerie!

Garlic, Fresh and Roasted
Photographic Print
Treloar, Debi
Buy at AllPosters.com


Roasted Garlic Purée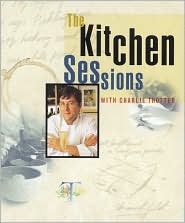 Kitchen Sessions with
Charlie Trotter

by Charlie Trotter, 1999, Ten Speed Press
"Always make extra of this. Once you make it,
you will find numerous uses for it."
Yield: about 3/4 cup
4 garlic bulbs, tops cut off
3 cups milk
1/2 cup olive oil
Method – Simmer the garlic and milk in a small saucepan for
10 minutes. Drain and discard the milk. Place the garlic bulbs
upright in a small oven-proof pan and add the olive oil.
Cover with a tight-fitting lid or aluminum foil and bake at
350 degrees [F] for 1 1/2 hours, or until the garlic bulbs
are soft.
Cool the garlic in the oil and then squeeze the soft garlic
out of the skins. Purée the garlic and the oil until smooth.

And a slightly simpler version for one head of garlic...

The White Dog Cafe Cookbook:
Recipes and Tales of Adventure from
Philadelphia's Revolutionary Restaurant
by Judy Wicks and Kevin von Klause, 1997, Running Press
Preheat the oven to 375 degrees F. Cut the top off of the head of garlic, exposing the cloves. Rub the head with a little olive oil and wrap in foil.
Roast in the oven until the cloves are completely soft, about 30 minutes.
When cool, squeeze the softened garlic pulp from its skin; it will have a
paste-like consistency.
Garlic (Aglio)
Essentials of Classic Italian Cooking

by Marcella Hazan, 1992, Alfred A. Knopf
"To equate Italian food with garlic is not quite correct, but it isn't totally wrong, either. It may strain belief, but there are some Italians who shun
garlic, and many dishes at home and in restaurants are prepared without it.
Nevertheless, if there were no longer any garlic, the cuisine would be hard
to recognize. What would roast chicken be like without garlic, or anything done with clams, or grilled mushrooms, or pesto, or an uncountable number of stews and fricassees and pasta sauces?
When preparing them for Italian cooking, garlic cloves are always peeled. Once peeled, they may be used whole, mashed, sliced thin, or chopped fine, depending on how manifest one wants their presence to be. The gentlest aroma is that of the whole clove, the most unbuttoned scent is that exuded
by the chopped. The least acceptable method of preparing garlic is squeez-
ing it through a press. The sodden pulp it produces is acrid in flavor and
cannot even be sautéed properly.
It is possible, and often desirable, for the fragrance to be barely perceptible,
a result one can achieve by sautéing the garlic so briefly that it does not become colored, and then letting it simmer in the juices of other ingredients as, for example, when thin slices of it are cooked in a tomato sauce. On occasion, a more emphatic garlic accent may be appropriate, but never, in
good Italian cooking, should it be allowed to become harshly pungent or
bitter. When sautéing garlic, never take your eyes off it, never allow it to
become colored a dark brown because that is when the offensive smell
and taste develop. In a few circumstances, when the balance of flavors in
a dish demand and support a particularly intense garlic flavor, garlic cloves may be cooked until they are the light brown color of walnut shells. For
most cooking, however, the deepest color you should ever allow garlic
to become is pale gold.
Choosing and storing: Garlic is available all through the year, but it is
best when just picked, in the spring. When young and fresh, the cloves
are tender and moist, and the skin is soft and clear white. The flavor is
so sweet that one can be careless about quantity. As it ages, and unfor- tunately, outside of the growing areas, older garlic is what one will find,
it dries, losing sweetness and acquiring sharpness, its skin becoming flaky
and brittle, its flesh wrinkled and yellow, like the color of old ivory. It is
still good to cook with, but you must use it sparingly and cook it to an
even paler color than you would the fresh. I have seen chefs split the
clove to remove any part of it that may have turned green. I don't find
this necessary, but I do discard the green shoot when it sprouts outside
the clove.
Choose a head of garlic by weight and size. The heavier it feels in the
hand, the fresher it's likely to be, and large heads have bigger cloves that
take longer to dry out. Use only whole garlic, do not be tempted by pre-
pared chopped garlic, or garlic-flavored oils, or powdered garlic. All such
products are too harsh for Italian cooking.
Keep garlic in its skin until you are ready to use it. Do not chop it long
before you need it. Store garlic out of the refrigerator in a crock with a lid fitting loosely enough so air can flow through. There are perforated garlic crocks made that do the job quite well. Braids of garlic can look quite beautiful hanging in a kitchen, but the heads dry out fairly quickly and
all you will have left at some point are empty husks."

Featured Archive Recipes:
Alva Double-Garlic Chicken with
Overnight Tomatoes
Baked Tomatoes w/ Garlic
and Basil
Garlic Soup (Bayona, New Orleans)
Roast Chicken w/ Garlic and Lemon
(Julia Child w/ Gordon Hamersley)
Roasted Garlic and Brie Soup


Index - Essentials
The Basics
Daily Recipe Index
Recipe Archives Index
Recipe Search