Santorini at Night, Greece
Photographic Print
Bibikow, Walter
Buy at AllPosters.com

La Belle Cuisine - More Poultry Recipes
Fine Cuisine with Art Infusion
"To cook is to create. And to create well...
is an act of integrity, and faith."
Chicken Breasts Stuffed with Sun-dried
Tomatoes, Feta, Olives and Pine Nuts

Taste the international flavors of igourmet.com
"The whole Mediterranean, the sculpture, the palms, the gold beads,
the bearded heroes, the wine, the ideas, the ships. the moonlight, the
winged gorgons, the bronze men, the philosophers - all of it seems to
rise in the sour, pungent taste of these black olives between the teeth.
A taste older than meat, older than wine. A taste as old as cold water."
~ Lawrence Durrell
---
Recipe of the Day Categories:
Fruit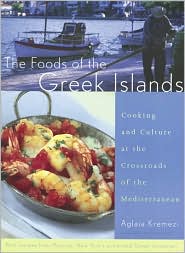 The Foods of the
Greek Islands:
Cooking and Culture
at the Crossroads of
the Mediterranean

Your patronage of our affiliate partners supports this web site.
We thank you! In other words, please shop at LBC Gift Galerie!

Santorini, Greece
Photographic Print
Bibikow, Walter
Buy at AllPosters.com


Chicken Breasts Stuffed with
Sun-dried Tomatoes, Feta, Olives
and Pine Nuts
The Caprice, Tiburon, CA
Gourmet Archives
1/2 cup finely chopped red onion
2 tablespoons olive oil
1 1/2 teaspoons minced garlic
1/2 cup pitted Kalamata olives
cut into thin strips
1/4 cup pine nuts, toasted lightly
1/2 cup drained oil-packed sun-dried
tomatoes, rinsed, patted dry,
cut into thin strips
1/4 pound feta cheese, crumbled
(about 1 cup)
2 tablespoons freshly grated Parmesan
1 tablespoon fresh marjoram, or
1 teaspoon dried
2 whole boneless chicken breasts
with skin, halved
Preheat oven to 350 degrees F.
In a large ovenproof skillet cook onion in 1 tablespoon oil over moderate
heat, stirring, until softened. Add garlic and cook, stirring, 1 minute.
Transfer the mixture to a bowl and let cool. Stir in the olives, pine nuts,
tomatoes, cheeses, marjoram and salt and pepper to taste, stirring
until combined.
Insert a sharp paring knife into thicker end of each chicken breast half
and cut a lengthwise pocket carefully, making it as wide as possible with-
out puncturing sides. Fill each breast half with one-fourth of the filling.
In the cleaned skillet heat the remaining 1 tablespoon oil over moderately
high heat until hot but not smoking and brown chicken, skin sides down. Leaving the chicken skin sides down, transfer skillet to oven and bake
until just cooked through, about 12 minutes. Serves 4.

Featured Archive Recipes:
Eggplant Moussaka
Fish ŕ la Grecque
Greek-Style Lamb and
Eggplant Lasagne
Hummus
Mezéthes (Greek Appetizers)


Index - Poultry Recipe Archives
Index - Main Dish Recipe Archives
Daily Recipe Index
Recipe Archives Index
Recipe Search