Recipe of the Day Categories:
Recipe Home
Recipe Search
Appetizers
Beef
Beverage
Bread
Breakfast
Cake
Chocolate
Fruit
Main Dish
Pasta
Pies
Pork
Poultry
Salad
Seafood
Side Dish
Soup

Santorini, Cyclades, Greek
Islands, Greece, Europe
Photographic Print
Sakis,...
Buy at AllPosters.com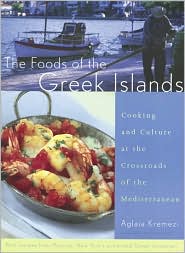 The Foods of the
Greek Islands:
Cooking and
Culture at the
Crossroads of the
Mediterranean

Oia, Santorini, Cyclades, Greek Islands, Greece, Europe
Photographic Print
Sakis,...
Buy at AllPosters.com


Your patronage of our affiliate partners supports this web site.
We thank you! In other words, please shop at LBC Gift Galerie!

Terrace in Oia, Santorini, Cyclades, Greek Islands, Greece, Europe
Photographic Print
Sakis,...
Buy at AllPosters.com


Mezéthes... (Greek Appetizers)
Recipes from a Greek Island
©1991 Susie Jacobs, Simon & Schuster
"Imagine you are meandering through the lanes and alleys of an island fishing village. The moon reflects on the whitewashed walls and the town glows in the
dark. Windows and doors are open to let in the night air. As you pass along you
hear heated discussions and snoring, laughter, televisions, of course, and music
in the near distance. 'Páme miá vólta sto fengári…' 'Let's go for a walk to the
moon…' is an old tune sung on countless balmy nights like this, around
countless tables in countless tavernas, gardens, and cafés.
Across a clearing, under a couple of eucalyptus trees, is a table of singers and
one rapt guitar player. They motion you to join them and pull up another
chair. On the table there are jugs of Retsina and plates placed haphazardly
to be shared among everyone. There are shiny, wrinkled olives, pungent
pickled eggplant, and salads of sun-ripened tomatoes, crisp cucumbers, and
onions. There are fried cheeses, smelts or pilchards, meatballs, and grilled
sausages – all with plenty of lemon wedges to squeeze over them. There is
a plate of sliced lambs' tongues and a plate of sliced pink and white octopus,
both in vinegar, oil, and herbs. It is a simple feast of simple food to be enjoyed
along with the night, the music, and the company – an informal communion
under the stars,
These 'mezéthes', or 'little bits', are a national Greek institution. They can be anything from a handful of olives offered in the middle of a field to a grand
table spread lavishly as the prelude to a feast. Greek hospitality does not
allow for anyone to enter a home without having just a 'little bit', whatever
the time. Whether you call in the afternoon, or later in the evening when
you may already have eaten dinner, you will be offered a little something.
Nor would a Greek drink any sort of alcohol without some accompaniment,
and oúzo invariably means 'mezéthes' to nibble alongside it, whether in the
home, an ouzerié, or taverna.
The word 'meze' is Turkish, but the idea dates back at least as far as the 3rd
century BC, when Lynceus characterized it,
'…for the cook sets before you a large plate on which are five small plates. One holds garlic, another a pair of sea urchins, another a sweet wine sop, another
ten cockles, the last a small piece of sturgeon. While I am eating this, another
is eating that; and while he is eating that, I have made away with this. What I
want, good sir, is both the one and the other, but my wish is impossible. For I
have neither five mouths nor five right hands…'
Poor Lynceus seems to have had the wrong idea, as it has never been in the
Greek spirit to glut oneself."
Zucchini Fritters
(Kolokythákia Keftéthes)
"In Greece, the islands have islands. One of ours looks, from Hydra, like a
huge whale swimming through the sunset. It has one permanent inhabitant,
two houses, and one tiny shack of a taverna built to feed the archaeological
diving crew working there in the summer and the occasional yacht. From time
to time we have a boatman ferry us over, and there we watch the moon come
up while we nibble these zucchini and wait for a baby kid to come off the spit.
In Greece anything that has been deep-fried is invariably drained on news-
paper, rather than on paper towels!"
Makes 24
1 cup shredded zucchini
1/4 cup shredded leek
2 1/2 ounces kefalotýri cheese, or Italian sardo
or Parmesan, grated (about 1/3 cup)
1/2 cup finely ground paximáthia or
toasted bread crumbs
3 tablespoons finely chopped flat-leaf parsley
2 tablespoons finely chopped fresh mint leaves
2 large eggs
Salt and freshly ground black pepper
About 2 cups olive oil for frying
Layer the shredded zucchini in a sieve, salting well, and leave to drain
for 20 minutes. Rinse and squeeze out any excess liquid. Combine all
the ingredients in a bowl, stirring until they are evenly mixed.
Heat oil to come about 3/4 inch deep in a wok, or wide pan with rea-
sonably high sides, until the surface begins to tremble and the oil sput-
ters loudly when sprinkled with 1-2 drops of water (stand well back
as you try this). Push heaped teaspoons of the mixture into the oil, and
fry until a bronze color (a couple of minutes), turning them over once.
Please don't crowd the pan or the temperature will drop, causing the
fritters to absorb the oil and become greasy. Drain on paper towels
and serve piping hot.
Kiria Sophia's Cheese Fritters
(Tyropitákia Tis Kirías Sophías)
"Half an hour's walk from home, in the shadow of a rocky ridge that was an
ancient Mycenaean lookout, there is a fishing village where Kiria Sophia
taught me to make these fritters. She says everyone makes them, but I have
yet to come across any quite like these.
They are easy, fast, and delicious with any combination of cheeses, something
you can make, at a pinch, when you have little bits and pieces of cheese left in
the refrigerator. Try them with the addition of fresh herbs or caraway seeds."
Makes about 48
5 1/2 ounces feta cheese, crumbled (1 cup)
5 1/2 ounces kefalograviéra cheese, or
Gruyère or Emmental, diced (1 cup)
1/3 cup all-purpose flour
1/4 cup milk
1 to 2 large eggs
Olive oil for deep frying
Explore Specialty Cheeses Only at igourmet
Put all three cheeses in a bowl and sprinkle with the flour. Moisten them
with the milk, adding a tablespoon at a time, so the mixture feels silky. Beat
in the eggs one at a time, as you might not need both. If a cohesive goo
forms with one egg, omit the other.
Heat the oil in a deep-fat fryer, wok or a wide pan with reasonably high
sides, until the surface trembles. The oil will make a high-pitched sound
or crackle when sprinkled with 1 – 2 drops water (stand well back if you
try this). Push heaped teaspoonfuls of the mixture into the hot oil, being careful not to crowd the pan. (If the pan is overcrowded, the temperature
of the oil will drop, and the fritters will then absorb the oil, making them greasy.)
Fry the fritters for 1 minute, turning them once. When they are the color
of old varnish, remove them to paper towels to drain and fry the next
batch. Serve them piping hot.

Featured Archive Recipes:
More Greek Appetizers!
Even More Greek Appetizers!
Baba Ghannouj
Cucumber Yogurt Dip ("Tzatziki")
Hummus
Two Goat Cheese Appetizers
Julia's Open-Faced Mediterranean
Onion Tart
Pâté d'Aubergine Provençale
Tapas


Index - Appetizer Recipe Archives
Daily Recipe Index
Recipe Archives Index
Recipe Search