Your patronage of our affiliate partners supports this web site.
We thank you! In other words, please shop at LBC Gift Galerie!

Still Life with Plums
Art Print
Gish, Del
Buy at AllPosters.com


All-Time-Best Summer Fruit Torte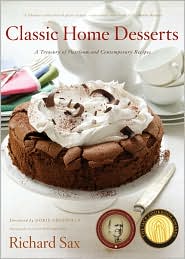 Classic Home Desserts:
A Treasury of Heirloom and
Contemporary Recipes

by Richard Sax, introduction by Dorie Greenspan
November 2010, Houghton Mifflin Harcourt

(winner of both a James Beard Award and a Julia Child Award!)
by Richard Sax, 1994, Chapters Publishing, Ltd./2000 Houghton Mifflin Company
"The recipe for this fruit torte first appeared in 1960 in Marian Burros' 'The Elegant But Easy Cookbook' (co-authored by Lois Levine), a book my mother
swears by [now available as 'The New Elegant but Easy Cookbook'.]
After trying every conceivable variant on cake with fruit, I can tell you that
for summer fruit, this cake is IT. There is no improving on its basic simpli-
city – tender yellow cake, put together in minutes (I usually mix the batter by
hand with a wooden spoon) and topped with whatever fruit is best that week
(see variations).
The cake is also sturdy enough to transport when you've volunteered to bring dessert. I usually double the recipe, baking two cakes in foil pans. They always
get eaten."
Makes one 8- or 9-inch single-layer cake; serves 6 to 8
1/2 cup (1 stick) unsalted butter, softened
3/4 cup sugar
1 teaspoon pure vanilla extract
2 large eggs
1 scant cup all-purpose flour, spooned
lightly into a measuring cup
1 tablespoon baking powder
Pinch salt
2 peaches or nectarines, peeled,
pitted and sliced
1/2 cup blueberries
Sugar, for sprinkling
Ground cinnamon, for sprinkling
1. Preheat the oven to 350 degrees F. Butter an 8- or 9-inch round
cake pan.
2. With an electric mixer at medium-high speed (or in a mixing bowl
with a large wooden spoon), beat the butter until light. Beat in the
sugar and vanilla until fluffy; beat in the eggs, one at a time.
3. In a small bowl, stir together the flour, baking powder and salt.
Add to the butter mixture and stir just until combined, no longer.
4. Scrape the batter into the pan; smooth the top. Scatter the fruit
over the batter. Sprinkle with sugar and cinnamon.
5. Bake until the cake is golden brown and baked through, about
45 minutes.
6. Cool in the pan on a wire rack. Serve at room temperature,
cut into wedges.
Variations: Marian Burros' original recipe calls for 12 purple plums,
halved, pitted and arranged skin side up. Raspberries also work well.
In fall or winter, substitute sliced apples and fresh cranberries.

Featured Archive Recipes:
Blackberry and Pound Cake Crisp
Fruit-Filled Lattice Torte with Four Fillings
Old Dominion Cobbler
Upside-Down Fruit Pudding


Index - Fruit Recipe Archives
Index - Miscellaneous Dessert Recipes
Summer Holiday Recipes!
Daily Recipe Index
Recipe Archives Index
Recipe Search