Your patronage of our affiliate partners supports this web site.
We thank you! In other words, please shop at LBC Gift Galerie!

Fruit Tarts, 1882
Giclee Print
Monet, Claude
Buy at AllPosters.com


Fruit-Filled Lattice Torte
with Four Fillings
(Muerbeteig)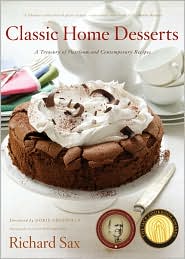 Classic Home Desserts:
A Treasury of Heirloom and
Contemporary Recipes

(winner of both a James Beard Award and a Julia Child Award!)
by Richard Sax, 1994, Chapters Publishing, Ltd./2000 Houghton Mifflin Company

"This deliciously buttery pastry is from my friends Florence and Walter Heilbronner in New Jersey. The recipe has been in the Heilbronner
family for over 100 years.
'Muerbeteig is a rich tart pastry, and the fillings depend on the season,'
Florence says. 'I make it with apples in winter, rhubarb in spring, blue-
berries or peaches in summer and plums in the fall.' Instructions for
each fruit follow the recipe. (You can double this recipe and bake it in
a 13-x-9-inch baking pan.)"
Survival Torte
"When the Heilbronner family left Nazi Germany just before the outbreak of
World War II, this torte [very much akin to a tart] was a key element in the
family's survival. 'In the beginning,' Walter Heilbronner explains, 'when
we didn't have the proverbial pot to do anything in, my mother sold her
baked goods to the local old-fashioned grocery store in our Detroit neigh-
borhood. 'She baked her own challah, which I and our kids still bake today,
and fruit tortes like this. I worked in another grocery store, and my brother
had a newspaper route.' This recipe, says Florence, was 'handed down to
Walter's mother from her mother. Our children now make it for
their families.' "
Makes one 11-x-7-inch pastry, or one 9-inch square; serves 6 to 8
2 cups all-purpose flour
1/3 cup sugar
1 teaspoon baking powder
Pinch salt
1/8 teaspoon ground cinnamon
1/2 cup (1 stick) unsalted butter, softened
1 large egg
1 tablespoon sour cream or yogurt
1 tablespoon grated lemon zest
Fruit Filling (recipes follow)
1. Place all of the dough ingredients in a food processor and pulse until
they start to come together. Gather the pastry on a sheet of wax paper
or plastic wrap; wrap and chill for at least 1 hour, or preferably
overnight.
2. Preheat the oven to 375 degrees F., with a rack in the center. Gener-
ously butter an 11-x-7-inch or 9-inch square baking pan. Divide the
dough into 2 equal pieces. Press 1 piece of the dough into the baking
pan, forming an even layer over the bottom of the pan and reaching
about 1 1/2 inches up the sides.
3. Top the dough with 1 of the fruit fillings below. Roll out the remaining dough slightly less than 1/8 inch thick (this is easiest if you roll it between
2 sheets of wax paper). Cut the dough into 3/4-inch-wide strips. Arrange
strips diagonally over the fruit filling, making a crisscross lattice pattern.
Mrs. Heilbronner braids the lattice strips; you can simply lay 1/2 of the
strips in one direction, and the remainder across diagonally in the other.
Press the ends of the strips into the pastry in the sides of the pan to seal;
trim off any excess pastry.
4. Bake until the pastry is golden brown, about 30 minutes.
5. Cool on a wire rack. Serve warm or at room temperature, cut into
large squares or rectangles.
Plum Filling
1 pound Italian prune plums (about 14)
1/2 cup sugar
1/8 teaspoon ground cinnamon
1 tablespoon butter, cut into pieces
Cut the prune plums into quarters, leaving them attached at one end. Remove the stones. Arrange the plums, skin sides down, over the pastry
in step 3. Sprinkle with the sugar and cinnamon; dot with the butter.
Apple Filling
5 tart apples (add a little lemon juice if
the apples aren't very tart)
1/2 cup sugar
Pinch salt
1 tablespoon cornstarch
1/8 teaspoon fresh-grated nutmeg or
1/4 teaspoon ground cinnamon
1 tablespoon butter, cut into pieces
Peel, core, and thinly slice the apples. Toss in a bowl with the sugar,
salt, cornstarch and spice. Transfer to the pastry-lined pan in step 3;
dot with the butter.
Peach Filling
5 large ripe peaches (2 1/4 - 2 1/2 pounds)
1 tablespoon fresh lemon juice
1/3 cup packed light or dark brown sugar
1/4 cup sugar
2 tablespoons cornstarch
Pinch each ground cinnamon and ground
mace or fresh-grated nutmeg
Peel the peaches by dipping them into boiling water for 15 seconds;
rinse under cold water in a colander and slip off the skins. Halve, stone
and slice the peaches into a bowl. Toss with the lemon juice, brown
and white sugars, cornstarch and spices. Arrange the peaches over
the pastry in step 3.
Rhubarb or Blueberry Filling
Use 4 cups fruit (trim and slice the rhubarb, pick over the blueberries),
using the ingredients and following the instructions for the peach filling
above. Adjust the amount of sugar to taste.

Featured Archive Recipes:
All-Time-Best Summer Fruit Torte
Strawberry Linzer Torte (Spago)
Two-Berry Linzertorte with Black Pepper
Anglaise (Charlie Trotter


Index - Pie Recipe Archives
Basic Pie Crust Recipes
Index - Classic German Recipes!
Daily Recipe Index
Recipe Archives Index
Recipe Search