Your patronage of our affiliate partners supports this web site.
We thank you! In other words, please shop at LBC Gift Galerie!

Cheese and Wine
Art Print
Etienne, Nicole
Buy at AllPosters.com


Laurie Colwin's
Parmesan Sesame Biscuits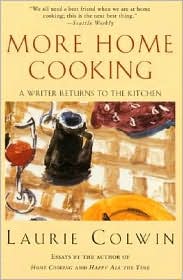 More Home Cooking:
A Writer Returns to the Kitchen

by Laurie Colwin, 1995, HarperPerennial
"If you are just the tiniest bit energetic, it does not take too much effort to make plain, old-fashioned baking powder biscuits. It is my impression that no one
bakes these anymore - at least not from scratch - because when I produce them
people fall on them. I add Parmesan cheese, or grated Cheddar, and a little
pepper or toasted sesame seeds. You can put in anything you like - the basic procedure is the same.
This recipe is a combination of one in Charleston Receipts
and another from Elizabeth David's 'Spices, Salt and Aromatics in the English Kitchen'."
1. Sift 2 cups flour with 1 tablespoon baking powder and 1/4
teaspoon cayenne pepper.
2. Cut or rub in 2 tablespoons butter.
3. Add 1 1/2 cups grated Parmesan cheese and 1 tablespoon lightly
toasted sesame seeds (cooled).
4. Add about 1 1/4 cups buttermilk and stir until the mixture forms
a dough. Knead 6 times on a floured board.
5. Roll out to about 1/2 inch thickness and cut with a round cutter.
When using a 2 1/4-inch cutter, you'll get 20 biscuits.
6. Arrange on baking sheet and bake 12 to 15 minutes at 425
degrees F.
"I have kind of a crush on biscuit cutters, and when I see them at flea
markets I always buy them. I have little ones, big ones, ones with scalloped
edges, and some in the shape of hearts, clubs, diamonds, and spades, doubt-
less for some long-ago ladies' bridge lunch. You can make these biscuits big
and flat or small and puffy like mini dinner rolls. It doesn't matter. They are
always wonderful."

Featured Archive Recipes:
Pepper Biscuits with Cheddar-Pecan Spread
Corn Biscuits with Bacon and Sage
Laurie Colwin's Oatmeal Bread


Index - Bread Recipe Archives
Index - Appetizer Recipe Archives
Daily Recipe Index
Recipe Archives Index
Recipe Search