Melted Chocolate Running from a Whisk
Photographic Print
Zogbaum, Armin
Buy at AllPosters.com

La Belle Cuisine - More Chocolate Recipes
Fine Cuisine with Art Infusion
"To cook is to create. And to create well...
is an act of integrity, and faith,"
Thomas Keller's Molten Chocolate

Free shipping at Starbucksstore.com! Available on orders over $75.
"Chocolate flows in deep dark, sweet waves,
a river to ignite my mind and alert my senses."
~ Unknown
---
Recipe of the Day Categories:
Recipe Home
Recipe Search
Appetizers
Beef
Beverage
Bread
Breakfast
Cake
Chocolate
Fruit
Main Dish
Pasta
Pies
Pork
Poultry
Salad
Seafood
Side Dish
Soup

Mixed Melted Chocolate
Photographic Print
Morgans, Gareth
Buy at AllPosters.com


Your patronage of our affiliate partners supports this web site.
We thank you! In other words, please shop at LBC Gift Galerie!

Chocolate, Cream, Cinnamon
Art Print
Cabannes & Ryman
Buy at AllPosters.com


Thomas Keller's Molten Chocolate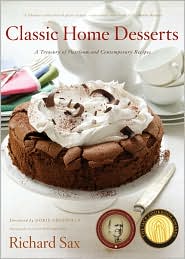 Classic Home Desserts:
A Treasury of Heirloom
and Contemporary Recipes
from Around the World

(winner of both a James Beard Award and a Julia Child Award!)
by Richard Sax, 1994, Chapters Publishing, Ltd./2000 Houghton Mifflin Company

"This is the ultimate in chocolate: a warm, baked-to-order individual hot
soufflé-like mousse with a crackled, brownie-like exterior enclosing a
molten chocolate center.
This dessert is so good, so essence-of-chocolate, that it evokes the timeless
chocolate puddings, moist cakes and warm soufflés that linger in memory.
It's the creation of the amply gifted Thomas Keller, whose restaurant,
French Laundry, recently opened in Napa Valley, California. Though
Keller calls it a tart, it has no crust.
The baking dishes are frozen before they go into the oven, so the dessert
comes out creamy. It should be baked just before serving. The recipe
has been adapted slightly for the home kitchen. Keller serves his dessert
with a cool pear puree and vanilla ice cream. I like to accompany it with
either a small scoop of ice cream or a spoonful of cool vanilla-scented
whipped cream."
Editor's Note:
In the years since Classic Home Desserts was published, Napa
Valley's French Laundry and Thomas Keller have become well
known and highly praised the world over. Chef Keller's The French
Laundry Cookbook is the winner of the 2000 IACP Cookbook of the
Year Award. It is, in our opinion, a must-have for any serious epicure.


Serves 6
4 ounces best-quality imported semisweet
chocolate, finely chopped
1 1/2 ounces unsweetened chocolate,
finely chopped
10 tablespoons (1 stick plus 2 tablespoons)
unsalted butter, softened
1/2 cup sugar
3 large eggs
1/2 cup plus 2 teaspoons all-purpose flour
3/4 teaspoon baking powder
1 1/2 tablespoons unsweetened cocoa powder
Vanilla ice cream or vanilla-flavored
whipped cream, for serving
1. Lightly butter six 1-cup ramekins or custard cups; set aside. Place the semisweet and unsweetened chocolate in the top of a double boiler
or in a bowl set over a saucepan of hot water over low heat (the
bottom of the bowl should not touch the water). Stir occasionally
until the chocolate melts; remove from the heat.
2. When the chocolate is smooth, stir in the butter and sugar until
smooth. Add the eggs, flour, baking powder and cocoa. Beat with
an electric mixer at medium-high speed until the mixture is pale
and has a thick, mousse-like consistency, about 5 minutes.
3. Fill the ramekins 1/2 full, cover each with plastic wrap. Freeze for
at least 3 hours. (The ramekins can be filled and frozen up to 3
days in advance.)
4. Just before serving time, preheat the oven to 375 degrees F, with a
rack in the center. Bake the cold desserts until the outer edges of
the tops are set, but the centers are still moist and shiny, usually
10 to 11 minutes. Invert each portion onto a serving plate and serve
warm, with a small scoop of the vanilla ice cream or a spoonful of
vanilla-flavored whipped cream. Alternately, serve directly from
the ramekins.

Featured Archive Recipes:
Chef Keegan's Chocolate Decadence
Cake with Raspberry Coulis
Chocolatier's Molten Chocolate Cake
Divine Madness
Deep Chocolate Pudding
Elizabeth David's Flourless Chocolate Cake
Ultimate Chocolate Cake Collection


Index - Chocolate Recipe Archives
Index - Cake Recipe Archives
Index - Miscellaneous Desserts
Index - Valentine's Day Recipes
Daily Recipe Index
Recipe Archives Index
Recipe Search