Recipe of the Day Categories:
Recipe Home
Recipe Search
Appetizers
Beef
Beverage
Bread
Breakfast
Cake
Chocolate
Fruit
Main Dish
Pasta
Pies
Pork
Poultry
Salad
Seafood
Side Dish
Soup

Melted Dark and White
Chocolate in Pan
Anita Oberhauser
Buy This at Allposters.com


Chocolat Ideal
Alphonse Mucha
Buy This at Allposters.com


Depot de Chocolat...
Eugene Grasset
Buy This at Allposters.com


Your patronage of our affiliate partners supports this web site.
We thank you! In other words, please shop at LBC Gift Galerie!

Chocolate, Cream, Cinnamon
Cabannes & Ryman...
Buy This at Allposters.com


Three Chocolate Cakes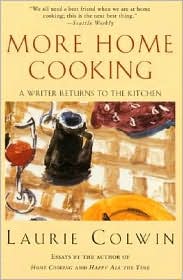 `
More Home Cooking:
A Writer Returns to the Kitchen

by Laurie Colwin, 1995, HarperPerennial
"Anyone who spends time in the kitchen eventually comes to realize that what she
or he is looking for is the perfect chocolate cake. My sister, whose lifelong addic-
tion to chocolate is almost like a religion (including bouts of fasting followed by celebration), feels she has the perfect recipe, one that calls for a whole can of chocolate syrup. Snootier types turn up their noses at the very idea, though, and
I myself tend toward melted chocolate squares and unsweetened cocoa powder.
For a few years my chocolate cake of choice was one found in Elizabeth David's 'French Provincial Cooking', the volume of which I own a paperback with a
rubber band around its middle to keep the pages from falling out. It is especially
damaged on one page for gâteau au chocolat et aux amandes', a flourless choco-
late cake made with ground almonds that tastes like a transcendent form of fudge
and is a wonderful thing to serve at Passover.
This cake is made in a springform pan, the bottom of which serves as its plate.
To make it takes a little bit of time, but it is time well spent. People simply
moan at the taste: It is perhaps the king and queen of all chocolate cakes."

Elizabeth David's Flourless Chocolate Cake
1. Preheat the oven to 300 degrees F. and butter an 8-inch springform pan.
2. In a heavy saucepan over low heat melt 4 ounces bittersweet (not unsweetened) chocolate with 1 teaspoon vanilla and 1 tablespoon each
brewed espresso (or any very strong coffee) and brandy.
3. Add 6 tablespoons butter, 1/2 cup sugar, and 1/2 cup ground almonds
(I never bother to blanch the almonds but stick them in the blender skin
and all) and heat the mixture until the butter is melted. Remove the pan
from the heat.
4. Beat 3 large egg yolks until they are lemon colored and stir them into
the chocolate mixture.
5. Whip 3 large egg whites until they are just stiff and fold them into the chocolate mixture.
6. Turn the batter into the pan and bake the cake in the middle of the
oven for 45 minutes. The cake will have some cracks on top and a
tester will not come out clean. Let the cake cool completely on a rack
and remove the side of the pan.
The cake will rise and then fall. It can be brushed with raspberry jelly or covered with whipped cream in a pastry bag fitted with a fancy tip and
draw designs with it or form the whipped cream into leaves or swags. Lazier people get away with a blob of whipped cream or crème fraîche on the side, and minimalists will find that a plain scattering of powdered sugar is nice enough. This cake is also excellent with vanilla ice cream if you want to
go whole hog.
"You never know where you will find a recipe. They are often hidden in unexpected places. I did not anticipate finding a chocolate cake in a children's book, but in a small, charming volume titled 'Happy Winter', written and illustrated by Karen Gundersheimer, I did. This book, which was one of my daughter's early favorites, tells a story in rhyme about two sisters on a snowy day. When they have finished playing dress-up and going outside to make snow angels, they come indoors to help their mother make a fudge cake. The recipe is given in rhyme and then written out on the facing page. It is easy, wholesome, and delicious and has now become my daughter's standard birthday cake."

Happy Winter Fudge Cake
1. Preheat the oven to 350 degrees F. and butter a 9 1/2- by 3-inch springform pan fitted with a tube bottom.
2. Melt 3 squares semisweet chocolate in a heavy saucepan over low heat
and let the chocolate cool.
3. In a bowl mix 2 cups flour, 1 cup sugar, 1 tablespoon cocoa powder,
and 1 teaspoon each baking powder and baking soda.
4. In another bowl with a mixer mix 2 eggs, 4 tablespoons softened butter,
cut in little pieces, 1 teaspoon vanilla, and 1 1/2 cups plain yogurt and
then beat in the melted chocolate.
5. Add the wet ingredients to the dry ones and add 1 cup chocolate
morsels, large or small.
6. Turn the batter into the pan and bake the cake in the middle of the
oven for 45 minutes. The cake will pull away slightly from the side of
the pan. Let the cake cool for 30 minutes, remove the side of the pan,
and invert the cake onto a plate, removing the bottom of the pan.
I make this cake in a springform tube pan fitted with a scalloped bottom,
and so it has a lovely scalloped top when it is turned out. If you own one
of those fancy cake-decorating kits that come with a pastry nail and dozens
of tubes you will never use because you can't figure out what they do, for
this occasion you might produce some passable-looking roses and scatter
them among the scallops, connecting them with green leaves. (Leaves are
EASY compared to roses.) The result is eccentric looking in sort of a
demented Victorian way, but this cake is a hit with children who do not
mind an uniced cake if it has TONS of sugar roses. (A good rule for any
birthday party is: a rose for every child.)
"One afternoon when our daughters were on an outing with their fathers, my
friend Karen Edwards, a former sous-chef at the old Tenth Avenue Bar in New
York City, and I were sitting around in terrible moods caused by exhaustion
and low blood sugar. Then she presented me with a slice of a delicious chocolate
cake. Because Karen is not in the habit of baking chocolate cakes, I asked her why she had done so. It turns out that like everyone else she is searching for the one
true chocolate cake, and it is her further requirement that it be extremely easy.
This cake comes from the new Fanny Farmer Cookbook revised by Marion Cunningham, and whoever thought this recipe up ought to get the Nobel Prize.
It is awesomely simple, contains no eggs, can be made in one bowl, and calls for
only 1/2 cup of vegetable oil (cheaters can use melted butter). The original recipe
has been tinkered with to good effect."

Karen Edwards's Version of
Buttermilk Cocoa Cake
1. Preheat the oven to 350 degrees F. and butter and flour a 9- by 2-inch round cake pan.
2. Mix together 1 3/4 cups flour, 3/4 cup unsweetened cocoa powder, 1
cup sugar, 1 teaspoon baking soda, and 1/4 teaspoon salt.
3. To these ingredients add 1 cup buttermilk, 1/2 cup vegetable oil or
melted butter, and 2 teaspoons vanilla. Mix.
4. Turn the batter into the pan, bake the cake in the middle of the oven
for 30 minutes, or until a tester comes out clean, and let it cool for
5 minutes before turning it out of the pan.
It is hard to encapsulate the virtuosities of this cake. It is fast, easy, and scrumptious. It has a velvety, powdery feel – the result of all that cocoa.
It is not so horribly bad for you, because you use buttermilk, which is
relatively low in fat, and cocoa powder is defatted anyway. Furthermore,
it keeps like a dream and tastes even better after a few days.
If you want to be lavish you can dress this cake up by serving it with ice cream or crème fraîche. This mitigates its purist, minimalist virtues, but that
is the way of chocolate cakes. They are good in themselves but sometimes
call out for window dressing. You can eat them gussied up with all sorts of rich and fattening things or you can leave them quite alone and serve them
in pristine, solitary splendor on a nice white plate.
And while you savor them, you can keep in mind that there are hundreds
[if not thousands] more out there."

Featured Archive Recipes:
Laurie Colwin on Chocolate
Dad's Favorite Birthday Cake (chocolate)
Devil's Food Cake, Vermont Farmhouse
Fastest Fudge Cake (Alice Medrich)
New Orleans Chocolate Layer Cake
Two Old-Fashioned Chocolate Cakes
Ultimate Chocolate Cake Collection


Index - Chocolate Recipe Archives
Index - Cake Recipe Archives
Daily Recipe Index
Recipe Archives Index
Recipe Search